© JAVIER BROSCH/SHUTTERSTOCK.COMThe vast majority of novel anticancer compounds that show promise in laboratory studies and in animal models do not make it through the rigorous and challenging translational path necessary for approval by the US Food and Drug Administration. Multiple factors contribute to the extremely low rate of successful drug development, including unexpected toxicity and/or lack of efficacy in humans, after a candidate compound has shown promise in rodent studies. As a result, researchers have begun to develop more-accurate and more-predictive model systems, such as genetically engineered murine models or patient-derived xenograft models. (See "My Mighty Mouse," The Scientist, April 2015.) But there may be another solution to this translational problem: comparative oncology.
Studying conserved tumor subtypes across multiple species provides a unique opportunity for the scientific community to improve the drug-development pathway, specifically through the inclusion of pet dogs and cats with naturally...
Over the past decade, the promise of such an approach for improving drug development has driven substantial growth in the discipline of comparative oncology. Of the 30 accredited US veterinary colleges, approximately 80 percent now support laboratory and clinical research in medical, surgical, and radiation oncology, providing a rich foundation for a comparative approach. Many colleges of veterinary medicine have successfully combined their comparative oncology programs with larger university initiatives, producing shared benefits for accelerating cancer research in companion animals and humans alike. (See list below.)
Given that the focus of most veterinary schools is on treatment of pets, however, it is vital that researchers bridge the gap between the worlds of veterinary and human oncology. In 2004, the National Cancer Institute Center for Cancer Research established the Comparative Oncology Program (NCI-COP) to do just that. As a federally based catalyst for the expanded role of pets in oncology drug development for humans, the COP (currently led by A.K.L.) provides national leadership and political neutrality in the conduct of comparative oncology clinical trials, while providing a platform for engagement and collaboration with a number of diverse partners, including the NCI and other NIH institutes and centers, academic institutions, and the pharmaceutical industry.
The core component of the COP is the Comparative Oncology Trials Consortium (NCI-COTC). This unique clinical trial infrastructure unites study sponsors, such as pharmaceutical and biotechnology companies, with 22 academic veterinary centers in North America to support multicenter clinical trials of investigational therapeutics. The network also enlists pet dogs with cancer in the development of new cancer drugs ultimately intended for humans. Comparative oncology trials require the involvement of veterinary oncologists who are well versed in canine cancer biology and can help integrate the results of animal and human studies run in parallel. The NCI-COP also plays an active role in organizing consortia on specific topics to advance its role in guiding comparative oncology studies, with a focus on fostering transparent discussions of the opportunities and limitations of the comparative approach within the cancer drug development community.
This comparative approach to cancer research may be particularly beneficial for encouraging the translation of candidate therapies that yield promising results in vitro and in mouse models. Investigator-driven research and discovery of potentially effective therapies at the bench frequently stall before advancement into the clinical pipeline simply because the intellectual property surrounding these discoveries is not licensed to a pharmaceutical or biotech company, and they are thus never evaluated in people. The simultaneous study of the same agents in pets thus provides an important and clinically relevant interface between investigator-driven translational research and commercial clinical development.
One Health, an ancient concept recently embraced by the US Centers for Disease Control and Prevention, is based on the idea that animal and human health are intimately linked and that disease processes in humans and other animals are very similar. In the spirit of this approach, interdisciplinary collaboration among researchers, veterinarians, and human health-care workers should improve our understanding of basic pathological processes across species and accelerate clinical discovery in both medical and veterinary arenas.

Timothy M. Fan is the principal investigator for the Comparative Oncology Research Laboratory at the University of Illinois at Urbana-Champaign and serves as a core faculty member in the Anticancer Discovery from Pets to People theme at the Carl R. Woese Institute for Genomic Biology. Amy K. LeBlanc is the director of the NCI-COP, which administers the Comparative Oncology Trials Consortium and several other NCI-led comparative oncology initiatives. Nicola Mason is an associate professor of medicine and pathobiology at the University of Pennsylvania's School of Veterinary Medicine, where she runs a translational immune therapy program that focuses on the treatment of spontaneous osteosarcoma, lymphoma, and hemangiosarcoma in dogs.
COMPARATIVE ONCOLOGY IN THE U.S.

A selective list of comparative oncology programs
and their integral roles in supporting allied human cancer
research initiatives
Interested in reading more?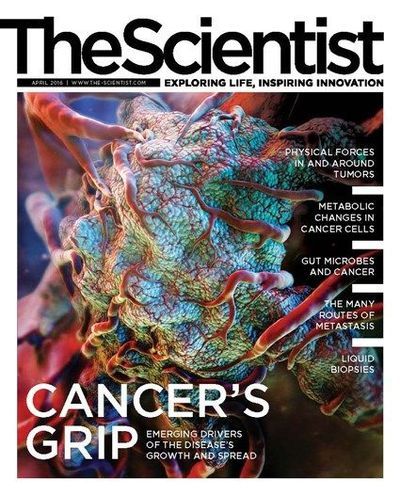 Become a Member of
Receive full access to digital editions of The Scientist, as well as TS Digest, feature stories, more than 35 years of archives, and much more!