Several posts on www.the-scientist.com took readers beyond the text, featuring videos, slideshows, and infographics that brought the stories of researchers and their work to life. Here are 2013's most popular multimedia posts.
This May news story tells of research that was able to peer inside a mysterious chrysalis, where a caterpillar changes into a butterfly. This slideshow contains some of the amazing images captured by the scientists.
"Living Lectures"
Artist Danny Quirk blends art and anatomy by treating the bodies of human models like canvasses depicting the inner structures of the body. The popular story "Dissection via Paintbrush" tells the story of his unique art form.
A Window into the Mind
Breaking new ground with their study of zebrafish brain activity, a team of Japanese researchers captured thoughts flitting through the brains of the animals.
Spew, Fly, Don't Bother Me
This slideshow and...
Salary Stats
Tables and graphs depict the trends we uncovered in our annual Life Sciences Salary Survey, including the lingering inequalities between male and female academicians.
The Art of Science
This slideshow and news story feature some beautiful images created by Princeton University researchers as part of the school's "Art of Science" exhibition.
Game On
To share some of the cool video games used by researchers, physicians, and educators to enhance their work, as described in a January feature article, we ran this slideshow, which displayed screenshots from some of the more popular games.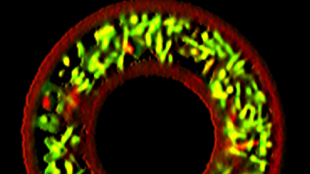 Building 3-D Microbial Communities
This October news story includes a short video that shows microbes swimming around in 3-D-printed enclosures that yielded unique insights into bacterial communication and population structure.
Atomic Force Microscopy
This slideshow compliments an April Lab Tools article about cutting-edge techniques for imaging ever-smaller biological structures with pictures of the machines that make it possible and the data they generate.
Frogcicle
We paired our February feature article on the cryopreservation of human organs, with a video showing wood frog, the Animal Kingdom's master of freezing organs and tissues in a viable state, later thawing them out no worse for the wear.
Interested in reading more?
The Scientist ARCHIVES
Become a Member of
Receive full access to more than 35 years of archives, as well as TS Digest, digital editions of The Scientist, feature stories, and much more!