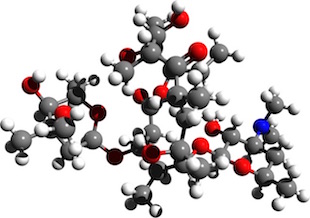 ErythromycinWIKIMEDIA, GIORGIOP2Researchers have devised an approach for synthesizing new macrolide antibiotics from simple chemical building blocks. Using this method, Andrew Myers of Harvard University and colleagues synthesized more than 300 new antibiotic candidates, several of which were effective against some of the most stubbornly drug-resistant bacterial strains, according to the study published today (May 18) in Nature.
"It's a tour de force in synthetic chemistry," Kim Lewis of Northeastern University in Boston, who was not involved in the study, told The Scientist. "This is the first time there is a relatively easy path to synthesize macrolide erythromycin-type antibiotics from scratch."
For most of the field's history, natural products have been the starting point for new antibiotics. Most of them have been made by chemically modifying natural products in a process known as semisynthesis. Every existing antibiotic in a class called macrolides—including the commonly prescribed drug...
In the present study, Myers and his colleagues have developed a method for synthesizing macrolides from eight simple chemical building blocks to produce a diverse collection of structures that would be practically impossible to make using semisynthetic methods. In the same way you might build any complex device, from a cell phone to an airplane, "you divide it into building blocks," and assemble those blocks, Myers told The Scientist. This approach "allows for, theoretically, tens of thousands of compounds" or more, he added.
Macrolides consist of a macrolactone ring with one or two sugars. "Decorating" these rings with different chemical groups by combining the building blocks in various combinations, Myers's team created more than 300 synthetic macrolides, including the US Food and Drug Administration-approved drug telithromycin and the candidate solithromycin, which is currently being tested in Phase 3 clinical trials.
Next, the researchers evaluated the newly synthesized compounds with a panel of different bacteria, including two strains of methicillin-resistant Staphylococcus aureus (MRSA) and vancomycin-resistant Enterococcus (VRE) isolated from clinical samples. "Some of these are really scary bugs," said Myers.
Most of the compounds were effective against garden-variety pneumonia bacteria, and a few of them were more potent than approved antibiotics against MRSA, VRE, and other highly resistant strains, the researchers found. One of the synthetic compounds, called FSM-100573, was especially effective against gram-negative bacteria, which are traditionally less susceptible to macrolides. (The technology for synthesizing these macrolides has been licensed to the Watertown, Massachusetts-based Macrolide Pharmaceuticals, which Myers cofounded.)
These compounds have yet to be tested preclinically. And, as with all antibiotics, bacteria will ultimately develop resistance to them. However, this approach allows scientists to develop an exponentially larger number of new drug candidates. "At the end of the day, it's kind of a numbers game," Myers said.
"The work represents a paradigm shift in the discovery of novel antibiotics from the macrolide class," Rodrigo Andrade of Temple University in Philadelphia, Pennsylvania, who was not involved in the work, told The Scientist. Synthesis of complex molecules can be a lengthy and expensive process, but Myers has developed a route that is more efficient, Andrade added. "This opens the door to myriad macrolide drug candidates that can help offset the incessant and inevitable onset of antibiotic resistance."
"I'm impressed by the scale of the work and elegance of approach," said Gerry Wright of McMaster University in Canada, who was also not involved in the research. "At the end of the day, it's impossible to know whether or not they're going to generate anything in clinic," he said. Even so, "this is a significant step forward to regain the upper hand" against drug-resistant bugs," Wright added.
Myers and his colleagues have previously synthesized novel tetracycline antibiotics, one of which is now a Phase 3 clinical trial candidate. His team is also developing methods to synthesize other classes of antibiotics, he said.
I. Seiple et al., "A platform for the discovery of new macrolide antibiotics," Nature, doi:10.1038/nature17967, 2016.
Interested in reading more?
The Scientist ARCHIVES
Become a Member of
Receive full access to more than 35 years of archives, as well as TS Digest, digital editions of The Scientist, feature stories, and much more!