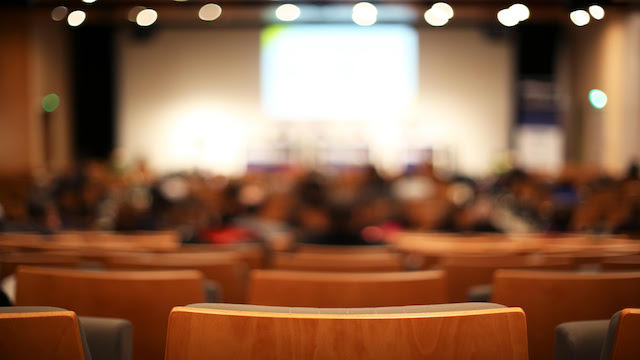 ISTOCK, FOUQUE MICHAELLast month (May 24), the American Society for Microbiology (ASM) formally announced that, due to budgetary concerns, it would be discontinuing its small conferences program in 2018.
ASM hosts a number of scientific meetings, including ASM Microbe, which took place last weekend and typically brings together thousands of researchers. The organization also holds medium-size conferences, such as Biothreats and the Clinical Virology Symposium, which gather around 1,000 to 1,500 individuals, and small conferences such as ASM Biofilms and ASM Cell-Cell Communication in Bacteria, with only a few hundred attendees or fewer.
"We've been undergoing an overall, society-wide strategic look at our programs," David Hooper, chair of ASM's Meeting Board, tells The Scientist. "There were a number of conferences that had, over time, been having reduced attendance and abstract submissions and had been a money-loss problem for the society."
As a result, he says, ASM will...
Scientists and conference organizers expressed displeasure with ASM's decision to cease the small conference program. "I go to the ASM Biofilms meeting, which is a very important venue for that community," Lori Burrows, a professor of biochemistry and biomedical sciences at McMaster University tells The Scientist in an email. "I much prefer this size of meeting (under 500 people) compared to the ASM Microbe meeting (which I rarely attend) due to the more intimate nature that allows for better networking with colleagues and trainees."
"We can probably find other meetings, but one of the big losses is the dependability, the reliability, of having something like this for each specific focused topic every two or three years," says Mark Silby, a professor of biology at the University of Massachusetts Dartmouth. "It's nice to know that a particular community can come together every two or three years and can depend on a high-quality meeting that's backed by ASM's name, which tends to allow a pretty high profile group of leaders in the field to come and engage." This provides an invaluable opportunity for early career researchers, including graduate students, to interact with these leading scientists, he adds.
Although the final decision about which small conferences will continue has yet to be announced, some groups have already started to discuss ways to keep future conferences going without ASM's support. "Our current intention is to continue to hold the meeting [ASM Conference on Beneficial Microbes], and we are investigating the best way to do that," Mark Mandel, a professor of microbiology and immunology at Northwestern University who was slated to be a co-organizer of the 2018 conference, tells The Scientist in an email.
Gavin Sherlock, a geneticist at Stanford University who co-organizes the ASM Experimental Microbial Evolution meeting, which held its first meeting in 2014, says that organizers of this conference are also discussing alternative ways to continue their conference. "It feels like we just got this community together and we don't want to lose that momentum," Sherlock says.
He adds that he wishes ASM had been more transparent about their meeting finances, especially since the society had previously asked organizers to help raise funding for the meetings. "It seems like there was a pretty clear delineation between what they knew and what we knew with regards to finances for the meeting, that was quite opaque," he tells The Scientist.
Hooper says that ASM has received some messages from concerned scientists, and the society will try to get back to the people who have commented or have concerns individually. "People need to know that conferences aren't going away, we're restructuring them in a way that we think will make them more dynamic and obviously, they have to be sustainable," he adds.
Editor's note (June 7): We updated to article to note that ASM Biofilms will continue and that Gavin Sherlock co-organizes the Experimental Microbial Evolution meeting, not the Experimental Microbiology meeting.
Interested in reading more?
The Scientist ARCHIVES
Become a Member of
Receive full access to more than 35 years of archives, as well as TS Digest, digital editions of The Scientist, feature stories, and much more!