First Organ-Specific Tissue Sheets
The material is durable, flexible, and can serve as a scaffold for cell growth, a study shows.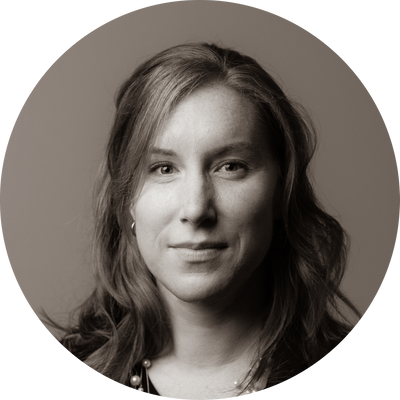 Aug 9, 2017
A tissue paper (green) supports the growth of an ovarian follicle (purple) in this SEM imageADAM JAKUS/NORTHWESTERN UNIVERSITYAn accidental spill in the lab has led to the development of bioactive "tissue papers" that could act as a scaffold to grow cells and repair wounds. Described August 7 in Advanced Functional Materials, the cellular scaffolds are the first of their kind to be organ-specific, and researchers have made six different kinds.
Materials engineer Adam Jakus, a postdoc at Northwestern University, discovered the scaffolds after spilling a 3-D printable ovary ink, which is made of decellularized ovarian tissue. He'd previously developed similar materials to repair and regenerate bone, muscle, and nerve tissue. "I knew the spill would be easier to clean up if I let the ink dry," he tells The Scientist in a phone interview. When Jakus went to wipe up the dried ink, he found...
Having worked in the past with surgeons on biomaterials, Jakus thought the flexibility and stability of the "tissue paper" had the potential to be used in surgeries, wound healing and possibly cell growth. He decided to try to make the paper out of other organs.
Jakus chopped cow and pig organs into little pieces, then washed them with a detergent to dissolve all of the cells, leaving behind structural proteins, such a collagens and elastins, along with bioactive agents, such as growth factors. The material looks like translucent jelly, which Jakus and colleagues then freeze-dried and ground into a powder. Mixing the powder with a polymer allowed the team to create thin, flexible sheets.
Making the sheets, called extracellular matrices, isn't new, but making them organ-specific is. Past studies have tried, but doing so is challenging because the sheets weren't strong enough to be bent, cut, or folded without losing their utility, or they didn't have a lot of organ-specific material, or the method wasn't reproducible, Yale School of Medicine bioengineer and postdoc Yifan Yuan tells The Scientist in an email. He was not involved in the new study but says the team's "relatively simple technique," which generates sheets composed of 35 percent biocompatible polymer PLGA with 65 percent organ-specific extracellular matrix, could be used in drug screening and disease modeling.
Making the sheets, called extracellular matrices, isn't new, but making them organ-specific is.
To test if the tissue papers could provide a scaffold for cells, Jakus and his colleagues seeded the sheets with human adult stem cells and showed the scaffolds could support the growth and proliferation of the cells over four weeks. Yuan says it would interesting to see how the cells' phenotype changes after long-term culture on the tissue papers.
Jakus and colleagues also tested the ovarian tissue paper to see if it could allow ovarian follicles to grow. These tissue are vulnerable to chemotherapy and radiation, but preserving ovarian follicles is challenging because it has been hard to find a material to put the follicles on that will support their growth. The sheets keep them alive and seemingly healthy for several weeks, the team found.
"The results are pretty convincing," tissue engineer Stephen Badylak of the University of Pittsburg tells The Scientist. The development of organ-specific sheets shows an appreciation for the biology that goes on within these extracellular matrices. There's cell signaling and other processes that are hard to replicate in matrices built from synthetic materials, he says.
Badylak notes that one surprising feature of the technique used to generate the tissue paper is the extent of decellularization. It's significant compared to other techniques to make extracellular matrices, and it's about the same amount of decellularization for all the different organs, he says. Such a loss of cellular organization, along with the composition of the tissue papers, is something that will have to be tested in animals to see if the body can tolerate it, Badylak says. Still, he says, the innovativeness and versatility of the tissue papers is impressive, and he encourages the researchers to continue to explore their utility.
Jakus has started a company, Dimension Inx, with his advisor Ramille Shah to continue development of the tissue papers.
Interested in reading more?
The Scientist ARCHIVES
Become a Member of
Receive full access to more than 35 years of archives, as well as TS Digest, digital editions of The Scientist, feature stories, and much more!