Leading Neuroscientist Dies
Laurent Descarries, well known for his research on the brain's axon terminals, has passed away at the age of 73.
Nov 30, 2012
Louis-Eric Trudeau
Laurent DescarriesClaude Lacasse, University of MontrealOne of Canada's leading neuroscientists, the University of Montreal's Laurent Descarries, passed away this fall (October 3) at the age of 73. Descarries was internationally renowned for his extensive work on the ultrastructural organization of axon terminals established in the brain by neurons using the chemical messengers dopamine, noradrenaline, serotonin, and acetylcholine. In particular, his work demonstrated their mostly asynaptic character, meaning that they typically do not establish classic synapses with clearly defined postsynaptic specializations. Instead, these neurons are now thought to mediate their signals through a process called "diffuse transmission" or "volume transmission," in which the neurotransmitters they release act at more distant receptors within a certain area around the releasing axon terminal.
Initially trained as an MD and neurologist, Descarries began his research career during a fellowship at the Massachusetts General Hospital of Harvard University in Boston in 1963. During this period, he worked with neurologist Otto Appenzeller on peripheral nervous system dysfunctions associated with cerebrovascular diseases such as stroke, which disrupt circulation in the brain. He then pursued his training in neuroanatomy with the renowned anatomist Bernard Droz at the Center for Nuclear Research of Saclay in France, with whom he contributed to the popularization of the use of autoradiography, in combination with electron microscopy, to examine the structure of axon terminals and synapses of different types of neurons. Using this technique, he was able to show for the first time that the axon terminals of monoamine neurons—those that communicate with dopamine, noradrenaline, and serotonin—differ from those of the more common glutamate and GABA-containing neurons in that they only infrequently show traditional synaptic connections, composed of a presynaptic terminal from which neurotransmitters are released, a synaptic cleft across which the neurotransmitters travel, and postsynaptic receptors that receive the signal. Similar observations were made later for acetylcholine using immunolabeling techniques together with electron microscopy.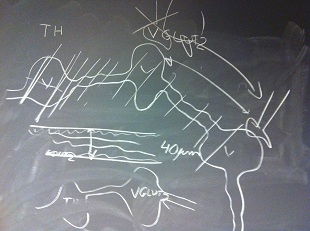 Shematic diagram hand drawn by Laurent Descarries in December 2011, illustrating the formation of non-synaptic axon terminals by dopamine neurons.Åsa Wallén-Mackenzie, Uppsala UniversityLaurent Descarries was recruited to the Faculty of Medicine of the University of Montreal in 1969 where he subsequently remained for his entire career. Funded by a long series of grants from the Medical Research Council of Canada and the Canadian Institutes of Health Research, his group published a number of landmark papers on the ultrastructural characterization of axon terminals in the rat and mouse brain, much of which formed the basis of the diffuse transmission theory. The work of Laurent Descarries, together with that of other leading neuroscientists such as Kjell Fuxe in Sweden and Luigi Agnati in Italy, revealed that while neurons connected by synaptic terminals mediate signals with fast time courses, signals mediated by non-synaptic terminals tend to have slower kinetics and mediate broader-scale modulatory changes in the brain, such as increases or decreases in the excitability of neuronal networks. This large body of work was published in more than 140 primary research articles and reviews, in addition to many book chapters.
Descarries was a leading figure of Canadian and international neurosciences throughout his career. He participated in the establishment of the Centre de Recherche en Sciences Neurologiques (CRSN) at the Faculty of Medicine of the University of Montreal in 1971, aimed at uniting neuroscientists from the university's main campus and affiliated hospitals. He was also one of the founding members of the Groupe de Recherche sur le Système Nerveux Central (GRSNC), a group funded by the Québec government. He served as secretary of the University of Montreal's Faculty of Medicine between 2004 and 2006, and was the main organizer of a number of GRSNC international neuroscience symposia.
Descarries's outstanding contributions were recognized by the Québec research community, which selected him as the laureate of the Léo-Pariseau Prize for biomedical research in 2005. Descarries was also recognized as an exceptional mentor: he trained more than 60 graduate students, postdoctoral fellows, and visiting scientists, many of whom now have their own laboratory or are leading figures of the Canadian research scene.
As colleagues, collaborators, and friends of Laurent Descarries, we salute his outstanding career and scientific contributions and we will miss him dearly.
This obituary was prepared with by Louis-Eric Trudeau of the University of Montreal, with the help of Pierre Drapeau, Trevor Drew, and Serge Rossignol, professors at the University of Montreal; Naguib Mechawar, a professor at McGill University; and Alain Beaudet, president of the Canadian Institutes of Health Research.