Next Generation: Fat-Targeted Gene Knockdown
A small peptide helps a silencing construct home in on the adipocytes of obese mice.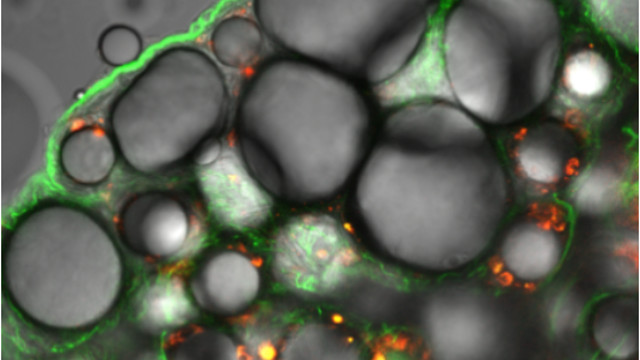 Adipocytes and vascular endothelial cells expressing red fluorescent protein delivered by an adipocyte targeting peptide (green).YONG-HEE KIM
The technique: A specific short peptide aimed at fat cells can deliver a DNA sequence that knocks down expression of a key fatty acid binding protein. Mice on a high-fat diet treated with this molecular complex showed reduced body weight and improved metabolic profiles. The method, reported today (October 5) in Nature Materials, provides a new way to study the functions of adipocytes—a notoriously intractable cell type—and suggests an avenue for gene therapy to combat obesity in humans.
"It's always welcome when there is a new technology to deliver specific targeting molecules, whether they're RNAi or small molecules, to restricted parts of the body," said Gökhan Hotamisligil, a professor at the Harvard School of Public Health who was not involved in the study. Hotamisligil, who investigates the regulation of...
The history: Most drugs developed to treat obesity have focused on reducing appetite by manipulating signals in the gastrointestinal tract or central nervous system. These approaches have had limited success, and sometimes produce problematic side effects—the appetite suppressant sibutramine, for example, was pulled from the market in 2010 because it increased patients' risk of strokes and heart attacks.
Controlling metabolism and immune responses by directly targeting fat cells, or adipocytes, is a more attractive strategy, but has been hampered by an inability to precisely and effectively deliver small molecules to adipose tissue. Previous attempts at gene therapy in adipocytes have employed viral vectors, which have led to unchecked expression with potentially harmful effects.
What's new: For this study, bioengineer Yong-Hee Kim and his colleagues at Hanyang University in Seoul took advantage of a nine-amino-acid adipocyte targeting sequence (ATS) previously shown to bind specifically to prohibitin, an abundant protein in fat cell membranes and surrounding vascular tissue that can also enter cell nuclei. "The authors show that [prohibitin] is not only enriched in adipose tissue, but it is even further enriched during the course of obesity," said Hotamisligil. "So it gives you an additional window for selective targeting of adipose tissue."
Kim's team produced a molecular complex containing ATS oligopeptides bound to expression vectors for a short-hairpin RNA directed against the FABP4 gene, which encodes a fatty acid binding protein that affects lipid storage in adipocytes. When the researchers injected this complex into mice on a high-fat diet, they saw a 20 percent decrease in body weight, as well as improved glucose tolerance and insulin sensitivity, after seven weeks of treatment.
The significance: "The applications for something like this are unlimited in terms of delivering things to the fat cell," said Philipp Scherer, who studies adipocyte physiology at the University of Texas Southwestern Medical Center but was not involved in the work. Scherer said the technology could enable new ways of "making the fat cell a better fat cell."
Interestingly, the ATS was first discovered in a study that aimed to kill adipocytes as an anti-obesity therapy, but this approach backfired. "Just killing off fat cells is not the answer if you continue to be based in an excess caloric intake," Scherer said. "If you don't have fat cells there to take care of these lipids, the lipids will spill over into tissues like the liver and cause much more damage."
FABP4 is not necessarily an ideal therapeutic target, according to Scherer, but because it is highly expressed in adipocytes, this study demonstrated the capability to knock down the expression of virtually any gene of interest. But Hotamisligil said he believes FABP4 is "a good choice. It's a well validated, biologically significant target that presents significant challenges for drug development."
Needs improvement: Prohibitin expression is not unique to fat cells, and effects on other organs are a concern with this type of therapy. The authors also injected mice with a fluorescently labeled ATS construct, which showed far higher levels of expression in fat tissue than in the liver or kidney. Hotamisligil questioned whether other organs or cell types—in particular, macrophages within adipose tissue, which also express FABP4—might be unintentional targets of this approach. He added that he would investigate this before employing an ATS gene-delivery strategy in his own studies.
Y.W. Won et al., "Oligopeptide complex for targeted non-viral gene delivery to adipocytes," Nature Materials, doi:10.1038/nmat4092, 2014.
Interested in reading more?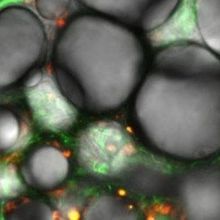 The Scientist ARCHIVES
Become a Member of
Receive full access to more than 35 years of archives, as well as TS Digest, digital editions of The Scientist, feature stories, and much more!