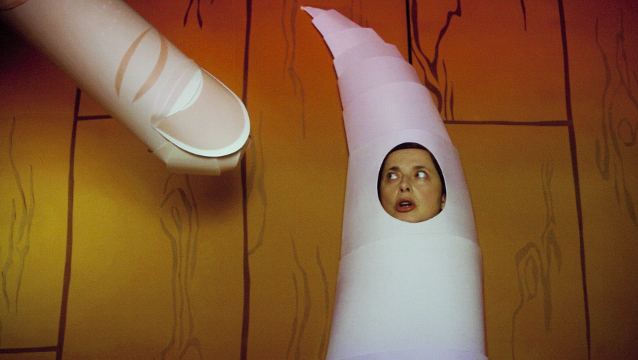 Isabella Rossellini in "Green Porno"REBECCA GREENFIELDEarly on in Isabella Rossellini's "Green Porno," a one-woman show about the varieties of sexual experience found in nature, the actress and former model makes the surprising assertion that what she presents is not pornographic, but rather, obscene. After all, she told the audience at New York's Brooklyn Academy of Music last week (January 25), "I don't know what you like."
Obscenity, like beauty, is in the eye of the beholder, and there are instances of both to be found in "Green Porno," which Rossellini cowrote with screenwriter Jean-Claude Carrière. For the former, consider the hamster. Rossellini dramatizes the mother hamster's tendency to devour the weak among her brood—to recoup proteins and other vital nutrients she lost during childbirth—by wearing prison stripes and invoking the hamster as a defense of infanticide in one of the show's many short films.
In another, Rossellini...
The beauty of the show is most evident when Rossellini lays bare her personal affinity for her material. For instance, she recounts how her late father, director Roberto Rossellini, once described himself as a "Jewish mother" in an interview, and muses that he might have enjoyed the ability to change his sex. It is a poignant and humorous moment that elegantly connects the alien strangeness of nature to the more familiar strangeness of the human psyche, hinting at a continuum between the two.
In another memorable moment, Rossellini shares her insecurities around being compared to her mother, the late actress Ingrid Bergman, and takes comfort that she is merely a part of nature's endless variety, her features and talents determined in large part by genetic imperative, for the greater good of the species. Arguably, these philosophical musings might be out of place in a science classroom, but they are welcome as connective tissue in a show that might otherwise play out as a series of quirky films.
Not that there would be anything wrong with that, necessarily. The films themselves are comical and compelling, as strange, in their own ways, as the sexual practices they depict. Rossellini takes on a variety of degrading roles, cheerfully lampooning her own image in the name of entertainment and education. The shorts play out like cartoons for adults who share Rossellini's wry sensitivity and evident fascination for the material. It is during the most salacious moments in these films—such as depictions of dolphins having fin sex, or Rossellini as a mouth-brooding female fish receiving a face-full of sperm—that "Green Porno" lives up to its name.
Indeed, Rossellini invites the audience to reconsider their notions of what is pornographic and obscene in human sexuality. Compared to many of the behaviors found in the animal kingdom, the sexual peccadilloes and deviancies of Homo sapiens seem relatively tame.
The show, along with a book of the same name and a series of short films that Rossellini has been producing for the Sundance Channel since 2008, has drawn praise from art critics and science educators alike for its whimsical and story-driven approach to the material. This storytelling element is a large part of the work's appeal, according to James Covel, director of guest experience training and interpretation at the Monterey Bay Aquarium in California.
"It's a good kind of biological story telling. [As] humans, so much of what we've learned throughout our entire history, well before we had the written word, was through oral history—just telling stories about things," said Covel.
"Our brains are really formatted to learn things and remember things well as a story," he added. "And I think she's really keyed into that and brought that to aspects of biology, and it's a really unique and successful approach."
Entomologist Kathleen Walker, who directs the Insect Discovery outreach program at the University of Arizona, also praised Rossellini's strategy of relentlessly humanizing even the creepiest of crawly critters.
"I'm a big proponent of the anthropomorphic school, which I know some people are very much against," Walker said. "But I actually feel like pretending that nothing but the human species is capable of any kind of emotion is just as biased as projecting your own emotions onto things. "
"I feel like the general public comes with a lot of emotional baggage about insects, so it's not like they're neutral to begin with," she added. "And a lot of times, by anthropomorphizing things, I feel like you actually help overcome some of these really irrational prejudices, by shocking people a little bit."
The next staging of "Green Porno" will be at the Adelaide Festival in Australia on March 15, 2014.
Interested in reading more?
The Scientist ARCHIVES
Become a Member of
Receive full access to more than 35 years of archives, as well as TS Digest, digital editions of The Scientist, feature stories, and much more!