Flickr, paulidin
FOR ADULTS
An entire world
What do you get for someone who has everything? An entire living world encased in a glass globe, that's what. The ultimate desktop adornment, Ecosphere is a living, self-sustaining ecosystem featuring algae, bacteria, and tiny shrimp in filtered seawater. It never needs cleaning, just indirect light. Enjoy your own little world in motion.

From $79

Extreme anatomy
Want to see the enormous liver of a great white shark, or the elastic legs of a camel? Get Inside Nature's Giants, a brilliant British documentary series in which intrepid anatomists dissect all sorts of large animals to reveal their inner workings and evolutionary secrets. Not for the squeamish, but terribly illuminating.

From $12.15

Science-themed threads
Indulge your giftee's love for microbiology with a bacteria diagram t-shirt—one of the plethora of scientific clothing choices available online. "10%...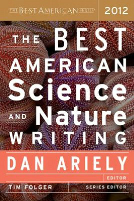 Word up
You can't go wrong with a collection of compelling science writing, so why not pick up The Best American Science and Nature Writing 2012? For some less familiar voices, try The Best Science Writing Online 2012, featuring the world's smartest science bloggers. And check The Scientist's reviews from the last year for more great book ideas.

From $10.17

Dangly DNA
Perfect for the geneticist in your life, these DNA ladder earrings are hand-sculpted, polished and oxidised from fine silver. The vendor also makes bacterium, plasmid, phage, and even zebrafish embryo earrings. You won't find these in the mall.

From $45
Insect art
Nothing says festive cheer more than a longhorn beetle's hairy mandibles, right? For stunningly detailed and beautiful prints of incredible insects, you can't do much better than the photographs captured by Alex Wild, a biologist at the University of Illinois. Bonus—a select few are available with big discounts until the end of the year.

From $2.99


FOR KIDS
Cuddly microbes
Much maligned microbes can be downright cute. So why not let the kids fall in love with—and learn from—a giant plush version of the real thing: everything from E. coli and MRSA to norovirus and (my personal favorite) the T4 bacteriophage. Each cuddly toy comes with an image and information about the real microbe. Unusual, educational, and fun.
From $8.95

Animated adventures with Darwin
From the makers of Chicken Run, this is an animated adventure with a scientific twist. Pirates: A Band of Misfits—In Adventure with Scientists in the UK—features a young Charles Darwin and the world's last surviving Dodo. Riotously entertaining, this funny, clever caper might even raise the kids' curiosity about the great naturalist.

$12.96

DIY anatomy
Reckon your kids would like to build a shark? Of course they would. This 13-inch-long great white shark model features 20 detachable organs and body parts, an assembly guide with a description of the fearsome creature's anatomy, and a fun Q&A. The company also offers a great cell model, with 26 detachable parts fitting into a soft plastic cytoplasm.
From $27.95

Glowing examples
There can be few more inspirational desktop companions for the would-be scientists on your list than this Marie Curie bobblehead. Fittingly, for the woman who discovered polonium and uranium, her test tubes glow in the dark. Einstein is another option.

$17.95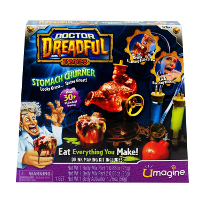 Stomach turner
Making a deserved comeback from last year's list, the Dr. Dreadful Stomach Churner offers kids the chance to make foamy cherry colon cola, zombie warts, and colorful stomach acids to share with the family. Disgusting and delicious at the same time.

$23.95

Kid science
For something a bit more educational, this kit makes it fun to learn about DNA and molecular biology. Easy-to-follow visual instructions show kids how to extract DNA from fruit, build a double helix, solve a chromosome puzzle, and much more.

$18.08
Interested in reading more?
The Scientist ARCHIVES
Become a Member of
Receive full access to more than 35 years of archives, as well as TS Digest, digital editions of The Scientist, feature stories, and much more!