I sit on the advisory board of an art gallery that exhibits contemporary artists who engage with science and technology. Last December, the curator had some exciting news in his end-of-year email: His gallery was proposing to join forces with a number of other organizations to create a multi-use venue that would offer small-scale fabrication facilities for makers, hackers, hobbyists, artists, and entrepreneurs; classroom space for workshops and educational programming; and exhibit space for art.
And I had a great idea—several months off the pace, but a great idea nonetheless. Why not add a wet-lab to the mix, to encourage amateur biologists? I knew that the iGEM program (see "Brick by Brick") engages dozens of teams of students from around the world in synthetic biology manipulations, so it didn't seem like too much of a stretch to suggest experimentation beyond the professional lab. The proposal was a simple one:...
A little digging, even in December, would have revealed that the process was already in full swing. A movement called DIYBio (www.diybio.org) is spreading across the country (see "Standardize What?"), with groups in Boston, San Francisco, and San Diego meeting on a regular basis. Join them at http://groups.google.com/group/diybio.
While it's not without its problems, most obviously safety concerns, I fully support the development of amateur wet labs.
Why? It's the best chance of making biology cool and enjoyable, particularly to youngsters. Other innovative projects such as the UK government's "Science: So What? - So Everything" website (sciencesowhat.direct.gov.uk) are worthwhile, but dull by comparison. DIYBio, a dynamic peer-driven movement, will energize and engage young people.
DIYBio may be the first step to what Freeman Dyson has called "the domestication of biotechnology."1 He wrote: "Every orchid or rose … is the work of a dedicated and skilled breeder. …Now imagine what will happen when the tools of genetic engineering become accessible to these people. There will be do-it-yourself kits for gardeners who will use genetic engineering to breed new varieties of roses and orchids. Also kits for lovers of pigeons and parrots and lizards and snakes to breed new varieties of pets. Breeders of dogs and cats will have their kits too.
Domesticated biotechnology, once it gets into the hands of housewives and children, will give us an explosion of diversity of new living creatures…"
Like all first steps it's pretty tentative. The DIYBio group in Boston, for instance, has instituted a voluntary moratorium on manipulation of organisms, confining itself for the time being to sequencing. Also, as one of them points out, "The hype of synthetic biology and 'garage hacking genetics' is greatly exaggerated. In truth, it does require nearly a graduate degree PLUS a scientific-quality-level research laboratory in order to actually get anything to work. And even in that case where individuals are so equipped, getting anything to grow, let alone perform and/or activate the 'newly designed' biological function, is a very rare feat indeed."
But it will get easier. Small, simple, cheap tools and kits will become available, and new model organisms such as Halobacterium, described in the feature "All Systems Go", will provide plenty of opportunity. Amateur biologists will gradually grow in stature, leverage certain advantages over their professional counterparts. They will be able to pursue more speculative projects over a longer period of time without the need for a either financial return or peer-reviewed publication. But they'll gain their share of both as they tackle their interests and the world's needs.
Amateur biologists, biohackers, biopunks—whatever you want to call them—will be a force. One we should welcome.
References
1. F. Dyson, "Our Biotech Future," New York Review of Books, 54(12), July 19, 2007.
Interested in reading more?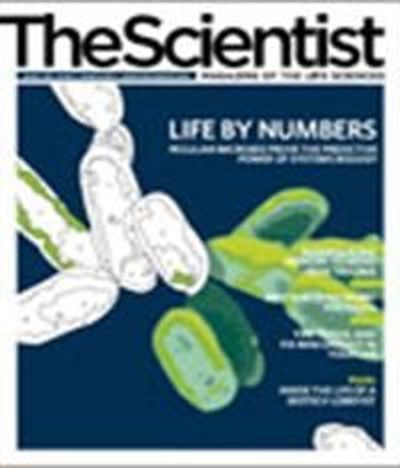 Become a Member of
Receive full access to digital editions of The Scientist, as well as TS Digest, feature stories, more than 35 years of archives, and much more!