As news spread that The Scientist had closed on October 7, shortly after publication of a celebratory 25th-anniversary issue, it did not escape the press's notice (nor the staff's) that the titles of founder Eugene Garfield's editorial, "Alive and Kicking," and my own, ". . . And Many Happy Returns," were more than a little "unfortunate."
Condolences from readers, former staffers, and contributors flooded in. And then, in a veritable "Presto change-o!" moment, a Canadian company surfaced just days after the announcement, expressing interest in resuming publication of the magazine. LabX Media Group worked swiftly to complete the hand-over on October 21. The Scientist is now a member of the LabX family, which includes Lab Manager Magazine, a monthly trade magazine sent to some 42,000 lab managers; LabX Scientific Marketplace, a website for selling and purchasing new and used lab equipment; and LabWrench, an online...
Bob Kafato, president of the LabX Media Group, explains his motive for taking over the magazine: "I have been an admiring reader of The Scientist for almost 20 years. Adding the magazine to our company will help bring a critically needed economy from sharing both expenses and resources. And I am excited that the editorial and production staff have stayed on board to keep this important institution alive." He has made it clear to the staff that he plans to maintain the high editorial standards of the magazine and its online content, and to continue its mission of bringing researchers in academia and industry the broadest of perspectives on all things relating to the life sciences—a commitment I know our readers will welcome.
So . . . with this November/December issue, having been offline for just a week and out of print for just a month, we're back and raring to move forward.
As we head into the holiday season, always so chock-full of tempting edibles, we offer you some tasty treats: two scientist-written features examining aspects of "taste" that are not immediately apparent. In their feature, "Matters of Taste," Thomas Finger and Sue Kinnamon not only explain how the taste signaling cascade works in the mouth, but how, surprisingly, the same cascade is involved in nutrient monitoring in the gut and defense against foreign substances in the airway. In "Sensing Fat," Beverly Tepper and Kathleen Keller review how we may be able to taste the presence of fat, and how this genetically-based ability, which varies among individuals, might be related to the current epidemic of obesity.
Having been offline for just a week and out of print for just a month, we're back and raring to move forward.
Your planning for the New Year might be influenced by the results of our 2011 Salary Survey, an annual feature that has been running for 11 consecutive years. Additional income data can be found on our website. Government research jobs are the focus of this month's Careers column.
This month we offer two opinion pieces that examine the use of animals in research—a subject repeatedly covered in the magazine since its very first issue, and one that always arouses much passion. Bioethicist James Parker and researcher Michael Conn argue that physicians are the best people to explain to the public how using animal subjects will always be necessary to move health treatments forward, while Andrew Rowan of the Humane Society looks forward to a future in which using animals will be unnecessary.
This issue's Reading Frames essayist, Katherine Larson, eloquently writes about how her work as a scientist inspired Radial Symmetry, a book of poems recently published by Yale University Press.
Finally, by reading Speaking of Science, which usually presents interesting quotes from the world of science, you can get a sense of the outpouring of reader reaction—the dismay and subsequent elation—that greeted our demise and return.
In closing, I will reiterate with fervor what I said in my now no-longer-final editorial: "We remain dedicated to spotlighting research news; publishing scientist-written articles that explain complex topics in jargon-free language; profiling both established and young researchers; covering innovative lab tools and the biotech industry; and addressing the issues faced by scientists over the course of their careers."
Here's to our happy return and a marvelous 2012!
Mary Beth Aberlin
Editor-in-Chief
Please note: If you have any worries about your subscription to The Scientist, please direct your inquiries to Karri Tougas (ktougas@the-scientist.com).
Interested in reading more?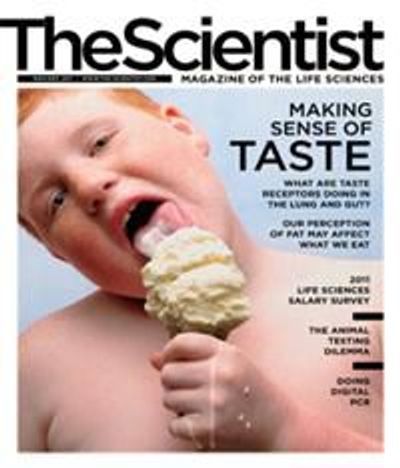 Become a Member of
Receive full access to digital editions of The Scientist, as well as TS Digest, feature stories, more than 35 years of archives, and much more!