ANDRZEJ KRAUZETo get an idea of the terrible dread that polio used to evoke in your parents or grandparents, read the opening chapter of Nemesis, Philip Roth's aptly named 2010 novel set in 1944 in a steamy Newark, New Jersey, neighborhood. Roth's outbreak is fictional, but ever since the first US polio epidemic in June 1916, summer's arrival came with the fear of infection, and parents often limited whom their children could play with and where they were allowed to go.
And that dread was not an overreaction. Although sporadic polio outbreaks occurred every summer, 1952 saw the worst epidemic in the United States, with almost 58,000 reported cases. Of those, 3,145 people died and 21,269 suffered paralysis ranging from mild to disabling. The development of the Salk vaccine three years later, followed by the introduction of an oral vaccine, turned polio from a frightening nemesis...
Polio and guinea worm disease are on the brink of total eradication.
But worldwide, the picture was vastly different. In 1988, when an initiative was launched to stamp out polio worldwide, 1,000 children around the globe were crippled by the infection every day. Epidemiologists and public-health workers set out with the firm belief that they could reduce that number to zero. In "Driven to Extinction," Senior Editor Jef Akst examines the obstacles, both political and scientific, to the permanent eradication of any infectious disease, using polio and guinea worm disease as examples of two human afflictions that are on the brink of total eradication.
In a companion article ("Outbreak Observatory"), science writer Jyoti Madhusoodanan describes a new kind of epidemiology, one that employs satellites and cell phones to acquire the data necessary to draw increasingly sophisticated disease risk maps. Ecological monitoring of land-cover changes from the air and direct reports phoned in from the field allow public-health officials to fine-tune assessments of where to intervene and how to ration resources, while helping farmers decide where to pasture their animals to avoid disease-carrying pests. Researchers around the world are using the techniques to monitor a number of diseases, including sleeping sickness, cholera, West Nile virus, Lyme disease, and malaria.
This month's third feature, "The Sum of Our Parts," by Rodney Dietert and Janice Dietert, switches gears from epidemics caused by infectious disease to those of the noncommunicable sort, examining the intimate relationship between the human microbiome and our environment—from the food we eat to the way we give birth—and the health problems that can result from its disruption and imbalance. Unless an infant "completes" its microbiome in the most efficacious manner, ailments such as allergies, obesity, and inadequate immune responses can result, they argue.
If microorganisms are, after all, not only enemies but allies of our health, they are also proving crucial to the health and species richness of that warm-weather mecca, the ocean. To celebrate summer we have a couple of nods to marine biology: a profile of Max Planck microbiologist Nicole Dubilier, which details her lifelong fascination with the symbiosis between marine worms without a mouth or a gut and the filamentous bacteria that serve as their digestive system; and a short literature summary of the bacterial symbionts that partner with sponges to cycle phosphorus through coral reef ecosystems.
If The Scientist is your vacation companion this summer, remember that our freedom from the fear of polio—as we enjoy beaches, swimming pools, and family cookouts—is a gift of the ongoing march of translational research.

Mary Beth Aberlin Editor-in-Chief eic@the-scientist.com
Interested in reading more?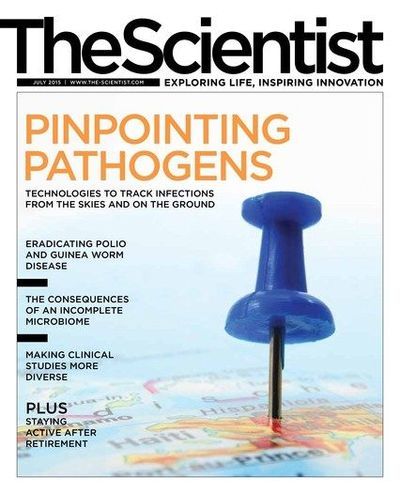 Become a Member of
Receive full access to digital editions of The Scientist, as well as TS Digest, feature stories, more than 35 years of archives, and much more!