ANDRZEJ KRAUSE
Since it began publication almost 25 years ago, The Scientist's mission has been to showcase the newest and best of what's going on in the life sciences. It's the breadth and pace of innovation that makes it so exciting to populate our pages with new fields of inquiry, bold experiments, and creative lab tools.
In this month's issue we celebrate the new.
Barely a decade old, optogenetics—the use of genes that code for light-responsive membrane proteins to target selected neurons for study—was chosen by Nature as the 2010 Method of the Year. In "The Birth of Optogenetics" , MIT's Ed Boyden offers an exciting first-person account of the invention and its development into a technique that can activate or silence the electrical activity of specific sets of neurons with exquisite precision. Optogenetics is making it possible to examine how different kinds of nerve cells...
In another article about an emerging field, the Curie Institute's Clotilde Théry writes about the recent explosion of interest in exosomes—small membrane-bound vesicles secreted by many cell types that act as intercellular messengers—which were described nearly 30 years ago, but more or less ignored until recently. Now they've piqued the interest of a growing number of researchers, thanks to the recognition that exosomes transport not only signaling molecules, but also genetic information for translation into proteins in target cells. These 100-nanometer-scale vesicles carry cell-specific contents both inside and on their surfaces. For this reason, exosomes generated by tumor cells could provide a new source of biomarkers for diagnosing and monitoring different cancers.
This month's issue of The Scientist also debuts a new column—Modus Operandi—devoted to recently published techniques that offer particular promise for extending scientific knowledge. And our inaugural method is a real doozie: a way to study hard-to-crystallize membrane proteins by using a laser-generated X-ray that shines on 0.2-micron-size crystals for only a few femtoseconds, capturing a diffraction pattern before each crystal explodes. That means being able to image crystals 25 times smaller than any previous X-ray crystallography technique could capture. A read of how Röntgen made the first X-ray in our Foundations column will leave little doubt about just how revolutionary an advance this is.
You can get a glimpse of the future in the Thought Experiment column, where Peter Murray-Rust and Brian Brooks propose a lab in which data are never lost and everything, even the incidental, is recorded in the quest for better experimental reproducibility. Hmmm. Shades of Big Brother or the road to better science? You decide.
What else is new? Our website. Launched in June, it has been completely redesigned. We have a bold new look, and the site features not only the content of the print magazine, but also more daily news stories, opinions, an expanded multimedia section, and browsable subject areas. Let us know how you like it—what's missing and what you'd like more of.
And finally you will notice a new name affixed to this editorial. Sarah Greene has taken on a larger role with Faculty of 1000 and passed the baton to me. From my prior editorial stints at The Sciences and Natural History magazines and my 10-month tenure as deputy editor at The Scientist, I have learned more exciting science than I ever did in graduate school. I look forward to edifying myself by bringing you many more years of the newest and best in life sciences research.
Mary Beth AberlinEditor-in-Chiefeic@the-scientist.com
Interested in reading more?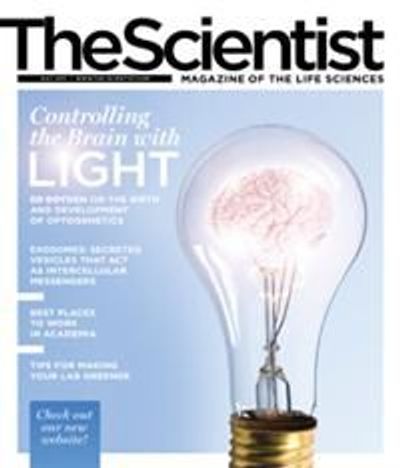 Become a Member of
Receive full access to digital editions of The Scientist, as well as TS Digest, feature stories, more than 35 years of archives, and much more!