andrzej krauze
In this special issue focused on the leading edge of scientific research into all things muscle, one key fact stuck out as I read through the interesting stories it contains. One of this issue's feature articles, "How Muscles Age, and How Exercise Can Slow It," begins with researchers Gillian Butler-Browne, Vincent Mouly, Anne Bigot, and Capucine Trollet writing, "To you readers over age 30, we've got some bad news for you. Chances are good you've already begun losing muscle."
This is a reality that my 40+-year-old body registered long before I read that passage. Nonetheless, seeing it spelled out in front of my face drove home the depressing point all the way to the depths of my withering sarcomeres. Butler-Browne and her coauthors do give us a ray of hope, detailing exercise's ability to halt or reverse this trend, even in people older than 70....
This gradual wearing down of physiology brings to mind another alarming and erosive trend happening in our world. The President of the United States has lately been stepping up his already disturbing attacks on the media, often repeating the phrase: "The press is the enemy of the American people." As his rhetoric has become more frequent and vitriolic in the past few months, a consortium of more than 300 US newspapers, from Maine to Hawaii, recently banded together to simultaneously run editorials combating the idea that media outlets seek to harm the populace or spread untruths about the unassailable character of a misunderstood leader.
I won't spend too much ink here contravening these patently ridiculous assertions. My colleagues at The Boston Globe, the Honolulu Star-Advertiser, Anchorage Daily News, and other outlets have done a sufficient job in this regard.
I can, however, share insights from the perspective of a science journalist. In our business, we're no strangers to the post-publication butting of heads that sometimes breaks out among researchers, politicians, industrialists, and members of the public. After all, one person's well-supported scientific fact can be another's political or business headache. Exposing the empirical dangers of widely sold chemicals, highlighting the damage wrought by climate change, tamping down the hype of wonder drugs' marketing, or correcting mistaken public perceptions about vaccines is all in a day's work for a science journalist.
And just like those who make a living reporting on politics, science journalists must often relate unflattering facts about the people and institutions they cover. For decades, The Scientist has been one of the clearest voices calling out instances of misconduct, waste, shoddy research, and hype in the scientific community. Far from being an antagonist, much less an enemy, of science or researchers, science journalists reporting, writing, and editing such stories seek to propel the pursuit of knowledge by holding those at the helm accountable and keeping them honest. Transparency and accountability make the scientific enterprise stronger, and by extension create a safer, more informed citizenry protected by sound policy. As journalists covering science, it is our duty to shine a light on discoveries and help inform the public, but also to bring scientific fact to bear on business or political issues, and to expose the darker corners of the scientific enterprise so that the many can learn from the mistakes of the few.
These precepts of responsible journalism, like aging muscle, can atrophy if not exercised. And this withering can be accelerated when people in power actively seek to undermine our efforts.
As you peruse this issue, which includes a plethora of interesting muscle facts and one or two well-founded muscle opinions, know that we at The Scientist pledge to continue to fulfill our journalistic duty with strength and clarity, as we have for more than three decades.
Bob Grant
Interested in reading more?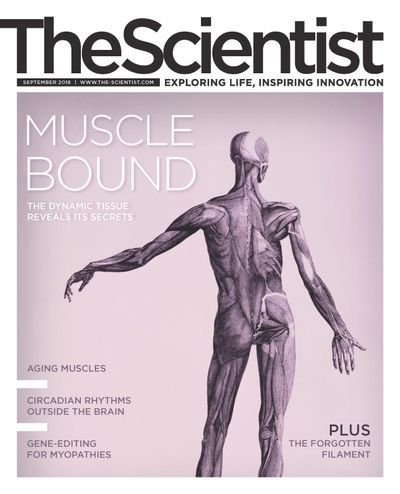 Become a Member of
Receive full access to digital editions of The Scientist, as well as TS Digest, feature stories, more than 35 years of archives, and much more!