ANDRZEJ KRAUZE
This is my last editorial describing the contents of an issue of The Scientist. Beginning in mid-2011, every month that I have had to pen this message to readers, the task never failed to remind me why I love science and how rare a job it is to always be learning something new. How can this be called work? And every month, it delights me no end to see how articles about seemingly disparate areas of life-science research share fundamental connections, both mechanistic and historical.
This past weekend, I saw for the first time a preserved neuron from the jumbo or Humboldt squid (Dosidicus gigas). Its giant axon really does look like a piece of spaghetti. I knew the important role these hefty conductors of nerve impulses have played in the development of neuroscience and why researchers had to focus on axons so large:...
It's been a wonderful run with wonderful colleagues.
Because paradigm-shifting discoveries are so rare, much of what we report at TS results from painstaking, incremental improvements in techniques that have allowed researchers to dissect biological processes in ever-more-minute detail. To my mind, today's most extraordinary advances result from methods that provide glimpses of those processes in single cells. In this issue's cover story, Senior Editor Jef Akst reports on how such techniques have begun to detail the genomic reprogramming that occurs during very early embryonic development, after that most amazing of single cells—the zygote—forms by the union of a sperm and an oocyte.
Testaments to the value of single-cell analysis are legion, and this year our Top 10 Innovations first-place award goes to a new, commercially available tool, the IsoCode Chip, that can characterize thousands of single cells by assaying close to four dozen of the protein types each secretes. Another winner, 10x's Chromium system, allows precise single-cell transcriptome and whole-genome analysis. Check out all 10 winners here.
Before I cap my pen, I want to reiterate that, for TS, the lives of scientists are as important to cover as the results of their research. Working as a scientist can be a hard job, and these days stagnant funding, career pressures, and waves of change in science publishing are making it harder still. But worst of all seems to be a devaluation of science and scientists by those in the highest echelons of our federal government, with a mandate to ignore basic science in favor of research with direct commercial benefits. I hope that this spring's nascent activism continues to motivate scientists to speak out. This issue's Careers column covers the importance of philanthropic support of science, not only to counter actual and threatened cuts to basic-science research, but to fund riskier, outside-the-box studies.
The author of that Careers column is Senior Editor Bob Grant. It is to him that I pass the torch as I retire. Bob is uniquely suited to take over as editor-in-chief. He knows The Scientist intimately, having been on staff since 2007. He is not only a hard-nosed reporter but also an award-winning feature writer. And he is passionate about The Scientist's mission.
For me, it's been a wonderful run with wonderful colleagues. I look forward to reading Bob's words in this space in the new year and beyond.


Mary Beth Aberlin Editor-in-Chief
Interested in reading more?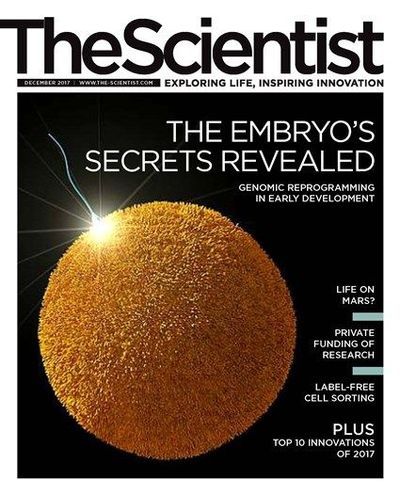 Become a Member of
Receive full access to digital editions of The Scientist, as well as TS Digest, feature stories, more than 35 years of archives, and much more!