CENTIPEDE: EIVIND UNDHEIM; SHELL: DENIS FINNIN, AMERICAN MUSEUM OF NATURAL HISTORY; SEA ANEMONE: TAM WARNER MINTON/WIKIMEDIA COMMONS; FROGS: © ISTOCK.COM/CYNOCLUB; SCORPION: © FMPORTELLA/SHUTTERSTOCK.COM; SPIDER: BASTIAN RAST
Beyond the usual suspects of snakes, spiders, and scorpions, the animal kingdom is filled with noxious critters: snails, frogs, fish, anemones, and more make toxins for defense or predation. The noxious chemicals these animals produce are potent, and they often strike where it hurts: pain pathways. These compounds have long captivated researchers hoping to understand their effects and use that knowledge to develop drugs that suppress pain in a wide variety of ailments affecting humans.
Paradoxically, some of these toxins are themselves analgesic, and researchers have worked to develop synthetic derivatives that can be tested as painkillers. Such is the case for the only toxin-derived analgesic to be approved by the US Food and Drug Administration (FDA): ziconotide (Prialt), a compound 1,000 times...
Despite more than half a century of research in this field, however, scientists have had a frustrating time developing effective analgesics. Challenges include ensuring that the drugs are highly specific to their targets—each family of ion channels involved in pain sensing in humans contains several conserved proteins—and getting them to those targets, which often lie beyond the blood-brain barrier in the central nervous system. Nevertheless, several toxin-derived candidates are beginning to prove their worth in preclinical experiments and a handful of clinical trials, and bioprospectors continue to mine the animal kingdom's vast library of venoms and poisons for more leads. The next big thing in painkillers could soon be slithering, creeping, hopping, or swimming into the pipeline.
What's in a toxin?
Animals produce toxins of two varieties: poisons and venoms. Poisons cause pain or illness when ingested, whereas venoms are injected via a bite or a sting to cause ill effects.
| | |
| --- | --- |
| © JEFF ROTMAN/ALAMY STOCK PHOTO | Studying cone snail venom has yielded novel pain pathways, but the peptides that function as toxins are difficult to translate into drugs. |
| ELVIND UNDHEIM | Venomous centipedes may harbor a clue to the creation of a successful pain-killing compound for humans. |
| BASTIAN RAST | Arachnids harbor a plentiful array of molecules that target mammalian pain receptors. |
| © SHAYNE HILL EXTREME VISUALS/GETTY IMAGES | In tiny doses, the pufferfish's tetrodotoxin can be turned into a pain-relieving ion channel blocker. |
| MATTHEW P. ROWE | Compounds in the arachnids' venom interact with ion channels to both cause and block pain. |
| © ISTOCK.COM/DAMOCEAN | If successful, the treatments could alleviate patients' pain by reducing inflammation. |
| © ISTOCK.COM/FARINOSA | Decades after their discovery by bioprospectors, amphibian-derived analgesics continue to attract scientific attention. |
| © MATTHIJS KUIJPERS/ALAMY STOCK PHOTO | Painful snake bites may hold clues to developing analgesic drugs. |
Interested in reading more?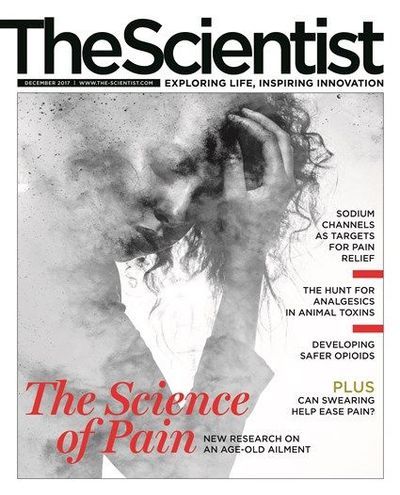 Become a Member of
Receive full access to digital editions of The Scientist, as well as TS Digest, feature stories, more than 35 years of archives, and much more!