© ALEKSANDAR VELASEVIC/ISTOCKPHOTO.COM
In a time of harsh budget cuts, furloughs, and other last-resort, money-saving actions, academics need all the in-house support they can get. In this year's Best Places to Work in Academia survey, it's clear that scientists value any form of financial and research support they can get from their employers: three out of the top four institutions scored highly on questions relating to "Infrastructure and Environment," and two got high marks for "Research Resources." Researchers at both the #2 and #3-ranked US institutions—Blood Systems Research Institute (BSRI) in San Francisco and the Stowers Institute for Medical Research in Kansas City, Missouri, respectively—cited financial and other forms of institutional support as key benefits of their workplaces.
For a full list of the Top 20 Institutions, including the strengths and weakness of each, click here JPG | PDFBSRI's prime location in the same San Francisco facility as...
Other supportive universities and research institutes fill out the rest of this year's top 20 academic institutions in the United States, with the La Jolla Institute for Allergy and Immunology (LIAI) taking the top spot. (LIAI also placed #2 in this year's Best Places to Work for Postdocs survey, with postdocs citing the institute's impressive support for young scientists.) Clearly, when an institution truly values its researchers, its researchers will value their work. With this issue, The Scientist completes its Best Places to Work series, but we will continue to cover workplace matters affecting life-science researchers in our Careers section and in daily online news and opinions. –Jef Akst
---
Bound By Blood at BSRI
BLOODY BUSINESS: Researchers working in the laboratory of Eric Delwart at BSRI, which focuses on all things blood, from the safety of the blood supply to virology, tissue culture techniques, and immunology© ABIGAIL SCHROCKThe San Francisco-based Blood Systems Research Institute (BSRI), which ranked #2 among US institutions in this year's survey, unites 60 researchers from diverse disciplines to study the medical use of blood. The institute is supported in large part by its parent organization, the nonprofit Blood Systems, one of the largest collectors of blood donations in the United States.
"Everything is related to blood transfusion, but there is virology, epidemiology, immunology," says Rachael Jackman, a staff scientist at the institute. "You get to look at a problem from a lot of different angles."
Jackman studies the immune response to blood transfusion. Other BSRI researchers are combing the blood supply worldwide for novel pathogens, trying to understand why blood can't be stored for medical use indefinitely, and researching the epidemiology of who chooses to donate blood.
Employees say that the institute benefits from its close alliance and shared location with a Blood Systems-owned blood bank—a valuable source of expertise. When Jackman was setting up a mouse model to study transfusions following traumatic blood loss, for example, she sought advice from technicians at the blood bank on preparing the blood transfer. "You can read about it, but it's much more helpful to go downstairs and talk to people who are doing the processing," she says.
The blood bank also serves as a daily illustration of the real-world implications of the BSRI scientists' work. "It kind of reminds you that there is a real, practical purpose to our research, which is maintaining the safety and availability of blood," says Eric Delwart, a senior investigator at the institute and a professor at the University of California, San Francisco (UCSF).
All researchers at BSRI have access to the libraries and other resources at the UCSF, and higher-ranking investigators are given academic appointments. But they are free from many common responsibilities of academic life. There are postdocs at the institute, but no graduate students, and no classes to teach. And because a third of the institute's funding comes from Blood Systems, the researchers say they enjoy a sense of financial security in this time of economic hardship.
"It's a neat little place," says Delwart. "Good funding, great town, great science." –Kate Yandell
---
COURTESY OF STOWERS INSTITUTE FOR MEDICAL RESEARCH
Core Strength at Stowers
Scientists at Stowers Institute for Medical Research, this year's 3rd-ranked US institution, speak highly of an unusual organizational structure and a strong collaborative culture, which together create a great environment for researchers to advance our understanding of the molecular mechanisms underlying human health and disease.
Located in Kansas City, Missouri, the endowment-funded institute houses 12 core facilities—ranging from cytometry and proteomics to bioinformatics and animal services. Each facility is run by an expert in the field, who provides the institute's 22 investigative labs with easy access to the specialist knowledge and top-notch technology required to pursue any experiment they can dream up. "My job is to help the investigators do experiments they would not otherwise dare," says Winfried Wiegraebe, head of the microscopy center.
Stowers also employs research advisors, who work as internal consultants on projects that require highly technical expertise. "Our goal is to lower the energy barrier for the investigators to try new things," says Brian Slaughter, a research advisor in molecular imaging. "So if they have a crazy idea, they don't need to go searching for someone [to consult] because all the expertise is here—and we all know each other really well, so collaborations come easily."
Home to 353 scientists, including some 75 postdocs, the institute also boasts a rich culture of collegiality—a commonly cited quality of organizations that place highly in Best Places to Work. Stowers cultivates such an atmosphere, in part, with a policy that gives every lab head equal space and financial resources, so that "we are more focused on working together to do science than [on] empire-building and competing with each other like you see in some places," says Paul Trainor, whose lab uses mouse models to study the biological mechanisms controlling craniofacial development.
The free-tea-and-coffee station fosters informal conversation among researchers, as does the Friday Science Club, at which postdocs give presentations, followed by free food and drinks. "It's one of those things that encourages chance encounters and casual conversations," says Trainor, "which often lead to new ideas and collaborations." –Dan Cossins
---

SURVEY METHODOLOGY
Survey Form: A Web-based survey form was posted at www.the-scientist.com from August 31 to November 26, 2012. Results were collected and collated automatically.
Invitations: E-mail invitations were sent to readers of The Scientist and registrants on The Scientist website who identified themselves as full-time life scientists working in academia or noncommercial research institutions. The survey was also publicized on The Scientist website and through news stories.
Responses: 1,249 useable and qualified responses were received. Responses were rejected if the respondent did not identify him or herself as a full-time scientist working in a noncommercial organization, if the respondent's institution was not identified or identifiable, or if the response was a duplicate, based on e-mail address or other criteria.
Analysis: Respondents were asked to assess their working environment according to 37 criteria in 8 different areas by agreeing or disagreeing with a series of positive statements. Answers were scored on a scale of 1–5, with 5 = "Strongly agree"; 1 = "Strongly disagree"; and 3 = "Neither agree nor disagree". Respondents were also asked to assess the importance to them of each factor on a 0–5 scale, with 0 indicating that a factor was "Not relevant" to them. Only institutions that received at least five responses were included in the analysis.
Identification of Institutions: As much as possible, institutions were identified and names were standardized. Responses from institutions with branches or campuses in multiple locations were lumped together.
Scoring: Scores for each statement were averaged by institution and country.
Ranking: In order to calculate the overall rankings of institutions, we first weighted each factor based on the average importance score. Because several factors that are ranked as important in the United States are ranked as less important outside the U.S. and vice versa, we used different factor weightings in our ranking of US and non-US institutions. The overall rankings were based on the average score per institution across all factors, weighted as described.
In addition, we ranked institutions based on unweighted average scores for the 9 major topic categories covered by the statements included in the survey. These categories are:
1. Job Satisfaction
2. Peers
3. Infrastructure and Environment
4. Research Resources
5. Pay
6. Management and Policies
7. Teaching and Mentoring
8. Tenure and Promotion
Results: Results are published in The Scientist, August 2012 issue, and are available on The Scientist website.
Caveats:
The sample of respondents, while large, was self-selected, which may introduce some bias into the results.


The scoring of results is not standardized, and standards may fluctuate between individuals, institutions, and countries.


In some cases, small sample responses may have led to bias in the results.


No attempt has been made to measure the statistical significance of the results. The difference between, say a 10th-ranked and a 15th-ranked institution may be insignificant.
See a full list of the survey questions here.
The survey was developed and responses were analyzed by The Scientist staff.
Interested in reading more?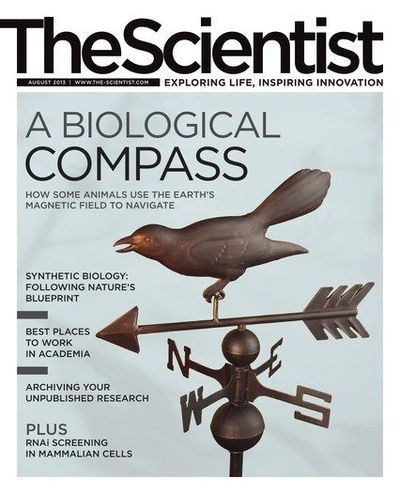 Become a Member of
Receive full access to digital editions of The Scientist, as well as TS Digest, feature stories, more than 35 years of archives, and much more!