© ALEKSANDAR VELASEVIC/ISTOCKPHOTO.COM
The Scientist continues its last Best Places to Work series with this year's survey of the life-science industry, highlighting companies around the globe where researchers love to work. Topping this year's list is a newcomer to the survey, Genos, a Croatian company of eager, young scientists, fresh out of—or even still in—school. Although it has just 25 employees, the company maintains strong ties to academia, allowing it to participate in large-scale projects, such as the first genome-wide association study of glycosylation in humans.
(For a full list of the Top 15 Companies, including the location and number of employees for each, click here JPG | PDF)This year's second-ranked company, Vitae Pharmaceuticals in Fort Washington, Pennsylvania, is only slightly larger, employing 50 workers—but that doesn't stop them from tackling some of medicine's biggest challenges, including Alzheimer's disease and diabetes. The rest of this year's Top...
Read on for more detailed results of our final Best Places to Work in Industry survey. As the industry continues to grow, bouncing back from the massive layoffs of the last few years, The Scientist will continue to follow the action through our regular Bio Business and Lab Tools columns, as well as daily online news. —Jef Akst
---
Balancing Science With Business at Genos
IDENTIFYING SUGARED PROTEINS: Irena Akmacic, a PhD student and researcher at Genos, performs high-throughput IgG purification from human plasma in the course of her work on protein glycosylation.COURTESY OF GENOSFounded in 2007 by University of Zagreb molecular biologist Gordan Lauc, top-ranked company Genos, located in Croatia, has stayed close to its academic roots, with many employees doing their PhD research at the company. Maja Puçiç Bakoviç, head of the company's glycobiology laboratory, did just that, completing her degree in biochemistry and molecular biology earlier this year at the University of Zagreb while doing research at Genos. "We are a group of young people in our 20s," she says. "The atmosphere is fun and creative."
The 25-person company has done large-scale studies of protein glycosylation in humans, including the first genome-wide association study of the human glycome, in collaboration with academic researchers (PLOS Genetics, 6:e1001256, 2010). They hope their research will shed light on how glycosylation modulates individuals' predisposition to disease. Genos also offers diagnostics and forensic DNA analyses, largely for local clients.
Head of product development Mislav Novokmet, who has been at Genos since 2009 and completed his PhD studying molecular biosciences at the University of Osijek earlier this year, says that getting to develop products
and business plans is invaluable. "It's great experience for later on."
The attitude of Lauc, the company's founder—whom Novokmet describes as open-minded and always willing to talk—also helps make Genos an attractive destination, Novokmet adds. "His first love, and his only love, is science," Novokmet says. "We are trying to survive on the market and earn the money, but we do not neglect the science."
When they're not developing products and doing analyses for clients, Genos employees work on grant-funded collaborative projects. For instance, the company is working with University of Edinburgh scientists to identify biomarkers for inflammatory bowel disease—a project funded by the European Commission.
Puçiç Bakoviç says that, while work hours are flexible at Genos, people tend to put in long days because they are excited about their research. "Everything is developing fast," says Novokmet. "It is really an exciting thing to be at a young startup."
And when it's time to relax, the Genos staff gather around one another's computers to watch science-related videos such as TED Talks, drink red wine, and munch on popcorn and chocolate. —Kate Yandell
---
Feeling Vital at Vitae
DEMOLISHING DISEASE: Vitae scientists using their proprietary structure-based discovery approach to identify disease targets.COURTESY OF VITAE PHARMACEUTICALSRanked second
in this year's
survey, Vitae
Pharmaceuticals is a small company developing drugs to tackle big problems such as Alzheimer's, atherosclerosis, and diabetes. Based in Fort Washington, Pennsylvania, the company is home to 40 research scientists—a team of chemists, biologists, and computational modelers who together take a structure-driven approach to identify targets, design novel molecules, and guide them to clinical trials.
The small size of the group encourages the feeling that every individual's contribution is crucial, says Guozhou "Joe" Chen, a senior research scientist at Vitae who studies the structure of protein-ligand interactions. "People here are very motivated," says Chen, "and I think that's because we feel we have a big stake in the success of the company, so each individual takes responsibility for pushing it forward." The intimate environment also gives the staff the chance to experience many different aspects of drug development, says Chen, "so you learn about the whole process."
The researchers also value their easy access to senior management, whom they might face across the ping-pong table during the annual tournament, and who hold monthly "town hall" meetings to keep the staff apprised of the business situation. "We are completely free to focus on research, but it's nice to be kept informed about how the business is doing," says Andy Hardy, a senior research associate who joined Vitae from the National Cancer Institute in 2007. "We're lucky to have a very transparent company."
Most of all, however, Vitae's research scientists appreciate the fact that they can keep track of exactly how their bench work contributes to the progression of projects, even when they're no longer directly involved. "We have weekly update meetings, so although the project may have moved on, you can always see that your contribution is being recognized and built upon," says Hardy. "That's important, because you feel like you're making a difference." —Dan Cossins
---
SURVEY METHODOLOGY
Survey Form: A Web-based survey was posted at www.the-scientist.com from August 31 to November 26, 2012. Results were collected and collated automatically.
Invitations: E-mail invitations were sent to readers of The Scientist and registrants on The Scientist web site who identified themselves as working in commercial or industrial companies.
Responses: 2,010 useable and qualified responses were received. Responses were rejected if the respondent did not identify him or herself as working in a commercial company, if the respondent's company was not identified or identifiable, or if the response was a duplicate, based on e-mail address and other criteria.
Analysis: Respondents were asked to assess their working environment according to 43 criteria in 8 different areas by agreeing or disagreeing with a series of positive statements. Answers were scored on a scale of 1–5, with 5 = Strongly agree; 1 = Strongly disagree; and 3 = Neither agree nor disagree. Respondents were also asked to assess the importance to them of each factor on a 0-5 scale, with 0 indicating that a factor was "Not relevant" to them.
Identification of Companies: As far as possible, companies were identified and names were standardized. Companies with multiple locations, including multiple international locations were merged.
Scoring: Scores for each statement were averaged by company.
Factor Analysis: Based on the importance scores given to each factor, we calculated an average importance score for each factor and for each group of factors.
Thresholds: We received responses from 240 companies, of which 33 companies received 5 or more responses. Responses from different locations, including international locations, within the same company were combined.
Company Ranking: In order to calculate the overall rankings of companies, we first weighted each factor based on the average importance score. The overall rankings were based on the average score per company across all factors, weighted as described.
In addition, we ranked companies based on unweighted average scores for the 8 major topics covered by the statements included in the survey. These categories are:
Research Environment
Management
Integrity
Communications
Job Satisfaction
Training and Development
Remuneration and Benefits
Policies and Practices
Results: Results are published in The Scientist, June 2013 issue, and are available on The Scientist Web site at www.the-scientist.com.
Caveats:
The sample of respondents, while large, was self-selected, which may introduce some bias into the results.
The scoring of results is not standardized, and standards may fluctuate between individuals, institutions, and countries.
In some cases, small sample responses may have led to bias in the results.
No attempt has been made to measure the statistical significance of the results. The difference between, say a 10th-ranked and a 15th-ranked institution may be insignificant.
The survey was developed and responses were analyzed by The Scientist staff.
Click here to view the questions used in this survey.
Correction (June 3): The tables in this story have been updated to correctly reflect that OpenEye Scientific Software has 26 R&D employees, not 6. The Scientist regrets the error.
Interested in reading more?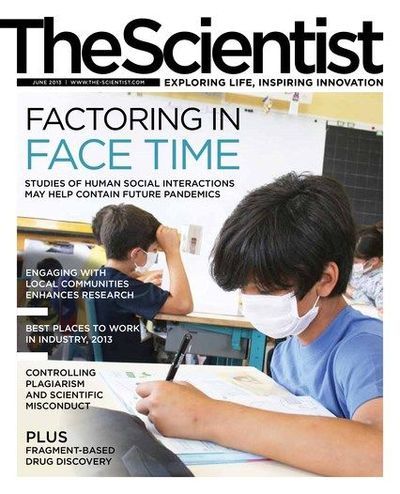 Become a Member of
Receive full access to digital editions of The Scientist, as well as TS Digest, feature stories, more than 35 years of archives, and much more!