Erica P. Johnson
Apreschool girl with black braids presses a finger to a disk that twists a brightly lit DNA model, transforming its ladder shape into a double helix. Her head bops from side to side in wonder as the towering DNA coils and straightens. When a bigger boy claims her place, the girl joins meandering moms and dads with their charges as they twist knobs, open flaps, and simply stare at flashing helixes and orange information boards: all a part of the museum exhibit called "Genome: The Secret of How Life Works" at the Academy of Natural Sciences in Philadelphia.
Museums in History
ANTIQUITY
Royalty and the rich gather art and natural objects into private collections, but the public museum does not exist as an institution.
RENAISSANCE
Magnificent and unique objects begin to be displayed in semipublic "Cabinets of Curiosities" or "Wunderkammer." The most famous is the still-intact "Green...
SELLING SCIENCE
From left to right: © The Exploratorium/Heather Ackroyd, Dan Harvey; The Field Museum, Chris Brochu, John Weinstein; The Natural History Museum; Courtesy of Jaime Joseph
And in all manner of ways. (From left) The tiger skin at San Francisco's Exploratorium; Sue the T-Rex at Chicago's Field Museum; examining a beetle at London's Natural History Museum; and Australian parrots of the Crimson Rosella Platycercus elegans complex of eastern Australia, from the avian collection of the Academy of Natural Sciences in Philadelphia, currently on display at the Australian Embassy in Washington, DC, through April 14.
The Brain. Pearls. Chocolate. DNA. Einstein. Designers of such traveling exhibits aim to make science as palatable as it is educational. "[Visitors like] anything that has to do with themselves, their bodies, or how they perceive the world," says Joshua Gutwill, senior researcher and evaluator at The Exploratorium in San Francisco.
Nevertheless, curators want to respect the intelligence of their audiences, which have become increasingly sophisticated. "I think the consumer is smarter than anybody ever gives them credit for," says Sophia Siskel, director of exhibits and education for the Field Museum in Chicago. Thomas Turi, a Pfizer adviser on the Genome exhibit, says that he was taken aback by the scientific knowledge that even a young boy visiting the exhibit displayed. "I was absolutely dumbfounded, in terms of the concepts he already understood," says Turi. "Kids have a natural curiosity, [they're] adventuresome, and science is a good medium."
To translate complex DNA studies into an entertaining exhibit, the San Antonio-based Clear Channel Exhibitions worked with Turi to create slot machines that show the odds of inheriting diseases, and build a cookie factory to depict transcription. Origami explains protein folding. A replica of Watson and Crick's office is replete with filled trashcans, dirty cups, and a five-foot double helix. A screen shows Eric Lander and other genomic pioneers talking about the human genome project, juxtaposing the present with the littered past.
Such sophistication is a goal of the inaugural exhibits at the Koshland Museum. The temporary displays will focus on global warming, the wonders of science (an animation that describes a discovery), and DNA; the exhibits will change every 18 months. Despite the public's sophistication, the Koshland exhibits had to be reworked so that the public could understand and enjoy them. "Frankly, when we started this, scientists were writing things that looked like textbooks," says Alberts. "We've already run test groups ... and we revised [the exhibits]. ... We've been humbled."
At the California Academy of Sciences (CAS), Golden Gate Park, reinvention means connecting disciplines to show relations among ecosystems. When the CAS opens its new museum in 2008, it's slated to include a planetarium, tropical rain forest, coral reef tank, and other exhibits that will be flexible, says director of research Dave Kavanaugh. "We're getting away from the fixed halls concept." And more: "We've made the decision to not emphasize dinosaurs."
At Chicago's Field Museum, refreshing the mission's mandate means coupling strong science with a "hook" to bring in the masses, Siskel says. For example, the "Chocolate" exhibit, which traces the origin of this confection from the early Mayans through chemical analysis, opened on Valentine's day.
Marketing an exhibit based on museum collections can be tricky, says paleobiologist Hans-Dieter Sues, associate director for research and collections at the Smithsonian's National Museum of Natural History. People may enjoy an exhibit of butterflies or spiders, but "if you said 'the wonders of the world of worms' or 'sea cucumbers,' that's not going to bring in the kind of attendance a museum director would like."
Courtesy of the Marian Koshland Science Museum
Set to open next month in Washington, DC, the Koshland museum (first photo) will have temporary exhibits including displays on DNA and on global warming. The DNA overview (second and third photos) includes a comparison of the genetic makeup of humans with that of animals, fungi, and plants. Visitors also will learn about the 2003 SARS outbreak, and how scientists are identifying new diseases using microarrays. The global warming display (fourth through sixth photos) covers the geographic diversity of climate change, a recreation of today's major methane emitters – hence Bessy the Cow. Visitors also can flood the Chesapeake Bay, and witness the impact of global warming on sea levels around the world.
In Europe, museums and science centers also are trying to draw people in and educate them. At the NEMO science and technology center in Amsterdam, the "WonderLab" allows visitors to pretend to be scientists, while "Journey Through the Mind" is composed of interactive games relating to memory, emotion, and learning. "Our institution's aim is to inspire people rather than to teach them," says Diana Issidorides, senior scientist and exhibit developer. "Ironically enough, by not being didactic, we often promote learning."
At the Science Museum in London, visitors who participate in behavioral or neurological surveys are granted free access to researchers. "It's fulfilled our obligation to communicate contemporary science and the process of science, making scientists more accessible," says Sabina Foster, the museum's life sciences coordinator. At London's Natural History Museum, researchers spend about 5% of their time presenting their work to the public. The institution provides teachers to translate, says Lane, because scientists' "normal mode of communication is impressing colleagues rather than expressing themselves to a wider audience."
PAYING FOR IT ALL
To finance such public ventures, museums use both public and private dollars. Academy of Science member Daniel Koshland Jr., a biochemistry professor at University of California, Berkeley, provided a $30 million (US) endowment for the new museum in his late wife's name.
The US government is another funding source: the National Science Foundation with multiple grant programs, for example. Dave Ucko directs a program that funds information education, including collaborative projects among different museums. The program's budget was about $4 million in the mid-1980s, and is now $62 million, he says. One-third of the budget goes to museums.
Muriel Poston directs the program that funds biological research collections. In the past three years, the number of grant requests has grown from about 50 to 90, not dissimilar to what Ucko has seen. "In part, it's simply because more programs are looking for external funding, and because they've lost traditional sources of funding," such as state support, she says. Her program awards about $6 million per year. Funding levels for both programs have remained relatively stable over the past few years, says NSF spokesman Sean Kearns.
The National Institutes of Health's National Center for Research Resources has provided millions of dollars to help museums work with teachers and students to boost science literacy. The center's Science Education Partnership Awards awarded science museums 24 grants, totaling more than $20 million from 2000 to 2003, including 17 active today, says the NIH's acting communications director, Joyce McDonald. In Miami, for example, the NIH-sponsored Biomedical Training, Research, and College Preparation (BIOTRAC) program runs hands-on lab activities to teach kids about AIDS, the environment, and sports medicine.
Courtesy of Renzo Piano Building Workshop
By 2008, the California Academy of Sciences will look like this, according to an architect's rendering.
Private money is available as well. Pfizer's Turi says his company, which has funded three exhibits so far, supports museums to increase science literacy. For a drug company in an increasingly challenging market, such an exhibit helps boost its branding, he acknowledges: It's "vital to compete." In the United Kingdom, GlaxoSmithKline, for essentially the same reasons, donated €300,000 over four years to the inflatable Bio-Bubble exhibit, created as part of the 2003 Edinburgh International Science Festival.
NATURE IN CYBERSPACE
As these exhibits evolve, museum life in the quiet of the collections has changed too. "Museums are critical because they have information that not only no one else has, but can't get, because a lot of the information is historical," says Gladys A. Cotter of the US Geological Survey. (See Opinion, p. 8)
Researchers, who are collaborating as never before, are using these collections to tell their own stories about science, and the Internet is the mechanism for this joint museum research. Lane, of London's Natural History Museum, says his institute has projects in 60 countries.
Since the mid 1990s, growing legions of researchers have collaborated in listing museums' collections on the Web. Starting with small goals among a few museums – a fish inventory called FishNet http://speciesanalyst.net/fishnet, and a vertebrate database called Mammal Networked Information System http://elib.cs.berkeley.edu/manis, for example – their aims are now global. "These early successes ... demonstrated that an incredibly daunting task can be done more efficiently," says John Heyning, president of the Natural Science Collections Alliance and deputy director, research and collections, Natural History Museum of Los Angeles County. Using latitude and longitude, for example, a researcher can now map the location, over time, of a particular species worldwide. And because the databases are uploaded for all to see, researchers can more easily identify mistakes.
Technology has enhanced the value of these collections. "The ability to get more information [about species] and to understand the phylogenetic relationship between them makes collections much more important," says the NSF's Poston. One group working on digitizing this information is the Global Biodiversity Information Facility (GBIF, http://www.gbif.org).
No one thinks that complete digitizing will be easy. Meredith Lane, the GBIF's public and scientific liaison officer, estimates that three billion specimens occupy jars, drawers, tanks, and metal cases in 6,500 collections. Most are invertebrates. "They all have little labels stuck with pins – handwritten data," says John Deck, informatics coordinator at the Berkeley Natural History Museums, of the institution's insect collection. "You have to look at the tags under a scope," he adds. Michael Novacek, provost of the American Museum of Natural History in New York City, says that insects alone account for 18 million specimens in his museum's collection.
But a few researchers, like Deck, seem unfazed by the challenge. So far, says Lane, an inventory of 12.2 million specimens has been uploaded to the Web. The goal, Heyning says, is to create one global museum. "We are at the brink of doing that on a wholesale basis," he says. "The impact of the benefit to society will increase multifold."
Making smaller impacts seems to be the rule right now. Berkeley, for example, plans to make available online the collections from its six museums. So far, it has 1.8 million species online, and about another 12 million to go. Prior to Berkeley's Museum of Vertebrate Zoology putting its data online five years ago, the staff would get about 100 requests per year for information, says programmer analyst John Wieczorek. In the year following the debut, there were 41,937 requests. Moreover, says Wieczorek, there was an increase in loan activity of 40%, "which we attribute directly to the online presence." Good things happened, he says: Staff was freed up to provide loans from the collections to those who wanted it, and because other museums often told Berkeley about problems with its data, staff could focus on improving data quality.
At the University of Kansas' Natural History Museum, A. Townsend Peterson, along with researchers at Berkeley and the California Academy of Sciences, developed a platform called DiGIR that was designed to unify all the databases out there. "We've linked up 60–70 million specimens," Peterson says. "This is a massive effort. This is just for birds, mammals, plant data, amphibians, invertebrates, and some insects."
Building these immense global databases requires major money: Deck estimated that it would cost his institution $100 million to digitize its entire collection. To Heyning, the benefits outweigh the expense. "We have a $25 billion fishing industry in the United States," he says. "Most of the fisheries are collapsing. Information to monitor the ecosystems is vital." Ichthyologist Larry Page at the Florida Museum of Natural History in Gainesville agrees: "You have to make the economic arguments and hope that people understand that by losing diversity, we are losing options for their future use, before we even knew they were there."
After the discovery of DNA, says Basseches, there was talk about eliminating some collections because researchers could focus on these species at the molecular level. "I think what we're seeing now is a reaffirmation of the importance of these collections and a sort of a marrying of traditional organismic, taxonomic, evolutionary, and molecular research, and it's the [convergence] of those types of research paths that has a lot of importance."
Christine Bahls and Paula Park can be reached at cbahls@the-scientist.com and ppark@the-scientist.com. Karen Heyman klhscience@yahoo.com is a science writer in Santa Monica, Calif. Philip Hunter ph@philiphunter.com is a freelance writer in London.
Museum Scientists Track Biodiversity with Technology
Researchers want the world to know that their behind-the-exhibit museum work – tracking bugs, buds, and birds – tells a crucial global story. The story focuses on ecology, but it has financial implications as well.
A case in point involves the study of a moth called Cactoblastis, and its favorite food, the Opuntia cactus. By using databases drawn from museum collections, researchers have tracked the moth, which has been globe-hopping for at least the past 50 years and is now in South Florida, says Meredith Lane of the Global Biodiversity Information Facility (GBIF). The fear is that it will head to Mexico, where Opuntia is a commercially valued food. By mapping its location and therefore knowing its preferred environs, Lane says, researchers know where in Mexico Cactoblastis might land, and eradication efforts can be planned, "thus saving lots of money."
Another commercially important food is the catfish, and this diurnal freshwater denizen can tell scientists even more, says ichthyologist Larry Page of the Florida Museum of Natural History in Gainesville. Armed with a $4.7 million (US), five-year grant from the National Science Foundation, Page has called on 250 scientists from 31 countries to document as many catfish species as they can find. Scientists already know about 2,500 species and expect to find another 1,750. By studying where these fish live, scientists hope to learn more about when the continents divided. Because they are freshwater fish, they developed inside the land masses; everything evolved together, says Page. Specimen databases such as FishNet will help, but researchers also want to visit museums and numerous rivers around the world to get more information.
A. Townsend Peterson, curator of the University of Kansas' Natural History Museum, works closely with Mexican researchers tracing species to identify their ecological niches. Mapping and high-end computational approaches identify what makes the locations different, giving Peterson a model of the species' ecological preferences.
Peterson has looked at the effects of climate change on birds, mammals, and two butterfly families in Mexico. His research group in 2002 developed niche models for 1,870 species and projected them into two regional climate models for 2055.1 Since then, other scientists have applied this methodology to "larger chunks of the world. We now have better basis for comparison," says Peterson.
Peterson and others work with a Mexican commission called CONABIO, which uses museum databases to help preserve biodiversity. People who want to cultivate genetically modified (GM) plants must request permission from the Mexican government. CONABIO guides them to areas distant from wild relatives or other GM crops, says Lane; in the past two years, more than 380 of these analyses have been done. Mexico is further ahead than most countries in documenting its indigenous life and in taking advantage of this online technology, she says.
Technology allows museums to use their collections to make concrete improvements in people's lives and helps museums keep pace in an increasingly crowded competition for public money. By cooperating in these massive database projects, museums support each other, and that alliance is critical to their own survival. "These collections are incredibly expensive to house and maintain," says John Heyning, president of the Natural Science Collections Alliance and deputy director, research and collections, Natural History Museum of Los Angeles County. "Unless [the public] sees an increase in the tangible benefits to society ... it will be hard to justify having these collections."
- Christine Bahls
"Future projections for Mexican faunas under global climate change scenarios," Peterson A,

Nature

, 2002 Vol 416, 626-9
Interested in reading more?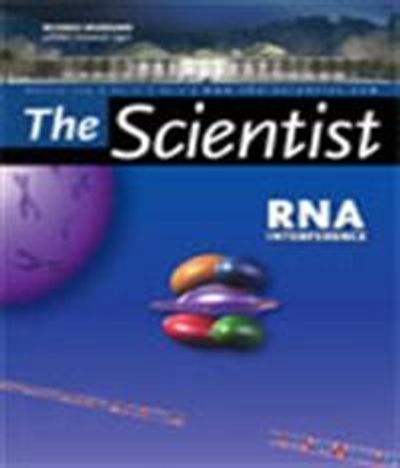 Become a Member of
Receive full access to digital editions of The Scientist, as well as TS Digest, feature stories, more than 35 years of archives, and much more!