Early in April, The Scientist called on researchers and science enthusiasts to submit their video and website creations for our second annual Labby Multimedia Awards—or Labbies. The entries had to be created with funding from a single research grant and had to relate to the life sciences. From dozens of submissions, we selected five video and website finalists. The winners were then chosen by a panel of judges as well as hundreds of readers voting at the-scientist.com. For tips on creating science videos and websites, see our September 2011 feature "Showcase Your Science."
VIDEO WINNERS
By Julia Sable and David Sands
"If you look into the core of a raindrop or snowflake, what are you likely to find? Bacteria!" writes science filmmaker Julia Sable, who directed this five-minute clip describing how bacteria in atmospheric clouds can help make snow. Water...
Sanford: The question/answer format p­romotes inquiry and multiple interviews, while short sound bites keep the tempo fresh and lively.Holmes: Terrific, what fun!

By Melissa Wells and Mark W. Moffett
In this five-minute video, entomologist, photographer, and author of Adventures Among Ants, Mark "Dr. Bugs" Moffett, tromps through the Cambodian jungle in search of weaver ants, which, despite their powerful sting, are a local snack. Although Moffett is mainly interested in documenting the eusocial behavior of the ants, he also hopes to transmit a sense of how much fun it is to be a scientist. "Life is about storytelling," he says. "I use what I learn in my research to tell science stories."
Kirby: Something that always makes for a good video is a charismatic presenter. Mark's attempts to get tourists to eat the ants became a bit repetitive, though.Sanford: A good mix of information and entertainment.
VIDEO RUNNERS UP
| | | | | |
| --- | --- | --- | --- | --- |
| Aesthetic Species MapBy David Montgomery | | The Happy CellBy Derek Toomre, Hugh McGrory, and Fran Apprich | | Mimicking CollagenBy Mary Spiro, Martin Rietveld, Jay Corey, Ella McCrea, and Nathan Weiss |
| Kirby: Hypnotic and psychedelic. It shows that art can create scientific meaning. But it gets a bit repetitive across 7.5 minutes. | | Sanford: I loved the juxtaposition of the scientists' thoughts on happy cells and the images. Although I don't think I'm any closer to being able to identify a happy cell myself. | | Kirby: The visualization of the proteins matched well with the narration. The video could have benefitted from music in the main body and not just the credit sequence. |


WEBSITE WINNERS
By Jacopo Annese, Lloyd Nicks, and Colleen Sheh
Jacopo Annese, creator and director of The Brain Observatory, envisioned the website as "the brain's Hubble telescope." Through photographs, videos, and live-streaming feeds of daily lab activities, the site provides unprecedented views of brains and ongoing research with the goal of mapping brain structures to diagnose disease and target treatment. "You won't find stock photography here, least of all fake researchers in immaculate lab coats smiling vacuously at a urine sample in a test tube," he says.
Kirby: The production qualities for this web site are amazing. Navigation was easy and links were usefully tagged. It is hard to say a web page about a brain tumor could be fun, but I enjoyed looking at all the different categories on the site.Sanford: The visual aspects of this site are eye candy that highlight the brain as a very appealing organ to investigate.

By David Orloff, Janet Iwasa, John Hufnagle, Ryan Schenk, John Murray, Joan Goldberg,and Caroline Kane
Created by the American Society for Cell Biology, this catalog of images, animations, and videos depicts myriad cell images and live-action cellular processes. By making its contents open access, the creators hope to "advance research and education on cellular activity, with the ultimate goal of improving human health," says David Orloff, manager of the Image Library. "As far as I know, we're the only site that takes you from an abstract, general illustration of the cell to actual images."
Segall: This is an extraordinary collection of images of cell components. The initial entry screen is quite nice, but it rapidly becomes just a list organized by species. I wonder if there is not a more user-friendly approach.Sanford: Well-organized, simple, and easy to navigate without extraneous pomp and circumstance.
WEBSITE RUNNERS UP
| | | | | |
| --- | --- | --- | --- | --- |
| The Martin Humphries LabBy Adam Byron, Guillaume Jacquemet, Martin Humphries, and Adam Huffman. | | Carin Bondar's CornerBy Carin Bondar and Matthew Hawkins | | Stripped ScienceBy Viktor S. Poór |
| Holmes: Instantly bookmarked. I know I'll need this as an authoritative reference site in the future. (Martin Humphries researches integrins atthe University of Manchester, UK) | | Sanford: Great use of multimedia in this blog. A beautiful, informative, and entertaining site. | | Kirby: This is a fun comic strip blog. It would have benefitted from more hyperlinks to sites with scientific information about the content of the strips. |
MEET THE JUDGES
| | | | | | | |
| --- | --- | --- | --- | --- | --- | --- |
| Nigel Holmes is a legendary graphic designer and founder of Explanation Graphics, a New York design firm that boasts a high-profile clientele which includes the New York Times, National Geographic, CVS/pharmacy, and Lonely Planet. He has a master's degree in illustration from the Royal College of Art in London. | | David A. Kirby was a practicing evolutionary geneticist before leaving the lab to become Senior Lecturer in Science Communication Studies at the University of Manchester. His research explores the relationship between science, media, and the public. His recent book, Lab Coats in Hollywood, focuses on the collaboration between scientists and the entertainment industry. | | Jeffrey Segall is Professor of Anatomy and Structural Biology at the Albert Einstein College of Medicine in New York, where he studies mechanisms of tumor invasion and metastasis. He regularly posts short movies about his research on his website. | | Kirsten "Kiki" Sanford is a neurophysiologist with a passion for communicating science and a black belt in taekwondo. She is the host of This Week in Science and Dr. Kiki's Science Hour on the This Week in Tech (TWiT) Network, a contributor to Brink on the Science Channel, and a consultant on educational science video projects. |
Interested in reading more?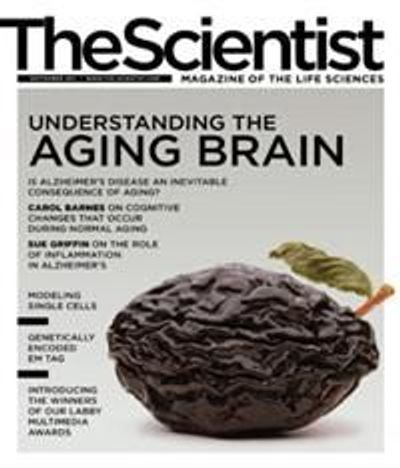 Become a Member of
Receive full access to digital editions of The Scientist, as well as TS Digest, feature stories, more than 35 years of archives, and much more!