PUSHING THE ENVELOPE: (Clockwise from top left) A 2005 South Korean stem-cell research stamp commemorated what was hailed as a remarkable scientific achievement and what is now remembered as an infamous case of scientific fraud. To raise concern for the environment, Australia issued a soil conservation stamp in 1988, and Russia issued a 1991 stamp depicting the effects of the Chernobyl accident five years earlier. In 1980, the People's Republic of China issued a stamp showing mythological water nymphs—females in sheer, flowing skirts—paired with simplified technology images. The lead figure points to text indicating the year 2000 underlined by a space rocket, heralding the promise of science. While female scientists make fewer appearances in the history of science stamps, a 2003 Polish stamp duplicates a 1967 French stamp celebrating the birth centenary of Marie Curie. She has been celebrated on the stamps of Poland, her country of birth, 13 times....
The first science and technology stamp celebrated a 1923 agricultural exhibition in Moscow, according to Christopher Yardley, a science communicator at the Australian National University and the author of a 2015 book looking at science on postage stamps. The stamp depicted a tractor, acknowledging that the Ford Company had sold 25,000 of the machines to Russia. "Four years after the Russian revolution, the Russian government issued a stamp saying, 'We're buying tractors. Here we are—we are using science and technology,'" says Yardley.
Governments have since printed science- and technology-related stamps to encourage a sense of civic pride or to commemorate scientific achievements—sometimes presumptuously. South Korea issued a stamp in 2005 to mark the success of stem-cell researcher Hwang Woo-suk; the stamp depicts his procedure to clone human embryos on one half and the healing of a paraplegic on the other. "Here we have Korea, which is very conservative in many ways, bringing their hand up and saying, 'Here's a first, and it's us,'" says Yardley. But the research was discredited later that year, casting a cloud over the stamp's celebratory purpose.
In the 1930s, as the public became more interested in stamp images, various postal authorities worldwide began designing stamps to raise awareness about current public-health and environmental issues. The range of topics expanded to include breast cancer, smoking, HIV/AIDS, and climate change. In Australia, the government issued a series of postage stamps promoting resource conservation in 1988, including one that depicted the sands of time as soil running through an hourglass.
But as Great Britain discovered in 1998, the public responds poorly to negative news delivered on postage stamps. The postal authority issued a six-stamp series depicting the plight of various endangered species, which turned out to be unpopular; Great Britain later mounted a response by issuing 10 stamps symbolizing species with recovering populations. Only once has a government issued a scientific stamp delivering bad news without circling back to a positive message, says Yardley. In 1991, Russia issued a stamp depicting radioactive particles killing vegetation for the fifth anniversary of the Chernobyl disaster, a reminder of the accident's impacts.
Since the practice began, postal authorities around the world have printed roughly 600,000 stamp images, as many as 10 percent of which may represent science or a scientist, according to Yardley. "My feeling is that the continuing, and increasing, number of 'science-on-stamps,' and the use of context within the stamp message, shows that the postal authorities believe 'lens' images"—which encode an agenda, unlike "mirror" images which more simply reflect reality—"are a force in changing public opinion," Yardley wrote in an email to The Scientist.
Interested in reading more?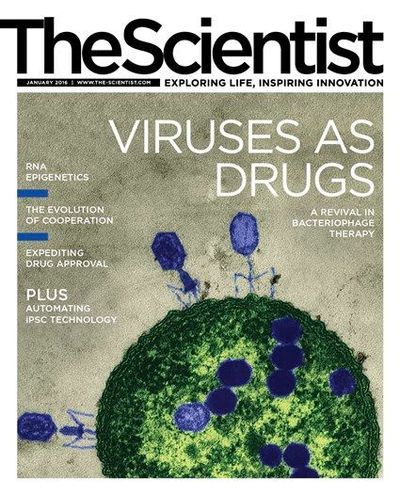 Become a Member of
Receive full access to digital editions of The Scientist, as well as TS Digest, feature stories, more than 35 years of archives, and much more!