In 1958, British biochemist John Kendrew and colleagues published the first X-ray crystallography-generated atomic structure of a protein: that of myoglobin, a heme-binding protein found in muscle tissue. After several failed attempts to extract enough of the oxygen-carrying protein from horse meat, Kendrew succeeded in isolating sufficient amounts of myoglobin from sperm whales, which, like other deep-diving marine mammals, produce high levels of the protein. He then deduced myoglobin's structure using a technique developed by Max Perutz, with whom Kendrew shared the 1962 Nobel Prize in Chemistry. In a 1961 Scientific American article, Kendrew described the structure to a lay audience, enlisting the help of scientific illustrator Irving Geis to convert his complex physical models of myoglobin into a single painting. Geis's artistic interpretation of the protein became the first molecular illustration meant for the general public. It proved to be a defining moment for the artist, who then dedicated...
Originally trained as an architect, Geis had been illustrating scientific concepts for Scientific American since 1948. It would usually take him a few weeks to grasp a concept, chat with the scientist writing the piece, and produce an illustration, says his daughter, Sandy Geis. The myoglobin painting, in contrast, took nearly 6 months to complete. Geis produced the intricate watercolor after meeting several times with Kendrew and photographing Kendrew's elaborate models from multiple angles. During that time, Sandy Geis remembers her father, with eyeglasses equipped with a special set of magnifying protuberances, delicately shading myoglobin's molecular bonds using the thinnest of brushes. Described as a "mass of crumpled chicken wire" by Scientific American's editor-in-chief Dennis Flanagan, Geis's meticulous myoglobin painting is now recognized as an icon of scientific illustration.
Geis found his calling portraying molecules so that viewers could understand them. He "would rather talk about molecules than the latest movie," recalls Sandy Geis. An illustration of lysozyme, the first enzyme structure solved, followed myoglobin in 1966. Geis collaborated with biochemist Richard Dickerson—who also helped decipher the structure of myoglobin—on three books, including 1969's The Structure and Action of Proteins, about which Dickerson says, "I'm not sure whether he illustrated my book or I wrote captions for his figures." In addition to his molecular work, Geis gained a new generation of fans when he showed off his mischievous humor by illustrating Darrell Huff's How to Lie with Statistics.
Part of Geis's genius lay in his appreciation of light, says Sandy Geis. "He relied on light to emphasize different structures, like the heme portion of myoglobin," she explains. Geis used light in a striking way to create another iconic image, says Dickerson: that of the illuminated inner core of the DNA double helix. Geis's ultimate motivation was to clarify a molecule's function, and he wasn't above a little nudging to reach his goal, such as shifting a structure that obscured a critical element. "He called it 'selective lying,'" says Dickerson.
See the full slide show.[gallery]
Interested in reading more?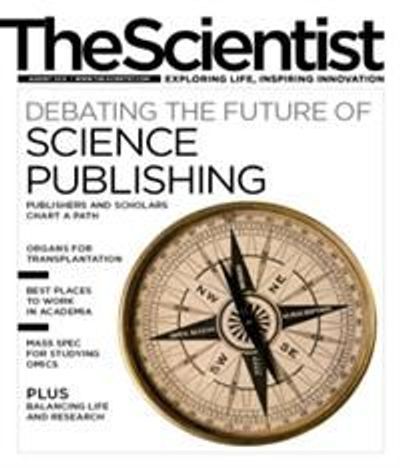 Become a Member of
Receive full access to digital editions of The Scientist, as well as TS Digest, feature stories, more than 35 years of archives, and much more!