Despite their small size, yeasts are undisputed titans in evolutionary terms. The genetic diversity of the 100,000 known species rivals the entire chordate phylum, thanks to yeast's short lifespan, rapid reproduction, and small genomes.
Consequently, comparative genomic studies with yeast reveal a molecular diversity never before anticipated.
The three Hot Papers presented here describe yeast genome evolution in unprecedented detail, providing compelling evidence for whole-genome duplication - a controversial theory first suggested in 1970.1 Because they provide insights for large-scale evolutionary mechanisms for practically any genome, "these are landmark papers," says Andre Goffeau of the Catholic University of Louvain, Belgium.
Doubling Up To Evolve
Microbiologist Peter Philippsen and colleagues at the University of Basel, Switzerland, described the evolution of Saccharomyces cerevisiae by comparing it with Ashbya gossypii, a filamentous fungus sharing more than 90% homology.2 Similarly, Manolis Kellis and colleagues at...
Comparisons Unbound
This five-organism cross-reference "is probably the best comparison of the relationship between yeast species," says Fred Sherman of the University of Rochester. "It gave a detailed analysis of the evolution of certain species and a clear picture of the pathway of evolution."
Much more can still be gleaned from yeast species. "We don't know if there are evolutionary gaps between clades," says Dujon. Key molecular mechanisms of evolutionary history after duplication are still not clear.
Presently, there are twenty-five complete yeast genomes representing different species, says Souciet. "Our future goal is to have a better understanding of yeast species that are very, very different to discover new kinds of organization."
Databases set up by Souciet and Dujon5,6 and Phippsen and colleagues7 should allow researchers to make those discoveries. Most recently, Souciet and colleagues have described their Genolevures online database, which contains data and tools for investigating four complete and ten partial yeast genomes.6 The database now provides truly complete chromosome sequence, including 25,000 protein-coding and tRNA genes, in silico analyses, and a collection of conserved multispecies protein families mapped to metabolic pathways. New genomes are being added this year.
Other groups are now setting their sights on yeast protein activities and interactions from various species. Philippsen says his group is currently focused on investigating proteins of S. cerevisiae and A. gossypii. "It turns out that several of the orthologous proteins tested do not play the same cellular roles in both organisms."
Johnston says he and his colleagues have moved past the sequencing phase of such projects. In collaboration with Mike Snyder at Yale University, Johnston's team is now using protein arrays to identify DNA-binding proteins and to begin assembling a regulatory network. Kellis says he and his colleagues are studying network evolution in the context of whole genome duplication, now widely recognized in plant, tree, fungal, and vertebrate lineages.
Although simple, yeasts are quite evolved, and the basic methods to study the organism have given scientists a head start on understanding genome evolution of more complex organisms. Lund University microbiologist Jure Piskur says that the scope of these yeast studies has extended far beyond fungi. "The tools developed in these papers can be used for any other organism."
References
1. S. Ohno, Evolution by Gene Duplication, London: Allen and Unwin, 1970.
2. F.S. Dietrich et al., "The Ashbya gossypii genome as a tool for mapping the ancient Saccharomyces cerevisiae genome," Science, 304:304-7, 2004.
3. M. Kellis et al., "Proof and evolutionary analysis of ancient genome duplication in the yeast Saccharomyces cerevisiae," Nature, 428:617-24, 2004. (Hist Cite Analysis)
4. B. Dujon et al., "Genome evolution in yeasts," Nature, 430:35-44, 2004. (Hist Cite Analysis)
5. U. Guldener et al., "CYGD: the Comprehensive Yeast Genome Database," Nucleic Acids Res, 33:D364-8, 2004.
6. D. Sherman et al., "Genolevures complete genomes provide data and tools for comparative genomics of hemiascomycetous yeasts," Nucleic Acids Res, 34:D432-5, 2006.
7. L. Hermida et al., "The Ashbya Genome Database (AGD) - a tool for the yeast community and genome biologists," Nucleic Acids Res, 33:D348-52, 2005.
Interested in reading more?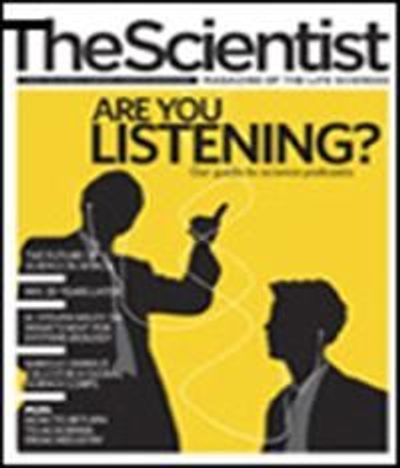 Become a Member of
Receive full access to digital editions of The Scientist, as well as TS Digest, feature stories, more than 35 years of archives, and much more!