As many as half of familial breast cancers can be attributed to germline defects in the notorious breast cancer-associated gene 1 (BRCA1). These defects generally affect the gene product's carboxyl-terminal domain, known as BRCT, a ~100 amino-acid tandem repeat that's found alone or in multiples in a large number of proteins involved in DNA repair and checkpoint control. Yet despite such obvious links with cancer, the exact function of the BRCT domain has remained elusive.
This issue's Hot Papers revealed the BRCT domain's affinity for phosphorylated peptides associated with cell-cycle checkpoints. Michael Yaffe, a biochemist and surgeon at Massachusetts Institute of...
A Library Approach
Yaffe had been looking into damage-response kinases that generate phosphorylated motif sequences to direct repair-complex formation. "We postulated that there were probably modular signaling domains that recognized protein sequences only after those sequences had been phosphorylated by checkpoint kinases," he explains.
His group chemically synthesized a library of partially degenerate phosphopeptides to identify novel modular domains involved in DNA damage responses. The phosphoserine- and phosphothreonine-containing fragments were specifically designed to resemble signals generated by checkpoint kinases. They then screened the libraries against ~96,000 in vitro-translated polypeptides. The strongest peptide-binding clone was the C-terminal region of human Pax transactivation domain-interacting protein (PTIP), a transcriptional regulatory protein also involved in the DNA damage response; it contains at least four BRCT domains.
"We immediately guessed that the BRCT domains of BRCA1 and other DNA damage proteins would also bind to phosphorylated sequences generated by checkpoint kinases," says Yaffe. "We tested that experimentally and it was true." That observation, he says, led them to suspect that BRCA1 mutations that give rise to truncated BRCA1 proteins or disrupted BRCT-peptide binding could account for increased susceptibility to breast and ovarian cancers.
Data derived from the Science Watch/Hot Papers database and the Web of Science (Thomson ISI) show that Hot Papers are cited 50 to 100 times more often than the average paper of the same type and age.
I.A. Manke et al., "BRCT repeats as phosphopeptide-binding modules involved in protein targeting," Science, 302:636-9, 2003. (Cited in 107 papers, Hist Cite Analysis)
X. Yu et al., "The BRCT domain is a phospho-protein binding domain," Science, 302:639-42, 2003. (Cited in 114 papers, Hist Cite Analysis)
A Targeted Approach
Chen had been observing the BRCT domain specifically. "Nobody knew what this motif was doing - what's its function was and why it was important," he says. "Our hypothesis was that maybe the BRCT motif is a motif that only binds to phosphoproteins."
To address this, they studied the interaction between BRCA1 and BACH1, a putative helicase known to bind to BRCA1. Their studies ultimately revealed that the interaction depends on BACH1 being phosphorylated. Focusing on the binding region itself, Chen and colleagues identified a serine residue as the phosphorylation site necessary for the protein-protein interaction. Further studies confirmed that the BACH1 serine residue is phosphorylated in vivo and that binding of BRCA1 to BACH1 occurs only at certain points during the cell cycle. Cell-cycle checkpoint control was lost in BRCA1-deficient cells, with mutant BRCA1 failing to associate with BACH1.
Most significantly, the group showed that phosphorylation-dependent binding is a general feature of BRCT domains; additional BRCT domains bound phosphopeptides, not dephosphorylated control peptides. "Our new hypothesis is that this is a general phenomenon for most, if not all, BRCT-containing proteins," says Chen.
A Practical Blend
The papers represent a "remarkable convergence" of approaches says Stephen Smerdon, a biochemist at the National Institute for Medical Research in London. "[Yaffe's] library-versus-library approach really maximizes the chances of uncovering novel interactions," he explains, which contrasts and complements the more classical biochemical methods used by the Chen group. Glover agrees: "These two papers were especially satisfying, since they approached the problem from different angles but came up with essentially the same answer."
On a practical level, says Smerdon, the papers "enable us to interpret some of the previously characterized biological functions of these well-known domains in terms of a signaling switch." Since then, several papers report crystal structures of the BRCT domain, providing a potential structural basis for these mechanistic findings, as well as a connection between protein structure and cancer susceptibility.
Most recently, biochemist Stephen Jackson and colleagues at the Wellcome Trust/Cancer Research UK Gurdon Institute of Cancer and Developmental Biology in Cambridge report that another BRCT domain protein, mediator of DNA damage checkpoint protein-1 (MDC1), binds to a phosphorylated form of histone H2AX. This results in control of the assembly of DNA-repair and cell-cycle checkpoint proteins at sites of damage, as well as orchestration of cellular response to DNA double-strand breaks.3
Consequently, these papers are just the beginning with potentially far-reaching implications. "Phospho-dependent interactions mediated by other BRCT domains are likely to play important roles in controlling other intracellular events," says Jackson. "This work helps to explain how the activities of BRCA1 and other BRCT domain proteins are controlled and how this may influence events such as those that impinge on cancer prevention."
References
1. I.A. Manke et al., "BRCT repeats as phosphopeptide-binding modules involved in protein targeting," Science, 302:636-9, 2003. (Cited in 107 papers, Hist Cite Analysis)
2. X. Yu et al., "The BRCT domain is a phospho-protein binding domain," Science, 302:639-42, 2003. (Cited in 114 papers, Hist Cite Analysis)
3. M. Stucki et al. "MDC1 directly binds phosphorylated histone H2AX to regulate cellular responses to DNA double-strand breaks," Cell, 123:1213-26, Dec. 29, 2005.
Interested in reading more?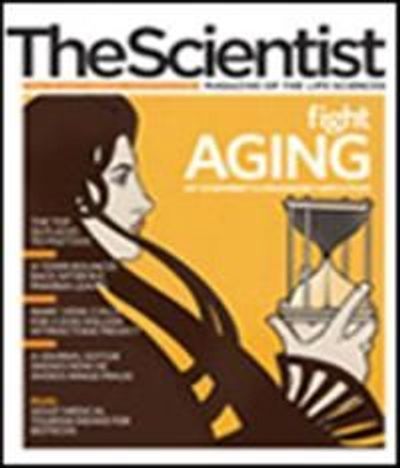 Become a Member of
Receive full access to digital editions of The Scientist, as well as TS Digest, feature stories, more than 35 years of archives, and much more!