Sedimentologist Emese Bordy of the University of Capetown and colleagues have located 25 fossilized footprintssfrom prehistoric animals on a farm in South Africa, they reported January 29 in PLOS ONE.
Left 183 million years ago during a dramatic geological time marked by volcanic eruptions, the smallest prints are thought to be from quadrupedal synapsids, a group that includes both pre-mammals and mammals, while the largest, at 5.5 inches long, are likely from bipedal dinosaurs, such as Coelophysis, which were common during the Early Jurassic in southern Africa, according to The New York Times. The researchers also identified tracks from a new dinosaur that was a quadruped herbivore, which they named Afrodelatorrichnus ellenbergeri.
"Dinosaur tracks usually get most of the attention,...
E.M. Bordy et al., "Tracking the Pliensbachian-Toarcian Karoo firewalkers: Trackways of quadruped and biped dinosaurs and mammaliaforms," PLOS ONE, 15:e0226847, 2020.
Amy Schleunes is an intern at The Scientist. Email her at aschleunes@the-scientist.com.
Interested in reading more?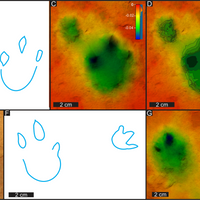 The Scientist ARCHIVES
Become a Member of
Receive full access to more than 35 years of archives, as well as TS Digest, digital editions of The Scientist, feature stories, and much more!