Image of the Day: Catfished
The skull bones of a catfish move in coordination when capturing prey.
Catfish use complex coordination of the musculoskeletal system to capture prey, scientists reported April 17 in the Proceedings of the Royal Society B - Biological Sciences. The authors used an X-ray imaging system to compare the movements during prey capture and swallowing. The catfish's skull bones were more coordinated for the prey capture phase and operated more independently when moving the prey within its mouth.
A.M. Olsen et al., "Channel catfish use higher coordination to capture prey than to swallow,"P Roy Soc B-Biol Sci, doi:10.1098/rspb.2019.0507, 2019.
BRAINERD LAB/BROWN UNIVERSITY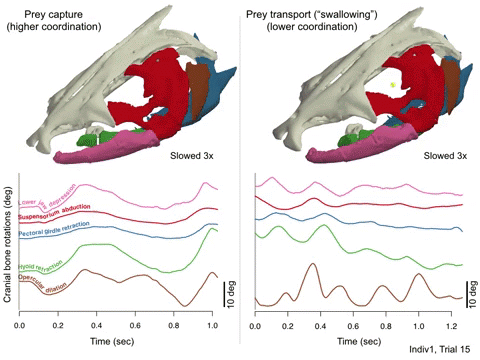 BRAINERD LAB/BROWN UNIVERSITY