Expansion Stimulated Emission Depletion Microscopy (ExSTED) image of microtubules in Hela cellsREPRINTED WITH PERMISSION FROM M GAO ET AL, "EXPANSION SIMULATED EMISSION DEPLETION MICROSCOPY (EXSTED)," ACS NANO, 2018. COPYRIGHT 2018 AMERICAN CHEMICAL SOCIETY
Two imaging approaches are apparently better than one, at least when it comes to stretching out and visualizing teeny tiny biological structures. Scientists at the Max Planck Institute of Molecular Cell Biology and Genetics in Dresden combined stimulated emission depletion (STED) microscopy, which uses fluorescent probes to create super high-resolution images, with expansion microscopy, which works by physically enlarging the prepared sample with polymers before taking images of it.
The new technique that they call expansion stimulated emission depletion microscopy, or ExSTED, created a 30-fold increase in resolution compared to conventional microscopy techniques. This allowed the investigators to produce images of structures that are less than 10 nanometers wide, including microtubules from HeLa cells....
M. Gao et al., "Expansion stimulated emission depletion microscopy (ExSTED)," ACS Nano, doi:10.1021/acsnano.8b00776, 2018.
Interested in reading more?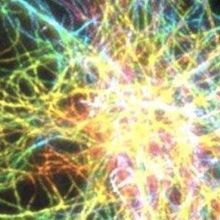 The Scientist ARCHIVES
Become a Member of
Receive full access to more than 35 years of archives, as well as TS Digest, digital editions of The Scientist, feature stories, and much more!