Among the first cancer drug combinations were mixtures of several chemotherapies that resulted in better and longer-lasting responses than individual drugs could deliver. Then came targeted therapies and immunotherapies, which were combined with chemotherapies and with each other to increase the proportion of patients who respond and the duration of those responses. While many cancer drug combinations were discovered by empirically testing opportunistic and random pairings, others were based on biological hypotheses that one drug could complement the other. Below are a few of the strategies behind recently successful and still investigational combos.
Doubling Up on Targeted Therapy
Coadministering two targeted agents that work on different targets within the same signaling pathway is a way to stave off cancer resistance. Combining two targeted agents that block molecules within different pathways is one common strategy.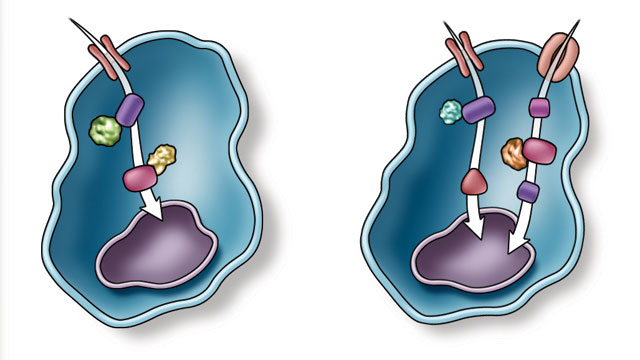 EXAMPLE: In 2014, the FDA approved the first combination: dabrafenib, a B-raf inhibitor, plus trametinib,...
Immunotherapy-Chemotherapy, Radiation, or Targeted Therapy
As chemotherapy, radiation, or targeted therapies kill cancer cells, neoantigens are released, helping the immune system recognize tumor cells. These therapies also minimize tumor burden, buying time for the immune system to act. Simultaneously, checkpoint inhibitors ramp up the immune response.
EXAMPLE: In 2017, the FDA approved the combination of the chemotherapies pemetrexed and carboplatin, plus the checkpoint inhibitor pembrolizumab, for advanced lung cancer.© THOM GRAVES
Immunotherapy-immunotherapy
DUAL CHECKPOINT INHIBITOR ANTIBODY COMBINATION: Combining two checkpoint inhibitors that target two different checkpoint pathways is one strategy to stimulate a greater and possibly more durable antitumor immune response.
EXAMPLE: The only currently a pproved immunotherapy combination is ipilimumab plus nivolumab for metastatic melanoma. Other checkpoint inhibitor combinations arecurrently in clinical trials.
© THOM GRAVES
CHECKPOINT INHIBITOR PLUS A CELL-BASED THERAPY: Also seen as a way to target two different pathways to amplify the immune response and potentially overcome resistance.
EXAMPLE: Still theoretical, with no combinations yet approved or in clinical trials
© THOM GRAVES
CHECKPOINT INHIBITOR PLUS A VIRAL VACCINE: A vaccine, in theory, should increase the presentation of cancer neoantigens to the immune system, bolstering the immune system's response to a checkpoint inhibitor.
EXAMPLE: The cancer vaccine talimogene laherparepvec, a genetically engineered herpes virus, plus ipilimumab is currently in a Phase 2 trial for advanced melanoma, with some positive preliminary data.
© THOM GRAVES
Read the full story.
Interested in reading more?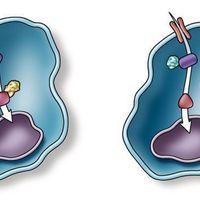 The Scientist ARCHIVES
Become a Member of
Receive full access to more than 35 years of archives, as well as TS Digest, digital editions of The Scientist, feature stories, and much more!