MUSCULAR DOGMA
The standard textbook model of muscle contraction includes only two main players, the filaments actin and myosin, which slide past each other, causing the sarcomere—the basic unit of muscle tissue—to shorten. Driven by ATP-powered myosin motors, sarcomere contraction causes whole muscles to shorten. In the past 40 years, researchers have explored the role of another filament: titin. Its emerging role in muscle function, unwinding during muscle relaxation and folding during contraction, suggests that the ATP-driven motors also act as latches allowing titin to fold, providing a powerful boost to muscle contraction.
© IKUMI KAYAMA/STUDIO KAYAMA
Relaxed
© IKUMI KAYAMA/STUDIO KAYAMA
Contracted
© ikumi kayama/studio kayama


Read the full story.
Interested in reading more?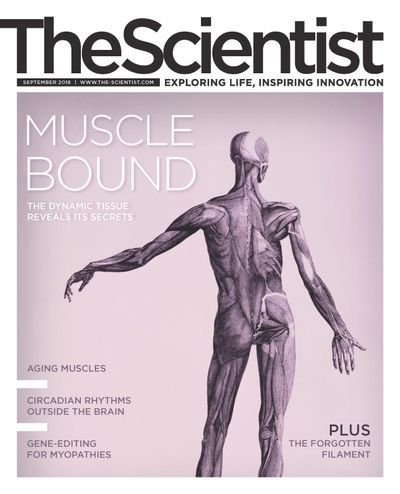 Become a Member of
Receive full access to digital editions of The Scientist, as well as TS Digest, feature stories, more than 35 years of archives, and much more!