For a 30-year-old experimental method, gel electrophoresis remains popular. Originally devised as a method to extract nucleic acids from solution, it has evolved into a method for the analysis of everything from protein expression to matching RNA expression to proteins. "When we opened this facility three years ago, some people told me that in three years you won't do gel electrophoresis any more, so why invest in the equipment?" says Thomas Franz, head of the proteomics core facility at the European Molecular Biology Laboratory in Heidelberg, Germany. "Instead we've had an increase in demand of gel electrophoresis of 100% every year for the last three years."
That's not to say that there aren't contenders for the throne. As liquid chromatography continues to improve, it gains more and more adherents in the field of proteomics. And there are plenty of emerging technologies, including surface plasmon resonance and planar waveguide technology for...
Gel Documentation Systems
Have you noticed that everyone seems to have a shiny, new digital camera these days? That's because manufacturing costs have plummeted, flattening the pricing curve for high-end multi-megapixel sensors.
While that's good news for family papparazi, it's also a boon for any lab that runs gels. That's because the same cameras that can be used for your Monday bowling party work just as well capturing a gel image. As a result, low-end, high-resolution imaging equipment has flooded the market. "It's gotten to the point where all you need is the family camera and a darkroom hood," says Ramana Tadepalli, marketing chief at Hoefer, whose revamped product line doesn't even include an imaging system. "The most critical piece of equipment now is the rubber gasket that keeps the light out of the space between the camera and the hood. When a rubber gasket is all the value you can add, it's time to get out of the business."
While low-end systems have been revolutionized, high-end machines have kept up with progress too. Take, for instance, UVP's EpiChemi, which sells for a little under $20,000. It has an advanced Peltier cooling unit to keep the camera cool as ice so that temperature doesn't alter the image. The gel itself is also cooled, ensuring that warping doesn't occur.
Here's a table of the image capture and documentation systems that are available for today's labs, from the high-end to the bargain basement.
Gel Apparatus
Buying an electrophoresis apparatus can be an intimidating task. First you have to decide if you want a horizontal (or submarine) device or a vertical one. Then you have to determine which size format – mini, midi, or large – works best for your lab tasks. Then you must wade through all the different models from the myriad manufacturers. It's enough to make the process of buying a new home seem simple in comparison.
Thus, there's little surprise that many buyers simply choose a manufacturer and stick with it throughout the course of their career. That can be a costly mistake, though. If a simple device is all you need, you might be better off with an off-the-shelf unit from a little-known company with which you can use cheaper standard consumables.
If you want a more specialized machine, it's worth your time to spend some time shopping. Integrated devices, while expensive, are filled with features that could make a big difference in your lab. NextGen Science's a2DE, for instance, automates the casting process and the actual gel run itself: Just pipette the sample into the machine and a finished gel comes out 24 hours later. "It saves a tremendous amount of time if your lab does high-throughput electrophoresis," says marketing manager Lorna Watson.
A similar system from Proteome Systems takes a slightly different tack. While you cast the gels yourself, its ElectrophoretIQ apparatus runs the gel, analyzes it and even teams with a robotic spot-picker, all with minimal human intervention. Market leader GE Healthcare (formerly known as Amersham Biosciences), sells a conglomeration of its equipment for its proprietary Differential Gel Electrophoresis (DiGE) process, which allows multiple staining on the same gel. Below you'll find a selected list of apparatus makers and their wares, separated into separate tables for integrated, horizontal, and vertical systems.
Article Extras
Related Tables
Selected Suppliers of Precast Gels
Amresco http://www.amresco-inc.com
Bio-Rad Laboratories http://www.bio-rad.com
Biotech Holdings * Gelux http://www.biotechholdings.com
Cambrex http://www.cambrex.com
Continental Lab Products http://www.clpdirect.com
Crescent Chemical Company http://www.crescentchemical.com
Elchrom Scientific http://www.elchrom.com
Embi Tec http://www.embitec.com
ESA http://www.esainc.com
GE Healthcare http://www.amershambiosciences.com
The Gel Company http://www.gelcompany.com
Genomic Solutions http://www.genomicsolutions.com
Geno Technology http://www.genotech.com
Gradipore http://www.gradipore.com/lifescience
Hoefer http://www.hoeferinc.com
Invitrogen http://www.invitrogen.com
ISC BioExpress http://www.bioexpress.com
JT Baker http://www.jtbaker.com
Jule Biotechnologies http://www.precastgels.com
Mirador DNA Design http://www.mirador.ca
MP Biomedicals http://www.mpbio.com
Owl Separation Systems http://www.owlsci.com
Pierce Biotechnology http://www.piercenet.com
Serva http://www.serva.de
Sigma-Aldrich http://www.sigmaaldrich.com
Stratagene http://www.stratagene.com
6mgel http://www.6mgel.com
Software
While gel electrophoresis has been around for more than three decades, the advanced computing packages designed to analyze gels are recent developments. The ability to minutely analyze the smallest spots is probably the greatest technological advance in gel technology. "The software available today has kept electrophoresis alive as a viable technology," says Chao-Xing Yuan, head of the proteomics core facility at the University of Pennsylvania. "Gels were once little more than illustrations of expression patterns. Now, they're loaded with relevant data."
Most gel-analysis software packages take a high-resolution digital image and process it in multiple ways. For instance, contrast can be increased and borders can be sharpened to make individual spots more clear. More advanced programs can estimate even small differences in protein concentrations and some can quantify concentration levels. Software designed for integrated systems with spot-picking robots can then determine exactly how to excise a spot with micrometer precision.
Some software packages concentrate on saving money. Silk Scientific, for instance, provides a $400 package for small labs that can be used with a plain old flatbed scanner to analyze an image. An even cheaper option is open-source software. GelScape http://www.gelscape.ualberta.ca, for instance, is a free Java-enabled, browser-based tool for annotating, manipulating, comparing, and storing 1-D and 2-D protein images. Most labs are tied to the software systems that come with the equipment they buy, however. And more sophisticated analysis, of course, generally requires a commercial package.
Below, we have compiled a selected list of gel-related software suppliers, from electrophoresis system manufacturers to independent software providers.
Selected Suppliers of Electrophoresis Software
AMPL Software http://www.ampl.com.au
Applied Maths http://www.applied-maths.com
Beckman Coulter http://www.beckman.com
Biosystematica http://www.biosystematica.com
GelScape http://www.gelscape.ualberta.com
Genetix http://www.genetix.com
Imaging Research http://www.imagingresearch.com
MadgeBio http://www.madgebio.co.uk
Media Cybernetics http://www.mediacy.com
Nonlinear Dynamics http://www.nonlinear.com
PerkinElmer http://www.perkinelmer.com
Scanalytics http://www.scanalytics.com
Silk Scientific http://www.silkscientific.com
Systat http://www.systat.com
Interested in reading more?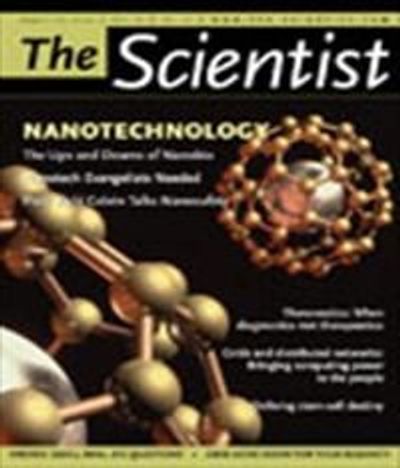 Become a Member of
Receive full access to digital editions of The Scientist, as well as TS Digest, feature stories, more than 35 years of archives, and much more!