PHOTO BY MICHAEL MAGGS, WIKIMEDIA COMMONSCytokines are small proteins secreted by diverse cell types in the body that orchestrate myriad immune reactions depending on the other cytokines in the milieu. For example, when interleukin-4 (IL-4) is acting alone, it signals B-cells to proliferate and churn out particular types of antibodies. But the simultaneous presence of a cytokine called interferon-γ (IFN-γ) contradicts that message, reducing the numbers of B-cells and changing the kinds of antibodies they produce.
The bottom line: "It is very likely that it won't be a single molecule that will mean something about an immune response," says Amit Bar-Or, director of the Experimental Therapeutics Program at the Montreal Neurological Institute of McGill University.
Enter multiplexing. In the past 10 years, many of the major life-science product companies have come out with kits for measuring as many as several dozen cytokines at the same time, in the...
Multiplex kits use a pair of antibodies, one to capture the cytokine and another to detect it. Some kits attach the capture antibodies to a flat surface, as in the traditional ELISA. But in the more popular bead-based kits, researchers add their sample to a well containing a mixture of bead types. Each bead type is coated with antibodies for one of the cytokines being assayed and is filled with a unique combination of fluorescent dyes to distinguish the different bead types in the mixture. After the sample is added, antibody-coated beads that successfully capture a cytokine are tagged with a detection antibody linked to a different fluorescent molecule that helps differentiate cytokine-loaded beads from empty ones. Bead-based assays use either Luminex beads, developed by the Luminex Corporation, that require a special instrument for detection, or beads compatible with detection using a traditional flow cytometer. The Luminex instrument can distinguish beads that have up to 100 or 500 different ratios of the fluorescent dyes, depending on whether the beads contain two or three types of dyes, and thus have the potential to multiplex up to 100 or 500 different cytokines, whereas traditional flow cytometers can only measure up to 30 types of dye combinations.
Researchers often choose multiplex kits based on the specific cytokines that they probe, although many companies sell kits that detect a large panel of cytokines, and there is a lot of overlap between the panels of commercially available kits. Companies also offer smaller and customizable panels that can be useful as researchers narrow down the cytokines that correlate with the immune response, disease, or treatment they want to study.
No matter how good a kit looks on paper, however, the best way to choose one is to validate it by running the kits side by side with the same samples, Bar-Or says. He suggests trying to negotiate with companies for a discount on the first kit used for testing. "You can be very burned if you don't think of validation of assays as part of the general approach," Bar-Or says.
The Scientist compared the most popular Luminex and flow cytometry bead-based assays with an eye on the cytokine panels they probe to provide a quick guide for your multiplex needs.
LUMINEX BEAD-BASED CYTOKINE DETECTION ASSAYS
BIO-RAD
Bio-Plex Pro System
Bio-Rad is the biggest seller to the North American market of antibody assay kits using Luminex beads, according to a 2012 survey of researchers in academia and biotech/pharmaceutical companies in North America and Europe. Life Technologies and EMD Millipore are a close second and third, respectively.
Researchers can use Bio-Rad's system to measure 64 different human cytokines, and the company offers kits that can capture 21 or 27 of them at once. Using the company's Assay Builder online tool, researchers can also design and buy a smaller custom-built subset of the cytokine-detecting beads, or buy bead sets specific for just one cytokine and mix different bead types together themselves. Bio-Rad assays are also available for detecting cytokines from mouse and rat, and for doing disease-specific assays of canine and nonhuman primate cytokines.

Benefits: The company offers 21- and 27-plex kits that contain no overlap in the cytokines they detect, so researchers can use the two in side-by-side assays to capture 48 cytokines, thus casting a wider net for exploring an immune response.

Challenges: Like all multiplex cytokine assays, the ability of the Bio-Plex system to detect cytokines depends on the type of sample being studied and should be validated by the researchers. In one study, Bio-Rad's 17-plex kit excelled at detecting IFN-γ in samples from cultured immune cells (PLOS ONE, 8:e52587, 2013), whereas a study by Bar-Or's group at McGill University found Bio-Rad's 10-plex kit had poor sensitivity for IFN-γ at low concentrations in serum samples (J Immunol Methods, 387:1-10, 2013).

Cost: Kits range from about $850 for a small 3-plex to $3,500 for the largest 27-plex. Single-plex sets are about $200 each.
EMD MILLIPORE
Milliplex

THE SCIENTIST STAFFMillipore's system captures the broadest range of cytokines: 108 human cytokines as well as cytokines from mouse, rat, monkey, dog, and pig. The largest Millipore human kit detects 41 cytokines at a time, most of which overlap with Bio-Rad's 48. All 41 cytokines can typically be detected in the same sample, although several of the cytokines may be more abundant in serum and plasma, and require dilution and separate measurement, says Todd Hendrich, a technical applications scientist at Millipore.

Benefits: In addition to the extensive cytokine list, Millipore kits require only 25 microliters of sample volume, half that needed for most multiplex assays. For Stephen De Rosa, a research associate professor of laboratory medicine at the University of Washington in Seattle, Milliplex gave more consistent measurements for duplicate samples in the same assay than the Bio-Rad, Life Technologies, and BD Biosciences kits. However, researchers should figure out which kits are most reliable in their hands, he cautions.

Challenges: Companies use preparations of cytokine proteins for the standards in their kits that may differ between kit batches, making it difficult to compare results between batches. De Rosa recommends creating an internal lab standard by freezing vials from a stock of patient serum, for example, and running a vial along with the kit standard in each new batch of a kit to normalize differences between batches.

Cost: Kits range from about $500 for a single-plex assay to about $1,100 for a 5-plex. The 41-plex goes for $5,300.
LIFE TECHNOLOGIES
Novex Multiplex Assays
The largest panels of human cytokines on Life Technologies' menu are 30-plex and 25-plex. Almost all of the cytokines overlap with the 48 detected by Bio-Rad's two kits and the 41 detected by Millipore's kit. (Millipore and Life Technologies each omit one cytokine shared by the other two.) Kits for mouse, rat, pig, and monkey cytokines are available.
While Bio-Rad and Millipore have gradually shifted their emphasis toward magnetic Luminex beads, first introduced in 2007, which can make assays easier to run, Life Technologies has continued to offer a full line of nonmagnetic beads as well, for researchers who prefer them or who are in the middle of long-running experiments developed on the older beads, says Thao Sebata, senior product manager of immunoassays at Life Technologies. Assays with magnetic beads can make washes between antibody-binding steps simpler because researchers hold or clip a magnet to the bottom of the multiwell assay plate, which keeps the beads at the bottom of the wells, and simply invert the plate to dump out liquid. With nonmagnetic beads, researchers must use special plates with filters that catch the beads while the remaining solution seeps through the filter and is vacuumed away.

Benefits: Lisa Butterfield, director of the University of Pittsburgh Cancer Institute Immunologic Monitoring and Cellular Products Laboratory, opted for kits from Life Technologies because she said that the company was the only Luminex vendor that would provide her with documentation stating that customized panels of beads have low cross-reactivity, which was important for her clinical trials.

Challenges: Some researchers might shy away from Novex kits because of the relatively small panel of cytokines.

Cost: Kits range from $585 for a custom 2-plex to $3,400 for the largest 30-plex kit with either nonmagnetic or magnetic beads.
FLOW CYTOMETRY BEAD-BASED CYTOKINE DETECTION ASSAYS
BD BIOSCIENCES
Cytometric Bead Array (CBA)
BD Biosciences holds the largest market share for bead-based cytokine multiplex kits readable using a flow cytometer, although this type of kit is not as popular as the Luminex-based kits.
BD sells six kits that detect up to seven human cytokines each as well as kits for mouse and nonhuman primate cytokines. Although the panels are smaller than those of Luminex kits, they are designed to study cytokine networks involved in specific biological processes, such as an allergic response or an inflammatory response to an infection, says Trent Colville, a marketing manager for BD. However if customers buy Flex Set beads that measure a single cytokine, they can mix them together in different combinations to make a customized panel to detect up to 30 cytokines simultaneously.

Benefits: Madhan Masilamani, an assistant professor of pediatrics at the Icahn School of Medicine at Mount Sinai in New York City, chose the BD CBA kit because he already had a flow cytometer in his lab. "We have a Luminex [detector] at the institute, but not in our lab, so we would have to fix a time and go somewhere else to use the machine."

Challenges: BD now sells a next-generation flow cytometer, called the Accuri C6, which simplifies cytometry measurement for researchers who are not familiar with it, says Colville. CBA kits are only available with nonmagnetic beads, making the assay more laborious to run, although CBA's assay involves fewer steps for washing and adding reagents than Luminex kits.

Cost: The human cytokine kits run between $1,200 and $1,500 depending on the cytokine panel. Individual Flex Sets cost $250 and the buffer in which to mix Flex Sets is an additional $225. The flow cytometry software for analyzing CBA data is about $1,500.
Interested in reading more?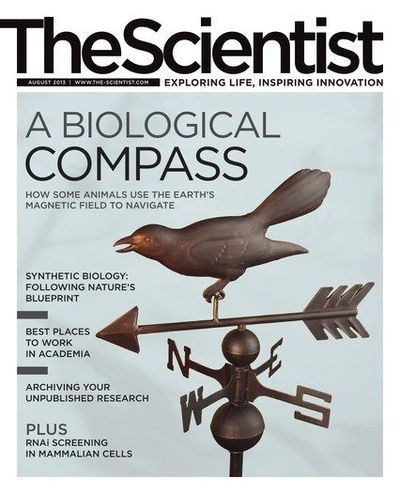 Become a Member of
Receive full access to digital editions of The Scientist, as well as TS Digest, feature stories, more than 35 years of archives, and much more!