I like iGEM
Re: "Brick by brick"1, the iGEM competition is a fantastic idea, and I often hear comments from other scientists saying that they wish there were similar student competitions in other fields of science. The Slovenian team has been singled out not for its achievements but for the alleged hype associated with its project, which I think is not really a fair assessment. The goal of our project was to prepare a synthetic vaccine against Helicobacter pylori based on several innovative approaches. Within a couple of months, students managed to demonstrate the proof-of-principle for the vaccine. From the proof-of-principle to the working vaccine is a long way, but the potential is there. We are continuing the project and are discussing further development with pharmaceutical companies.
Roman Jerala, Slovenian iGEM team leader
National Institute of Chemistry
Ljubljana, Slovenia
roman.jerala@ki.si
1. A. Katsnelson, "Brick by brick...
Just the facts?
Steve Wiley suggests that graduate students benefit first from cold-hard facts, not concepts.1 That may be so, but in my humble teaching experience with medicine and biology students, I saw that after being loaded with facts during the junior courses, the third semester students welcomed warmly hearing about concepts because it helped them in exams (but hopefully not only because of this). In the end facts do make more sense in greater contexts. In the old days (up to the eighties) anatomy textbooks had mostly original publications as references, but today the textbooks mostly cite each other. Maybe a (partial) return to the old concept of giving original references (and also reading them) would enhance the appreciation of original concept-based research by our students today.
Erik Maronde
J. W. Goethe University, Frankfurt
Frankfurt/Main, Germany
e.maronde@em.uni-frankfurt.de
"Those who know how to learn know enough:" Those words are engraved above one of the doors to the Math building on my campus, and I have often made notice of them during my graduate teaching assistant experience. However, when enrolled in what I thought was a fantastic course during my second year of grad school, I was flabbergasted to hear about half of the students grumble loudly and forcefully that they despised the approach that emphasized critical thinking rather than fact memorization. I don't think that your concept-laden course was a failure, Steve Wiley; I think that you heard only the loud ones. Getting a PhD is more than taking a few more classes and writing a dissertation; it is a new way of thinking about the discipline. It is the thinkers that make the amazing discoveries.
Daniel Jones
Oregon State University
Corvallis, OR
danielj464@msn.com
1. S. Wiley, "
Facts first
"
The Scientist
, 23(2):29, February 2009.
It's baaack...
Re: the reintroduction of an anti-open access bill in the US,1 I am all for open access. I think all scientific work should be available to everyone everywhere for free. However, I also do see the value that some publishers bring to the process of getting the work of scientists into the proper form of a professionally published paper.
I don't think that your concept-laden course was a failure, Steve Wiley: I think that you heard only the loud complainers.
Here is a project for the "new economy": Put unemployed or retired scientists to work on transforming the scientific for-profit publishing industry into a government-run industry. The government pays for the research to be done, which is great, but why does it stop there? An equally important part of science is to disseminate it. Have the government run the industries that publish papers. This will complete the cycle and get corporate greed out of this important public service.
Mark Weber
Fermalogic, Inc.
Chicago, IL
mark.weber@fermalogic.com
1. E. Dolgin, "
Anti-open access bill is back
,"
The Scientist NewsBlog
, February 5, 2009.
Stimulated discussion
I propose the following radical idea, on the heels of Garret FitzGerald's online opinion, "Biomedical research is ripe for a stimulus":1 What if the NIH looked at a funding model using endowments?
How much does the average scientist need to run a very good laboratory? Maybe $500,000–$750,000 per year. Would we have not been better off awarding $10 or $20 M endowments that would last a scientist forever, and then be passed onto another scientist as the other leaves the business? Then we would not be continually writing grants and looking for money, but rather working on science and doing what scientists should do best: following our noses. This type of model would engage us in the art of science, rather than the art of grantsmanship.
Eric Murphy
Health Sciences University
Grand Forks, ND
emurphy@medicine.nodak.edu
I agree that Eric Murphy may be onto something. But I believe that handing over funds dispersion to the "administration" would be a mistake. A viable alternative would be to enable governance of funds allotment at the college level through a democratic process. An executive board with representation from each department and/or research division would be presided over by the college dean. There will be motivation to continue funding the best science because the size of the pot depends directly on this. Moreover, the value of young investigators and scientists experiencing a "dry spell" will improve.
Voting could be conducted by secret ballot, or done openly depending on the politics at each institution.
Why is this sort of change important? As a biomedical research professor in a clinical department, I can tell you first-hand our profession is highly undervalued. Our "services" directly reduce the physicians' bottom line and do not provide much income; we are often considered to be "luxury items" and funded less than the office administration, in terms of salary and materiel support. So, when spending 50–80% of our time in grant writing to support 75–100% of our operating expenses results in failure, our clinical colleagues judge us to be worth less. Lest we become exclusively vocational institutions, we must continue to improve the way we support medical science.
Kenneth Strauss
College of Medicine, University of CIncinnati
Cincinnati, OH
kennethstrauss@netscape.net
1. G. FitzGerald, "
Biomedical research is ripe for a stimulus
,"
The Scientist NewsBlog
, February 9, 2009.
Fight-flight response
Re: a scientific organization's decision to move its conference from New Orleans after the state decided to permit the use of non-scientific materials in schools, a move some believe opens the door to creationism in class,1 surely the state would welcome scientists taking their "evolutionary beliefs" elsewhere and claim it as a victory. Worse, other states may see this as a victory and be spurred on to do the same. Their ultimate aim? To push evolution and the scientists that advocate it out of more and more states, thus creating a scientific vacuum, at least as far as evolution is concerned.
How about a reverse next year? Try to book as many scientific meetings in Louisiana as possible? Swamp them with scientists so that they must confront the issue head on, and not claim any sort of victory.
Mathew Iredale
London, UK
mathewiredale@yahoo.co.uk
FASEB should have taken the difficult, albeit correct, step and moved its upcoming meeting in Louisiana. A boycott of New Orleans by the world's largest bioscience organization would have sent an unequivocal message to the "leadership" of Louisiana (and every other state that would want to serve as our host) that we, as scientists, will not stand quietly while they cheat their students of the publicly-funded education they deserve.
Phillip Ortiz
SUNY- Empire State College
Saratoga Springs, NY
portiz@esc.edu
1. T. Ghose, "
Is boycott best?
"
The Scientist NewsBlog
, February 18, 2009.
Erratum
In the article "Best Places to Work: Postdocs" (23(3):47-52, Mar 2009), in the list of Top 40 US institutions, No. 6 Novartis in Cambridge MA, incorrectly listed "Networking Opportunities" as both a strength and weakness. Novartis' second strength is its quality of infrastructure and its second weakness is training and mentoring. The Scientist regrets the error.
In the February Scientist to Watch (23(2):54, Feb 2009), Michelle Chang's affiliation was listed incorrectly. She is an assistant professor in the department of chemistry at the University of California, Berkeley.
Interested in reading more?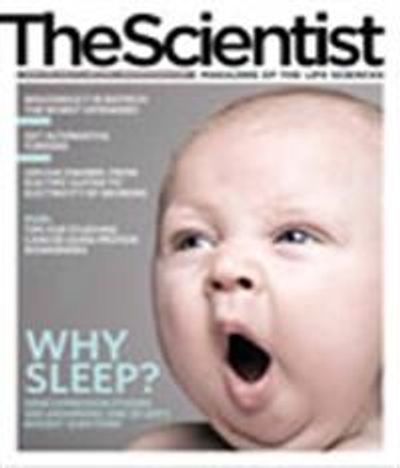 Become a Member of
Receive full access to digital editions of The Scientist, as well as TS Digest, feature stories, more than 35 years of archives, and much more!