Citation debate hits Cell
The general issue highlighted in the post "Critics rip Cell paper"1 and many of the comments that followed is one of "selective citation," in which papers fail to include all relevant prior art. I believe that this example reached the current level of scrutiny because the complainant, Peter Lawrence, is a well-known scientist and he was willing to raise a public fuss when he felt that his work had been overlooked in a paper published in a prominent journal.
I believe that this problem is a systemic one. Authors practice selective citation to inflate the importance of their work and to avoid contrary data that would make their "story" more complicated. Editors, especially some professional editors of high profile journals, are not sufficiently knowledgeable to choose reviewers with expertise in the specific topic addressed by the paper under review. Reviewers, who may be...
More than once in my career have I emailed an author with a PDF of "missing citations."
What can be done? The group with the most power to address this problem is the reviewers - that is, us. We can agree to review more papers in our area of expertise and suggest appropriate reviewers when our schedule forces us to decline an opportunity to review. We should also be sure that we are familiar with the background of a paper; if we are not, a quick Google or PubMed search can help avoid oversights.
As reviewers, we also need to be more tolerant of papers that openly acknowledge unresolved conflicts in the literature. This is a good thing, not a weakness.
David Beebe
Washington University
St. Louis, Missouri
beebe@wustl.edu
In a class session with our new graduate students, we talked about a lot of the "unwritten rules" and the ethics involved in publishing. The students generated a list of rules for publishing and science misconduct: 1). Don't steal and 2). Don't lie. That pretty much sums up this game, now doesn't it? One of the students in jest suggested a third rule: "Don't get caught". Unfortunately, this is an operational approach by too many laboratories.
I prefer that authors examine the literature in a meaningful manner. While it is rare for me to do this, more than once in my career have I emailed an author with a PDF of "missing citations." It is important to everyone to have their work cited, whether it is that feel-good citation by a leading author or for use in the promotion and tenure system.
Eric J. Murphy
University of North Dakota
Grand Forks, ND
emurphy@medicine.nodak.edu
1. B. Grant, "
Critics rip Cell paper
,"
The Scientist NewsBlog
, November 25, 2008.
Problems with plastics
Working in a molecular lab, we have always known about problems with labware, reagents and suppliers.1 The biggest problem is that no one talks about it, or worse, tries to push the blame onto user error. We work with a cell line that is normally robust, but recently had numerous problems. We finally tracked the culprit down to the media we purchased. While we bought from the same company, it had relocated its plant to another production facility in another country (cost savings). Starting with the very first batch from this new facility, the media no longer supported robust healthy growth. It took months for the company to clue us in on this new variable, yet they still tried to claim user error even after we gave them the data proof positive. We have since revised our media screening method to be more sensitive to subtle compositional changes in wake of this incident and have changed media suppliers.
But we can't do that for every reagent and every piece of labware we use. The time and costs would be staggering. We simply know in advance that on a 96-well PCR plate, for example, that there will be "interference" beyond our realistic controls.
Randolph B. Caldwell
Institute of Molecular Radiobiology
German Research Center for Environmental Health, Munich
randolph.caldwell@helmholtz-muenchen.de
I'm the author of the Science paper2 discussed in this article, and we have also regularly observed "uneven" activity of amine oxidase enzymes incubated in 96 well plates, with a clear pattern seen across plates. We initially assumed that the problem was due to uneven warming of the plates in the plate reader incubator chamber, and saw reduced effects at 30°C compared with 37°C. However, that would also be consistent with more rapid leaching of inhibitors from the plates at the higher temperature.
In regards to replacing plastics with glass, as others have pointed out, glass comes with its own problems. Also, there is no glass equivalent for the disposable pipette tip, so whether we want to or not, we're obliged to use at least some disposable items made from polypropylene and related plastics.
Andrew Holt
University of Alberta
Edmonton, Alberta
andy.holt@ualberta.ca
1. A. Katsnelson, "
Leaching plastics throw lab assays
,"
The Scientist NewsBlog
, November 6, 2008.
2. G.R. McDonald et al, "Bioactive contaminants leach from disposable laboratory plasticware," Science, 322:917, 2008.
A savior for science?
Many recent articles in newspapers, tabloids and web posts can easily be dubbed as "Expectations from Obama"—including your recent news article, "Obama good for science, experts say."1 Man, he has aroused so many expectations from us! There is so much to be done in so many spheres. But having so many expectations is not fair. In the difficult times we live now, we are trying hard to find a savior. What if Barack Obama is not our savior?
Vinod Nikhra
Hindu Rao Hospital
New Delhi, India
drvinodnikhra@rediffmail.com
It will be terrific if the thought process comes back to government and science. Urgently needed is an approach that involves communities as equal colleagues in basic and applied science and policy, especially for the villages of Alaska, rural communities and tribes in New Mexico, and small island developing states everywhere. Environmental change will continue regardless of political change.
M. Pamela Bumsted
Unorganized Borough, AK
subscriptionsformpb@gmail.com
1. B. Grant, "
Obama good for science, experts say
,"
The Scientist NewsBlog
, November 5, 2008.
Reuse, not recycle
Re: Reuse or recycle?, about the burden of waste in the lab;1 when I was at the University of Queensland we always used to turn the chore of refilling tip boxes into something a little more fun. A "Lab Olympics" was initiated, where each student used a lab timer to out-do the current record for refilling a box of tips (without spilling any on the floor!). Even if tips are getting cheaper, it's no excuse to just toss out valuable resources (often funded by the taxpayer).
Andrew Plume
Elsevier
Oxford, UK
a.plume@elsevier.com
1. A. Coombs, "
Reuse, or recycle?
"
The Scientist
, 21(11):23-4, November 2008.
Errata
In the article "Best Places to Work 2008: Academia" (22(11):47-52, 2008), the pie chart labeled "How this year's respondents spend their time," Laboratory Services and Other Activities should each read 2%.
In "Libraries 2.0" (22(11):82-4, 2008), RefWorks was incorrectly listed as not formatting reference lists according to a journal publication requirement. It does. The "Top 10 innovations of 2008" (22(12):45?51, 2008) incorrectly listed the microscopes that the Nikon Perfect Focus System (PFS) are compatible with. It should read the TE2000 and Ti-E microscope series.
In "Mentoring Magic" (22(12):70-2, 2008), Carlos Castillo-Chavez has mentored 15 PhD students, not 50. The Scientist regrets the errors.
Interested in reading more?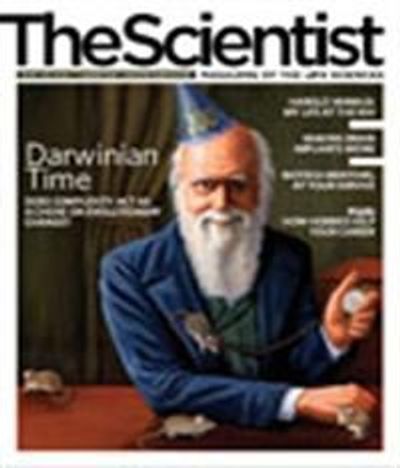 Become a Member of
Receive full access to digital editions of The Scientist, as well as TS Digest, feature stories, more than 35 years of archives, and much more!