Finding more founders
In the article "Rare History, Common Disease",1 various founder populations were mentioned. Glaringly omitted from these were the Amish, particularly the Old Order Amish. Work on the Amish started when Victor McKusick discovered several genetic defects in a uniquely inbred group of people, the Old Order Amish. This discovery resulted in the publication of Mendelian Inheritance in Man (MIM) which is now also available online (OMIM). It was my privilege to briefly work for McKusick, while completing my MPH degree. The number of entries in OMIM now numbers more than 18,800.
Michael Bunnemeyer
Arnold, MD
mgbunem@verizon.net
1. D. Secko, "Rare history, common disease," The Scientist, 22(7):38-45, July 2008.
Can science save Africa?
I totally agree with Richard Gallagher's opinion that basic scientific research could rescue impoverished African nations.1 I also commend his sincere appreciation that the continent's shortfall is not due...
If you can predict the outcome of a grant, is it really worth a 5-year $250,000/year R01?
I believe that the applied mandates of the few international research institutions distributed throughout Africa should be revised to encompass some basic research, thereby attracting interested scientists. Another alternative would involve outsourcing elements of basic research that can be done within the limits of research infrastructure in Africa. This might inspire institutions to set up research departments and competitively bid for these contracts.
Fredrick Odhiambo
West Virginia University
Morgantown, WV
kadwet@hotmail.com
1. R. Gallagher, "
Africa needs basic science
,"
The Scientist
, 22(7):13, July 2008.
Trees, but no forest
Steven Wiley's column about the perils of reductionism in biology1 is, in my opinion, very well written and hits the nail on the head. I am a young scientist (4 years as faculty, 1 as tenure track), and I have many times been told that my proposals are too ambitious. Additionally, I study smooth muscle cells in the kidney, which I have shown do not signal the same as the typically used thoracic aortic smooth muscle cells. I bring this up because I also get slapped with the comment that I lack innovation because I describe experiments that will test known pathways from other cells. Without a reference it is very hard to define a pathway in a new cell, but because I use a reference I am not innovative! If you can predict the outcome of a grant, is it really worth a 5-year $250,000/year R01?
Bradley Andresen
University of Missouri
Columbia, MO
andresenb@missouri.edu
NIH reviewers do not like risk-takers, nor bridge proposals linking different fields. "Too ambitious", "focus on one aim" and "lack of preliminary data" are very common comments for grants with broader approaches, especially from young investigators who are most likely to think more globally, as Wiley recommends.
Claudia Gabaglia
Torrey Pines Institute for Molecular Studies
San Diego, CA
cgabaglia@tpims.org
1. S. Wiley, "
Research locally, think globally
,"
The Scientist
, 22(7):29, July 2008.
A trying trial
Re: "Subject death halts clinical trial," in which a company halted a trial of its arthritis drug after a healthy volunteer had two heart attacks and died,1 any death is sad. Yet, in a clinical trial, it must be understood that there is an explained risk of serious adverse event. Unless there is evidence to show that the consent given by the patient was legally and/or ethically invalid, the cry and the generalizations against clinical trials are premature and amateurish.
I hold that serious adverse events are the price to be paid for progress in science, and newer and safer medicines. Those wary of it ought to abstain from being volunteers in a drug trial.
S. M. Sapatnekar
Clinical Research Education & Management Academy
Mumbai, India
sapatnekar@hotmail.co
The "two heart attacks" should definitely point to a serious side effect of the drug, especially in a person with no history of heart disease.
What is more disturbing is that the person in question was in good health to participate in the drug trial and did so only to clear his debts. This only means that his participation in the trial was not fully voluntary. This may also mean that information about his health status before entering the trial might not have been "good health." We should stop labeling the outcome to "an unpredictable biological action" of the drug every time.
Vinod Nikhra
Hindu Rao Hospital
New Delhi, India
drvinodnikhra@rediffmail.com
1. M. Scudellari, "
Subject death halts clinical trial
,"
The Scientist NewsBlog
, July 8, 2008.
Creationist folly?
Let me make sure I have this correct1: The governor of Louisiana, with a BS in biology from Brown University, believes that an omnipotent, omniscient, extraterrestrial being, unwittingly allowed a "demon" to "possess" a co-ed, and that a dauntless group of Brown undergrads helped drive said demon out, with the demon's departure bearing with it the added benefit of a one-off cure for cancer? Just checking.
Dan Morrow
Jamestown Exploration
Middleburg, VA
Dan@mbecc.com
The author, Michael Stebbins, firmly assigns himself to the elitist group that blindly and rudely declares that any thoughts, theories, or beliefs other than theirs are not only invalid, but should be characterized as waste ("urine"). Evolution has been well-documented, while no shred of evidence supports the "science" of creation of matter or life from nothing. We don't need this kind of rude, narrow-minded essay.
Bill Tankersley
Lenoir City, TN
tankersb@orau.gov
1. M. Stebbins, "
Jindal's creationist folly
,"
The Scientist News
, July 9, 2008.
Victor McKusick, a tribute
I remember so well Victor McKusick's1 lectures given in the Jackson Lab Medical Genetics Course every year. He was such a quiet and gentle man. Someone once said he got trapped in an elevator one day, and before being rescued, he finished a rough draft of a chapter in his book. He always carried this big leather briefcase with him all the time, ready at a moment's notice to get to work. I will really miss him. He inspired me to work my best as a geneticist.
Jim Hoerter
Ferris State University
Big Rapids, MI
hoerterj@ferris.edu
1. B. Grant and E. Zielinska, "
Victor McKusick dies
,"
The Scientist News
, July 24, 2008.
Interested in reading more?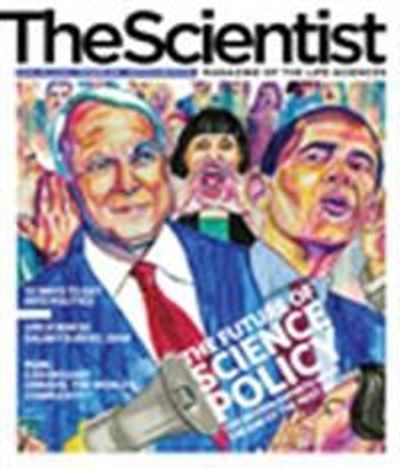 Become a Member of
Receive full access to digital editions of The Scientist, as well as TS Digest, feature stories, more than 35 years of archives, and much more!