Cryoelectron tomography (CryoET)—electron microscopy of frozen tissues—allows unparalleled observations of molecular complexes in as natural a state as possible. However, current electron microscopes can only view samples to a limited depth—approximately 0.5–1 µm—which has restricted cryoET to analyses of cell surfaces, isolated organelles, or microorganisms.
To get a glimpse inside eukaryotic cells, researchers have tried freezing and then slicing them with extremely sharp diamond or glass knives—cryo-ultramicrotomy. But "cutting with a mechanical knife introduces compression artifacts, which hinder interpretation of the images," says Jürgen Plitzko of the Max Planck Institute of Biochemistry in Germany. Another strategy, using a beam of gallium ions to erode the surface of cells from above, has also proven inadequate for imaging deeply embedded structures.
Plitzko and his team combined principles from both techniques to create thin sections of cells using a focused ion beam as a blade. The ion beam is directed at an...
David Agard of the University of California, San Francisco, says he is keen to start using the system. "I think it holds tremendous potential for cryo-tomography," he says, "for the first time really opening up eukaryotic cell biology to detailed 3-D examination." (PNAS, doi/10.1073/pnas.1201333109, 2012.)
.
STATS TALK
COMPARING METHODS:
THIN SECTION PRODUCTION
SAMPLE THICKNESS
SHORTCOMINGS
ADVANTAGES
Cryo-ultramicrotomy
Thin section of frozen sample sliced with diamond or glass knife
20–500 nm
Slicing causes knife marks, compression and thus severe distortion.
Good for studying larger structures, such as small organisms, eukaryotic cells and tissues.
Focused ion beam micromachining
Thin section of plunge-frozen cell carved out by gallium ion beam focused at an acute angle
200–400 nm
Each lamella takes 30–45 min to carve. Samples >10 µm take longer, which can cause cellular damage.
Homogeneous thickness. Minimal-to-no distortion.
Interested in reading more?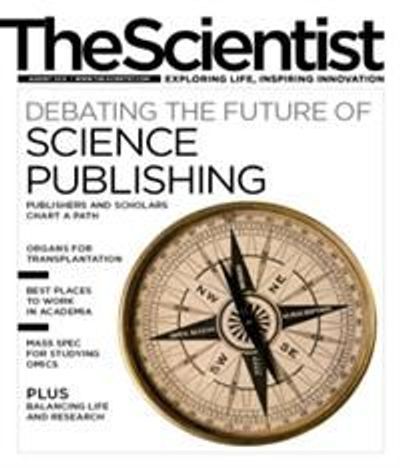 Become a Member of
Receive full access to digital editions of The Scientist, as well as TS Digest, feature stories, more than 35 years of archives, and much more!