MicroRNAs (miRs) are small, noncoding ribonucleic acids that control the translation of target messenger RNAs (mRNAs). Given their roles in development, differentiation, and other cellular processes, misregulation of miRs can contribute to diseases such as cancer. Indeed, "they are recognized as important modulators of cancer progression," says Natalie Artzi of Harvard Medical School.
In addition to occasionally promoting cancer pathology, miRs also hold the potential to treat it—either by restoring levels of suppressed miRs, or by repressing overactive ones using antisense miRs (antagomiRs). While miRs are promising therapeutic molecules, says Daniel Siegwart of the University of Texas Southwestern Medical Center in Dallas, their use "is currently hindered by at least two issues: nucleic acid instability in vivo, and the development of effective delivery systems to transport miRs into tumor cells."
Artzi and her team have now addressed both of these issues in one fell swoop. They first assembled two...
In mice with induced breast tumors, the triple-helix–hydrogel approach led to dramatic tumor shrinkage and extended life span: the animals survived approximately one month longer than those treated with standard-of-care chemotherapy drugs. Because the RNA-hydrogel mixture must be applied directly to the tumor, the approach will not be suitable for all cancers. But one potential application, says Siegwart, is that "the hydrogel could be applied by a surgeon after performing bulk tumor removal...[and] might kill remaining tumor cells that would otherwise cause tumor recurrence." (Nature Materials, doi:10.1038/NMAT4497, 2015)
STICKING IT TO TUMORS: To deliver therapeutic microRNAs (miRs) to tumors, braids of three microRNAs (miRs)—an antisense strand that blocks a miR overactive in cancer, a strand that replaces a deficient miR, and a stabilizing strand (1)—are added to a dendrimer (2) and mixed with a hydrogel scaffold (3). When researchers introduced the sticky gel onto mouse mammary tumors (4), the malignancies shrank and the animals lived longer (5)© GEORGE RETSECK; J.CONDE ET AL., NATURE MATERIALS
| | | | | |
| --- | --- | --- | --- | --- |
| miR DELIVERY SYSTEM | VEHICLE | DOSE | TUMOR TARGETING | APPLICABLE TUMOR TYPES |
| Nanoparticles | Examples: gold particles, liposomes, peptide nucleic acids, or polymers | Usually multiple injections | Combining miRs with aptamers or antibodies can guide nanoparticles to target cells, but systemic delivery inevitably leads to some off-target dispersion. | Multisite or blood cancers |
| RNA–triple-helix-hydrogel | Dendrimer-dextran hydrogel | One | Adhesive hydrogel sticks miRs to tumor site with minimal dispersion to other tissues. | Solid Tumors |
Interested in reading more?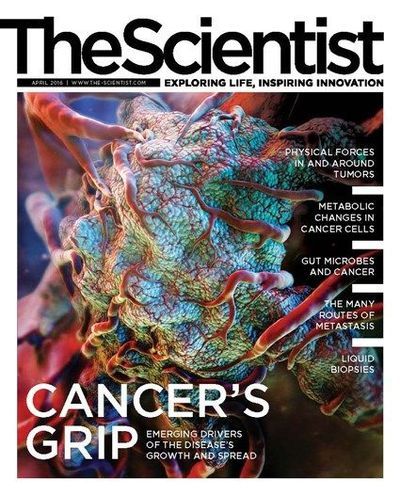 Become a Member of
Receive full access to digital editions of The Scientist, as well as TS Digest, feature stories, more than 35 years of archives, and much more!