Infographic: Dual-Purpose Photoreceptor
See how different environmental conditions affect the activity of a molecule sensitive to both light and temperature.
Ben Andrew Henry
Jan 31, 2017
© KIMBERLY BATTISTA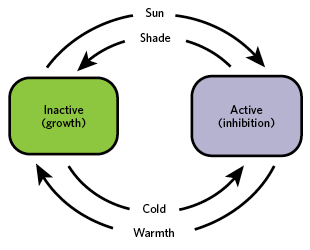 LIGHT SWITCH: The active form of the photoreceptor phytochrome B (phyB) suppresses stem growth in seedlings. In lab experiments, low light inactivates phyB, triggering growth. Warm temperatures turn out to also inactivate phyB, evidence that this pathway monitors temperature as well as light to coordinate growth. This may explain why plants grow the most in warmer, shady conditions compared to cooler shade, and why plants in full light—a growth-slowing condition—grow more if it's warm.
Read the full story.