Instant Messaging
An alternative route to sparking cell signals involves hook-ups between transmembrane and soluble ligands.
May 1, 2016
Catherine Offord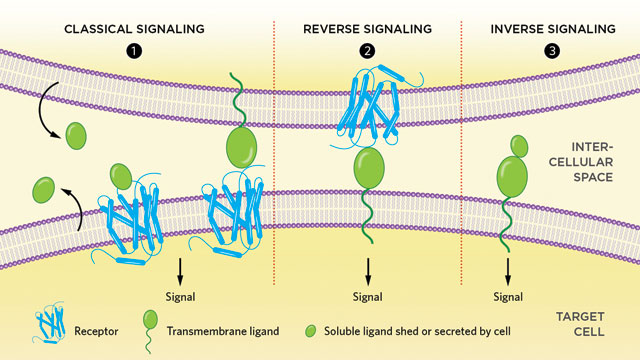 A NEW WAY TO TALK: In classical signaling, receptors (blue) on a target cell transduce an intracellular signal upon binding with transmembrane or soluble ligands, such as chemokines (green) (1), which can originate in another cell or the target cell itself. Signaling triggered by a transmembrane ligand binding to a receptor on another cell is known as reverse signaling (2). In a novel mechanism dubbed inverse signaling, a transmembrane chemokine transduces a signal upon binding with its soluble equivalent (3).THE SCIENTIST STAFF
See the full article here.