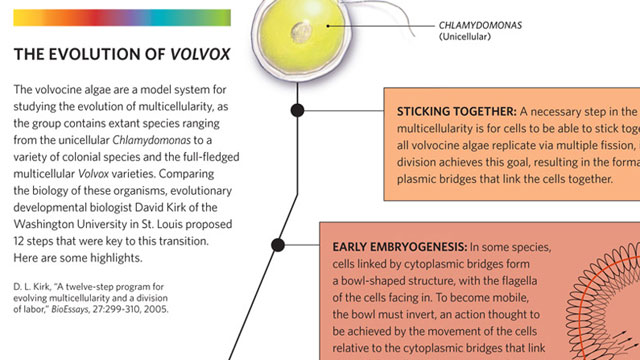 Infographic: The Evolution of Volvox
View full size JPG | PDF Lucy Reading-Ikkanda (diagrams and cells); SOURCE: David L. Kirk
The volvocine algae are a model system for studying the evolution of multicellularity, as the group contains extant species ranging from the unicellular Chlamydomonas to a variety of colonial species and the full-fledged multicellular Volvox varieties. Comparing the biology of these organisms, evolutionary developmental biologist David Kirk of the Washington University in St. Louis proposed 12 steps that were key to this transition. Here are some highlights.
Interested in reading more?
Become a Member of
Receive full access to more than 35 years of archives, as well as TS Digest, digital editions of The Scientist, feature stories, and much more!