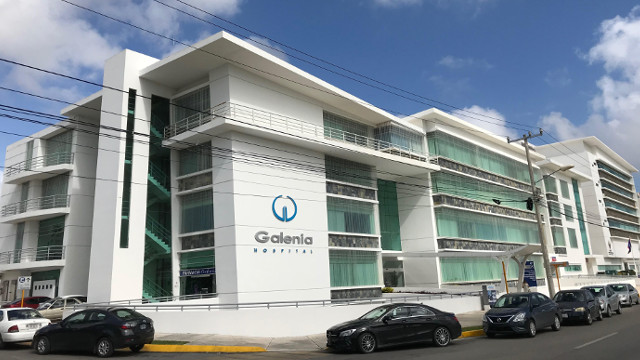 Hospital Galenia in Cancun, Mexico, where Celltex administers autologous mesenchymal stem cells to clientsKERRY GRENS
On a main thoroughfare running along the east side of Cancun, Mexico, sits Hospital Galenia, a small, private facility with crisp, white walls and slick marble floors. On a Friday morning in February, the lobby is quiet, its palm-filled courtyard unoccupied, belying activity in parts unseen, including an emergency room and a maternity ward.
Cancun's beaches draw in visitors by the millions each year, while Galenia attracts a distinctive kind of tourist: those seeking health treatments not sanctioned by the U.S. and governments elsewhere. A number of medical tourism companies operate out of Galenia, including Houston-based Celltex Therapeutics, a company that offers stem cell therapies to mostly American customers. Celltex claims to use patients' own mesenchymal stem cells (MSCs) to treat diseases as wide-ranging as amyotrophic lateral sclerosis (ALS), renal failure, and chronic...
Originally, Celltex administered cells to its clients out of a laboratory site in Sugar Land, Texas. But the company had to cease offering such treatments in Texas in 2013 after the US Food and Drug Administration (FDA) sent Celltex a warning letter in 2012 stating that the patient-derived cells it was harvesting and injecting were considered drugs under US federal law, thereby requiring clinical trials and regulatory approval. The FDA review also revealed that the company mishandled the cells, failing to keep them in sterile conditions and mislabeling containers.
Rather than cede to federal laws and go the standard drug-approval route through the FDA, Celltex instead shifted its clinical operations south of the border, shipping ready-to-use MSCs in syringes to Hospital Galenia. But with a newly passed law in Texas known as "Charlie's Law," Celltex might have the opportunity to resume treating patients stateside. The new law could allow Texas clinics to administer certain non-FDA-approved stem cell treatments, like those offered by Celltex, to select patients.
State law is subordinate to federal FDA rules, according to the agency. Therefore, the new Texas stem cell law potentially sets up a state-federal conflict. Paul Knoepfler, a stem cell biologist at the University of California, Davis, and coauthor of a recent study that analyzed stem cell clinics in the U.S., tells The Scientist that proponents of direct-to-consumer stem cell clinics could use the law as an opportunity to challenge the FDA's authority, which could result in a federal court case.
While Texas is loosening regulations on unproven stem cell treatments, the FDA and health authorities in other countries are going in the opposite direction.
Celltex—whose board of directors includes Texas's former first lady, Anita Thigpen Perry—was actively involved in the bill, according to a Celltex spokesperson. The law is a step in the "right direction," according to the firm, but "still far from a law which would allow us to provide high-dose adult stem cell banking and therapy in the United States."
Direct-to-consumer stem cell clinics, influential Texas politicians—some with ties to Celltex—and some patients eager for alternative therapeutic options applaud the law. But scientists question the cells' efficacy, and bioethicists voice concerns about selling a therapy before the evidence is all in. Without rigorous testing and FDA oversight, critics say, there are no guarantees that these direct-to-consumer stem cell clinics abide by rigorous laboratory practices and that the interventions are not putting patients at risk.
"It's true that we are very excited about the ability to develop effective new therapies using stem cells but there is a tremendous amount of research required to figure out how to do this effectively and safely," says Sean Morrison, a stem cell biologist and director of the Children's Medical Center Research Institute at the University of Texas Southwestern Medical Center in Dallas. "There are many companies short-circuiting that process and selling patients unproven entities that they have not shown to be effective nor safe. In some cases, the unproven therapies are scientifically implausible based on what we know about the biology."
Show me the data
According to Celltex, the company treats about 400 to 500 people each year using MSCs harvested from the patients' own belly fat. The cells are then purified, expanded, and frozen in Texas before being infused intravenously or injected into the affected tissue. According to the medical director of Celltex's Galenia clinic, Gabriel Salazar, most patients come for relief of inflammatory conditions, especially arthritis. "There are people who come for wellness" as well, says Salazar. "They aren't sick, but they have risk factors."
The physiological mechanism of MSCs is unclear. Salazar says they initiate anti-inflammatory pathways, a phenomenon that researchers have observed in vitro in the lab. From animal models, scientists understand that "these are cells that regulate the microenvironment at sites of injury . . . but no one really understands how they function in vivo," says Arnold Caplan, an MSC researcher at Case Western University.
All [of our clients] have received improvements, some minimally and some miraculously. And no one has had a problem.—David Eller,
CEO, Celltex
Clinicaltrials.gov lists 243 ongoing MSC trials, including some in the U.S., sponsored by industry, the National Institutes of Health, and others. Yet there are no FDA-approved therapies using MSCs for any condition. The FDA, for its part, is studying MSCs to develop standardized isolation methods and to learn how MSCs behave when injected into the body.
Anecdotal testimonials from clients of Celltex and other firms abound, but rigorous clinical evidence is hard to come by, as companies selling stem cell therapies don't often publish in peer-reviewed journals. In fact, there are no published data on MSCs' efficacy in ameliorating arthritis or the numerous other conditions that patients pay Celltex to treat. Thus far, Celltex has one publication documenting MSC use in patients—a 2017 case report of two individuals with a nervous system disorder that suggests the autologous adipose-derived MSCs they received resulted in symptom improvements.
Celltex CEO David Eller says the company has safely administered MSCs to more than 4,500 clients. "All of them have received improvements, some minimally and some miraculously," he tells The Scientist. "And no one has had a problem." In opposition to the FDA's stance, Eller considers clinical trials a waste of patients' time. "We can wait another decade or more for costly clinical trials and watch as our loved ones deteriorate, or we can do something about it now. In our eyes, doing nothing is the real risk," he writes on the Celltex website.
Nevertheless, Celltex has pledged to conduct its first clinical trial. Just last month (February 27), the firm announced that the Comisión Federal Para La Protección Contra Riesgos Sanitarios Comisión de Autorización Sanitaria (COFEPRIS, the Mexican equivalent of the US FDA) had given the go-ahead for Galenia to start a clinical trial in patients with osteoarthritis and rheumatoid arthritis. The Phase 2 study will use Celltex's protocols to generate cells "in quantities never possible for use in therapies for vascular, autoimmune, and degenerative diseases, as well as injuries," according to a company press release.
Details on the trial are scant. The press release states that the trial will measure the quality of life (QoL) of subjects prior to and after receiving the therapy. Celltex tells The Scientist that the trial will have a safety and toxicity monitoring component and that participants will not incur cost of the cell procedure. According to the Celltex website, the company charges $6,500 to obtain, process, and store a client's MSCs for one year, while the pricing for an injection varies depending on each individual's situation.
"I'm all for investigating QoL self-assessments in the context of clinical research," says Leigh Turner, a bioethicist at the University of Minnesota who studies direct-to-consumer stem cell clinics, "but one obvious concern in the case of this particular study is that it will do little more than capture a placebo [effect]."
According to Turner, Celltex is not the first US business selling unapproved stem cell interventions to conduct a QoL study rather than one specifically designed to test for safety and efficacy endpoints. For marketing approval, the FDA requires that stem cell products be tested for safety and efficacy and that the company developing the product file an IND application with the agency. Yet trials can be listed on registries such as clinicaltrials.gov whether or not they comply with FDA regulatory standards and safety oversight.
"I hope [Celltex] pursues an Investigational New Drug application [IND] in the U.S. and conducts a placebo-controlled, double-blinded study," writes Knoepfler in an email to The Scientist. "If their product is safe and clearly effective, such a rigorous study could prove that fairly conclusively."
Human mesenchymal stem cells with nuclei labeled blue and actin filaments greenFLICKR, ENGINEERING AT CAMBRIDGE
The Texas law
The new Texas stem cell law has yet to go into effect; the state's Health and Human Services Commission is still developing the procedures of how the law will be implemented. As Celltex and other direct-to-consumer stem cell companies wait for lawmakers to clarify details on the new rules, Celltex will continue with its cell-banking operations in Texas and its infusions in Mexico, a Celltex spokesperson tells The Scientist.
According to State Senator Paul Bettencourt (R-Houston), an author of the bill, the plan is for each stem cell treatment course to be reviewed by an Independent Review Board (IRB). After a favorable review, the treatment could then be administered in one of the hundreds of medical institutions in Texas.
The Texas law is unique in its permissiveness, says Turner. A new law in California, which took effect January 1, requires that direct-to-consumer stem cell clinics disclose to potential customers that their products are not approved by the FDA. "Other states appear to be looking for ways to better protect patients and consumers instead of looking for ways to lower regulatory standards," writes Turner.
While Texas is loosening regulations on unproven stem cell treatments, the FDA and health authorities in other countries are going in the opposite direction, focusing more oversight and scrutiny on direct-to-consumer stem cell clinics. The FDA has recently warned consumers about stem cell clinics touting unproven treatments, and in August 2017, the FDA commissioner announced plans for better enforcement of federal laws and oversight of stem cell clinics. Australia recently announced a higher level of stem cell clinic regulation, as have health agencies in Canada and India.
Questionable validation
To be a candidate to receive the therapy under Charlie's law, the patient must have a "severe, chronic disease" or be terminally ill. And the treatment must be registered in a clinical trial database somewhere in the world. According to Bettencourt, the next step is for the Texas Medical Board to draw up the process for how to evaluate and oversee each patient's case.
But the bill does not include any details on product oversight or quality control, and reporting by The Scientist reveals questionable practices.
When The Scientist spoke to Eller, he said that Celltex uses the MD Anderson Flow Cytometry Facility weekly to validate that the cells are "100 percent patient-derived MSCs." And in follow-up emails, a spokesperson for Celltex also stated that members of the MD Anderson core staff independently conduct quality control and validation.
However, the cytometry facility had a different story.
Scott Melville, an MD Anderson spokesperson, tells The Scientist that Celltex has paid to use the public Flow Cytometry Facility since 2015, but that that no one at the facility "independently assesses the quality and content of the [Celltex] samples." According to MD Anderson's recent records from the last several months up to March 23, 2018, Celltex used the facility for two hours on November 2, 2017, and for one hour each on January 18 and January 19, 2018.
Critics of the Texas stem cell law say that the language in the bill is too vague and are skeptical that there will be enough independent scrutiny to make sure patients are not exposed to unsafe treatments. "I'm concerned that businesses could use it to make money by putting patients at risk," says Knoepfler.
Reporting from Mexico by Kerry Grens
Interested in reading more?
The Scientist ARCHIVES
Become a Member of
Receive full access to more than 35 years of archives, as well as TS Digest, digital editions of The Scientist, feature stories, and much more!