Some of the big breakthroughs of 2013, including genome-editing techniques—CRISPR in particular—and methods to reprogram stem cells, were built upon in 2014. But this year also saw spectacular achievements in synthetic biology, imaging approaches, and space exploration. Here—in no particular order—are some of the most impressive accomplishments of the year:
Lab-made chromosome
FLICKR, RISING DAMP In March, scientists reported that they had succeeded in building the first eukaryotic artificial chromosome. The genome was quite similar to the real deal, and the artificial chromosome appeared to function just fine in yeast. The feat "is a landmark in synthetic biology," Tom Ellis of Imperial College London told The Scientist in March. New York University Langone Medical Center's Jef Boeke, who led the work, went on to develop a technique later in the year to straighten synthetic chromosomes, which are often circular.
Artificial DNA
FLICKR, STUART CAIEScientists...
Mind control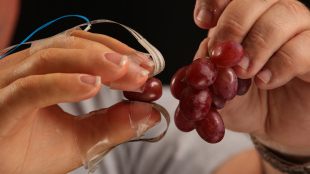 DALE OMORIResearchers devised a method that allows human participants to manipulate the expression of genes in an implant in a mouse using only their concentration (plus a brain-computer-interface). The person uses biofeedback to control his or her brainwave pattern, which then flips on a light that then activates a gene engineered to turn on in response to light. "This is the first time people have gone this far with combining these technologies," Timothy Lu of MIT told The Scientist in November.
The use of thoughts to control limb prostheses also advanced, with studies improving both the movements and the touch-sensation feedback for human users. The US Food and Drug Administration also approved for the first time a prosthesis controlled by neural signals from the wearer. And brain-computer interfaces were successfully applied to allow monkeys to control other monkeys' limbs. "The work is a key step forward that demonstrates the potential of brain machine interfaces to be used in restoring purposeful movement to people affected by paralysis," Bernard Conway of the University of Strathclyde said in a statement sent to The Scientist in February.
Life on Mars (maybe)
FLICKR, SCHALLJUPPSpace exploration and sampling projects that aim to get to the bottom of the origins of life and the possibility of extraterrestrial life amassed quite a bit of data this year. At the close of 2013, data from NASA's Curiosity rover suggested that a lake that existed billions of years ago on Mars might have had life-supporting conditions; and just last week (December 16), scientists reported that Curiosity found spikes in methane concentrations on the Red Planet. "It is a very, very puzzling result," Joel Levine of the College of William and Mary told National Geographic. "Either Mars is geologically alive, which would be surprising, or Mars is biologically alive, which would have profound implications."
In November, the European Space Agency's Philae lander plopped down on a comet, and its analysis of samples revealed organic molecules. The result doesn't prove the existence of life outside of Earth, but it certainly doesn't rule it out.
A better view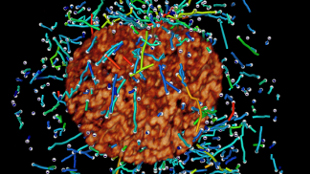 BETZIG LAB, HHMIThe Nobel Prize in chemistry this year went to a trio of microscopy pioneers, including Eric Betzig of the Howard Hughes Medical Institute's Janelia Farm Research Campus. Betzig is not one to rest on his laurels, however. A couple of weeks after the announcement of his award, his group announced yet another breakthrough in cellular imaging, enabling the visualization of cells in three dimensions over time, at single-molecule resolution. "With this microscope, I feel like Galileo," Betzig told The Scientist in October. "No matter where we point it, we make a discovery, and we see something of incredible beauty."
Another group of researchers also offered a better way to see through whole mice. Viviana Gradinaru and her colleagues took advantage of the animals' circulatory systems to transport tissue-clearing agents throughout their bodies, resulting in a nearly transparent mouse. In July, Guangping Gao of the University of Massachusetts Medical School told The Scientist that the method "is a very significant technical advance."
Making neurons
ZHIDA SUFor years, scientists have been trying to fill in the gaps of the human nervous system's poor regenerative abilities by reprogramming somatic cells into neurons. Studies in mice this year took the field a step further by succeeding in vivo. Chun Li-Zhang of the University of Texas Southwestern Medical Center and his colleagues managed to coax astrocytes into neurons within the spines of living mice. The study followed closely on the heels of another project from his lab demonstrating that the technique also worked in the brains of living mice. "It's just a proof of principle," Zhang told The Scientist in February. "We got some cells, but we're not getting the number we really want for repair. We're working at full force to boost the efficiency. Then we can do recordings to see if they have electrical properties."
Reproducibility
FLICKR, IT@CThere's no question that biomedical research has long been plagued with a reproducibility problem. This year saw some attempts to correct the problem (some less gracefully executed than others). The Reproducibility Project: Cancer Biology, for instance, launched a deep dive into just how big the problem is in the realm of cancer research. The project aims to try to replicate the 50 most-impactful papers from 2010 to 2012. eLife agreed to join as the publishing partner, and this month it released the initial "registered reports," which lay out the precise replication protocols. While replication is not uncommon in science, such a transparent and broad program is unprecedented. "We still really don't know what the best way of addressing this issue is," Sean Morrison, a senior editor at eLife and the director of the Children's Medical Center Research Institute at University of Texas Southwestern told The Scientist earlier this year. "All of these efforts are experiments, and it remains to be seen how the experiments play out."
Interested in reading more?
The Scientist ARCHIVES
Become a Member of
Receive full access to more than 35 years of archives, as well as TS Digest, digital editions of The Scientist, feature stories, and much more!