A Dire Air Pollution Warning
Contaminants in the air are officially carcinogens, according to the World Health Organization.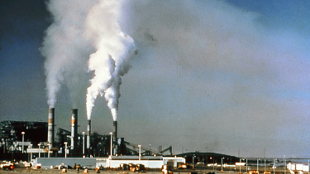 WIKIMEDIA, NATIONAL PARKS SERVICEAir pollution—from vehicle exhaust, industry, and large fires—can cause lung cancer, according to a new report from the World Health Organization's cancer arm, the International Agency for Research on Cancer (IARC). The announcement marks the first time that outdoor air pollution has been officially classified as a carcinogen. "This report should send a strong signal to the international community to take action," IARC director Christopher Wild told Bloomberg. "We can't treat our way out of this cancer problem. The first step is identifying the causes."
Outdoor air pollution caused about 223,000 deaths from lung cancer around the world in 2010, according to the report, which reviewed published studies to reach the conclusion that pollutants in air could be deadly. Rather than focusing on particular components of air pollution, the IARC examined health data relating to fouled air in general. "Our task was to evaluate the air everyone breathes rather than focus on specific air pollutants," Dana Loomis, an IARC official that participated in compiling the report, told The Guardian. "The results from the reviewed studies point in the same direction: the risk of developing lung cancer is significantly increased in people exposed to air pollution." The report also notes that air pollution can be linked to bladder cancer.