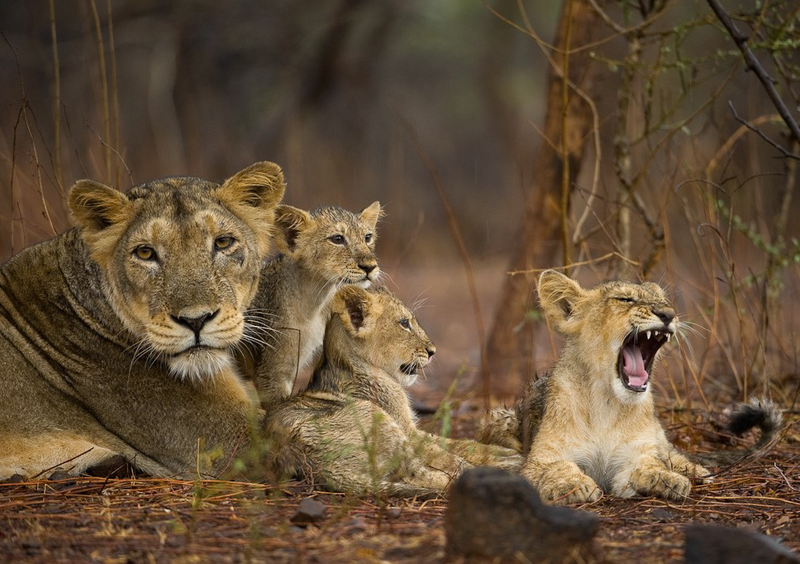 kalyan vArma
A deadly combination of canine distemper virus and babesiosis, a disease caused by tick-borne parasites, is killing Asiatic lions in the Gir forest sanctuary in Gujarat, western India, according to government officials. So far, 24 lions have died, and the latest death, a cub, was reported on October 15.
The disease outbreak, which started a month ago, has sounded alarm bells among conservationists, and aroused a debate over how to protect the endangered species. The contagious virus poses a threat to the survival of the remaining of the 523 big cats (Panthera leo persica) that live across 1,884 square kilometers in the Gir forest region.
Scientists at the Indian Council of Medical Research (ICMR)-National Institute of Virology (NIV), Pune, revealed on October 9 in a press statement that the deaths were due to canine distemper virus (CDV)....
For the first time in India, ICMR-NIV scientists recovered the complete CDV genome. The sequence was compared to available CDV sequences and found to be related to East African virus strains that infect lions there.
h.s. singh
Dushyant Vasavada, chief conservator of Forests of Junagadh Wildlife Circle, which include Gir, tells The Scientist that forest officials rescued 18 sick lions from Sarasiya Vidi, a reserved forest in the Dalkhaniya range of the eastern Gir forest. "These were shifted to the forest health center. Of this, 15 died during treatment. The officials had also found eight dead lions inside this area. Hence, in all, 23 lions [of a 26-member group] died."
Following the deaths, 33 lions were rescued, quarantined, and vaccinated and are under observation at the sanctuary's rescue center in Jamwala village. "This is just to ensure that the infection, if there is any, is contained in that area. They are under observation, and healthy. The problem pertains to one area and is localized," Vasavada says.
In contrast to ICMR's conclusion, Vasavada asserts that the deaths are not entirely due to CDV. In a press statement on October 3, he said that four lions died of CDV infection and 10 due to babesiosis, a disease caused by microscopic parasites that infect red blood cells.
As a protective measure, ICMR has recommended that the big cats be immunized with a CDV vaccine.
Conservation scientist Ravi Chellam, CEO of Metastring Foundation, which works on technology and big-data projects related to conservation, expresses doubts over vaccinating the entire population. "It is not practical, and will be a logistical challenge. How can one differentiate between the ones that were vaccinated and the others that were not? How frequently can they be vaccinated? Let us not forget that these are free-ranging and wild lions. We should not be treating them as semi-captive animals."
Chellam says but for a few populations of red fox in Europe no animal population in the wild, anywhere globally, has ever been fully vaccinated. "One does not know how efficiently this vaccine will work for wild lions."
There is no treatment for canine distemper, but wild animals that survive the disease probably develop lifelong immunity, Chellam says.
Gir is home to 523 lions, as of the 2015 census. At least 200 of them live outside protected areas. With their numbers increasing toward 600, according to Gujarat Chief Minister Vijay Rupani, the disease outbreak has rekindled a debate on relocating some animals.
In 2013, the Supreme Court ordered that some lions be moved to Kuno-Palpur Wildlife Sanctuary, a 345-square-kilometer park in neighboring Madhya Pradesh state. But Gujarat is raising objections. The state government contends that the pride would be at risk if any members were to leave.
Wildlife experts have been warning that a similar disease or a natural calamity could devastate the Gujarat population. In 1994 in Tanzania, for instance, a CDV epidemic wiped out 1,000 lions.
ICMR says in the press statement, "Since CDV is transmitted by airborne route as well as infected body secretions, healthy lions from Gir forest may be shifted to an alternate suitable location." To avoid extinction, it suggests that the animals "be placed in two to three different sanctuaries."
Chellam concurs, "Establishing additional geographically isolated populations of lions will prevent and reduce the risk of extinction. It will not prevent the death of lions, but will give the species a better chance for survival over the long term."
Interested in reading more?
The Scientist ARCHIVES
Become a Member of
Receive full access to more than 35 years of archives, as well as TS Digest, digital editions of The Scientist, feature stories, and much more!