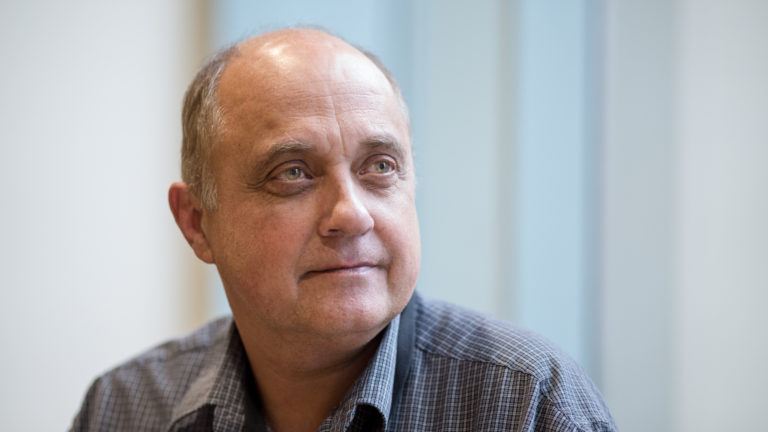 CDC
Sherif Zaki, founder and chief of the Infectious Disease Pathology Branch at the Centers for Disease Control and Prevention, passed away suddenly on Sunday (November 21), according to an email sent to agency staff by National Center for Emerging and Zoonotic Infectious Diseases Director Rima Khabbaz and shared with The Scientist. The prominent pathologist, well known in the community for his work identifying pathogens at the root of various outbreaks in the US and beyond, would have turned would have turned 66 tomorrow.
Tom Ksiazek, a former CDC colleague and current professor of microbiology at the University of Texas Medical Branch's Galveston National Laboratory, tells STAT how Zaki pioneered the use of immunohistochemistry to identify foreign proteins in samples sent to the CDC, to help determine the underlying pathogens for a particular outbreak and understand the disease they caused. According to Ksiazek, Zaki's reputation for cracking hard cases meant that the CDC has been enlisted to help solve outbreaks that other laboratories couldn't.
"During his tenure at CDC, Sherif's vision and determination took the pathology laboratory to the forefront of the agency's work in responding to public health threats posed by various infectious disease agents and established this team to be as one of the most highly respected infectious disease pathology laboratories in the world," Khabbaz wrote in her email to the CDC staff. "[H]e is widely considered to be among the most influential infectious disease pathologists of his generation."
A native of Alexandria, Egypt, Zaki attended the Alexandria University in the 1970s, earning a medical degree and a master's in pathology. He followed that up with a PhD in experimental pathology and residency training in anatomic pathology at Emory University. In 1988, he joined the CDC, where he would spend the rest of his career, working on a long list of pathogens including Ebola, Zika, West Nile, anthrax, SARS, and various influenzas.
"He really was kind of the secret weapon for a lot of what was done at CDC on emerging diseases," James LeDuc, recently retired former director of the Galveston National Laboratory at the University of Texas Medical Branch, tells STAT. "He was able to use the tools and to partner with one of the experts at CDC or outside CDC and really provide critical information in a very, very timely manner. Just a real asset."
Beyond his disease investigator work, Zaki was devoted to teaching and mentoring younger scientists, retired CDC colleague Pierre Rollin tells STAT, noting that such training took him to places including Africa and South America. Inger Damon, director of the division of high-consequence pathogens and pathology and Zaki's supervisor, adds that "it's really a testament to his leadership that he has mentored and fostered the development of so many other infectious disease pathologists."
Zaki received the Health and Human Services Secretary's Awards for Distinguished Service—the department's highest honor—nine times.
"During his tenure at the agency, Dr. Zaki was critical in diagnosing unexplained illness and outbreaks that allowed CDC and public health to respond more quickly and save lives," writes CDC Director Rochelle Walensky in a statement emailed to The Scientist. "Dr. Zaki's legacy will live on through his extraordinary work done at CDC to protect the public's health."