Christopher Dobson, a chemist knighted by the Queen of the UK in 2018, died last week (September 8) of pancreatic cancer. He was 69.
Dobson, a professor at the University of Cambridge, studied the structures and properties of biological molecules and was an expert on protein folding and aggregation. His "pioneering research investigating the origins of Alzheimer's and Parkinson's will undoubtedly lead to the discovery and introduction of new and effective treatments in the future that will benefit millions of people," Frank Salmon, president of St. John's College at the University of Cambridge, tells the Cambridge Independent. Dobson became the head of the college in 2007, which he led for 12 years. "His commitment to the college was apparent by the remarkable fact that he knew every fellow, student and member of staff by name," Salmon says.
Dobson was born in Germany in 1949,...
Eventually, at the encouragement of a theologian, he moved to Keble College at the University of Oxford and because of an odd quirk in admissions ended up applying after he was already in residence. Six weeks later, a letter rejecting his application arrived, "but I was already there so I just put it in a drawer, never opened it again and nothing else happened." He chose chemistry as a major because he "found it interesting and was quite good at it," the Times reports.
Dobson earned his undergraduate degrees (both a BA and a BS) and moved to Merton College at Oxford do his graduate studies in structural biology, a field just emerging at the time. He earned his DPhil in 1976 and a year later, while working as a research fellow in chemistry, met Mary Schove, a historian of medicine and an expert on infectious diseases who became his wife.
From 1977 until 1980, Dobson was an assistant professor of chemistry at Harvard University and a visiting scientist at MIT. He returned to Oxford in 1980 as a lecturer, became a professor in 1996, and led Oxford's Centre for Molecular Sciences from 1998 until 2001, when he moved to the University of Cambridge as a professor of chemistry and structural biology.
Over the course of his career, Dobson published more than 800 papers and articles that focused on proteins, how they fold, and how protein misfolding can cause disease. One of Dobson and colleagues' discoveries was that under extreme environments, non-disease-related proteins can begin to aggregate and develop into an intermediate stage of protein build-up that is toxic. Recently, Dobson was working with researchers at Lund University in Sweden to develop a way to target these toxic forms of the protein amyloid-β, a possible treatment for Alzheimer's disease said to be a year or so away from clinical trials.
In 2009, he earned the Royal Medal of the Royal Society of which he was a fellow since 1996, and in 2012, he helped to co-found the Cambridge Centre for Misfolding Diseases, where researchers search for the molecular underpinnings of Alzheimer's and Parkinson's diseases, along with type 2 diabetes. In 2017, famed theoretical physicist and cosmologist Stephen Hawking offered his support to the center and its "quest to define the molecular origins of these debilitating diseases." In 2019, the center earned the Royal Society of Chemistry's Rita and John Cornforth Award "for groundbreaking collaborative interdisciplinary research on the molecular origins and the treatment of neurodegenerative disorders."
Karen Stroobants, a policy advisor at the Royal Society of Chemistry who was a Marie-Sklodowska-Curie Fellow under the supervision of Dobson, says in a statement that Dobson "leaves two legacies; one in the form of a record of ground-breaking science, and another as the community of students and researchers" to whom he was "an extraordinary mentor."
Surviving Dobson are his wife and their sons, Richard and William, and his beloved dog, Jimbo.
Ashley Yeager is an associate editor at The Scientist. Email her at ayeager@the-scientist.com.
Interested in reading more?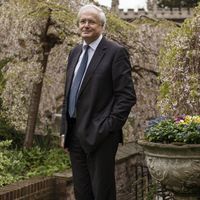 The Scientist ARCHIVES
Become a Member of
Receive full access to more than 35 years of archives, as well as TS Digest, digital editions of The Scientist, feature stories, and much more!