A news article in the Gainesville Sun last week revealed that researchers at the University of Florida had shot more than 150 wild birds that were eating and damaging crops grown on test plots over the course of 10 years. The culled animals included 105 ring-billed gulls and 47 sandhill cranes, a bird whose population has declined such that the state designated it a threatened species.
In 2016, after reviewing the records of the bird culling, the new director of the University of Florida's Plant Science Research and Education Unit, Jim Boyer, changed the policy so that only nonlethal means could be used against the cranes. Instead of guns, his group brandished scarecrows and reflective tape.
Environmental groups praised the move. "We at Audubon don't have a lot of sympathy for folks that are eager to take lethal action...
The situation brings up a tricky aspect of conducting such field studies—the possible destruction of habitat or wildlife to make room for and protect experiments. How much, if any, is acceptable?
For Clare Palmer, a professor of environmental and animal ethics at Texas A&M University, this answer lies at the intersection of numerous kinds of values, and "each is likely to be weighed differently depending on the individual, although most people will likely think they all matter to some degree," she writes in an email to The Scientist. These include the individual animal's value, the importance of the species and its habitat, and the benefit of the study to human welfare.
"The first line of response in a case like this should surely be to minimize the degree to which these values are actually in conflict," writes Palmer. "If the birds can be almost wholly kept away from the research crops by repelling them or using barriers, this sounds like the best approach, since then a value conflict doesn't arise."
These issues are not necessarily foremost in scientists' minds. Afterall, researchers seldom receive extensive training in professional ethics and hardly ever in philosophical ethics, writes Michael Paul Nelson, a professor of environmental ethics and philosophy at Oregon State University, in an email to The Scientist. "And there is pressure on researchers to complete projects and have them be successful. There are powerful interests at play here, as researchers are rewarded by their institutions in ways that sometimes contrast with deep ethical reflection and consideration."
There are no hard-and-fast rules about handling wildlife threats to field experiments, according to bioethicists. Universities have resources to help, namely, the Institutional Animal Care and Use Committee (IACUC) and the Institutional Review Board review process. Yet, these committees may be operating by standards that don't place a high value on wildlife. "It's not obvious that simply because a proposal passes IACUC that it is ethically justified," writes Nelson.
Researchers do have to abide by the law. In the case of the birds at the University of Florida, the researchers had obtained a federal permit to kill the birds but, importantly, did not have a state permit to take them out, says Wraithmell. "That was a problem because the Florida sandhill crane is considered a threatened species, and they likely would not have been able to obtain one," she tells The Scientist.
Jennifer Jacquet, an assistant professor of environmental studies at New York University, says there has been a shift in public attitudes about wildlife, and the scientific community should take note. "There is more heightened awareness about the morality around animals' lives and their treatment," she says. "It's important that these conversations about animal welfare are happening with a greater frequency."
In a letter this week to the Gainesville Sun, Jack Payne, the senior vice president for agriculture and natural resources at the University of Florida, noted that the policy change from killing the birds to shooing them away was not the result of any complaints but rather the university becoming aware of the situation and holding themselves "to a higher standard."
Interested in reading more?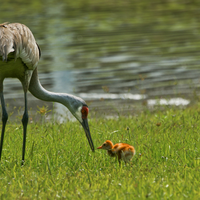 The Scientist ARCHIVES
Become a Member of
Receive full access to more than 35 years of archives, as well as TS Digest, digital editions of The Scientist, feature stories, and much more!