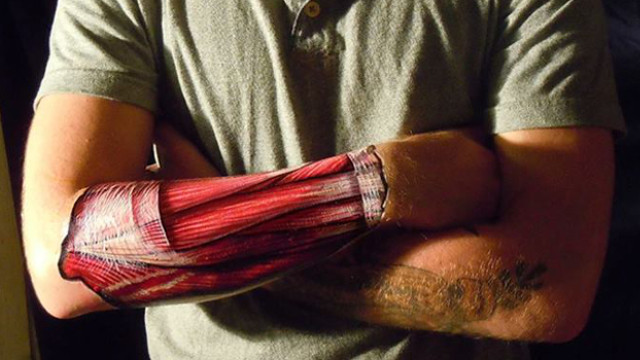 DANNY QUIRK ARTWORK
Getting to know the complex anatomical structures that make up the human body can be both fascinating and frightening. The thought of examining cadavers at close range is enough to send some potential anatomists running. Even for the non-squeamish, few outside of the medical profession can access this all-important learning tool. So Massachusetts-based artist Danny Quirk devised a way to bring human anatomy to life—by painting the bodies of live models with intricate illustrations of their musculoskeletal structures and vasculature, among other things.
"We as humans are naturally curious, and it's just a shame that something has to be labeled 'gross' or 'bad' or 'scary' that would deter so many people from indulging in something so awesome," says Quirk. "My ultimate goal is to get people to not be afraid of who they are."
After earning a bachelor's degree from the Pratt Institute in Brooklyn, New York,...
When Kathy Dooley, an adjunct professor at the Albert Einstein College of Medicine, commissioned Quirk to produce biomedical illustrations, he bartered with her. Rather than accepting payment for the artwork, he asked for a spot in Dooley's gross anatomy class. It was during the cadaver dissection portion of her course that Quirk first got to "really see the body from the inside out," he recalls. Soon after, he began recreating the anatomical structures he saw in the dead on his friends, using permanent marker and latex body paint. The paintings, he says, are like "living lectures." As opposed to a 2-D depiction, paint on live models makes the art interactive. And because the models are living, breathing, and speaking, they're less intimidating to most viewers than a corpse.
Quirk is dead set on ensuring the anatomical accuracy of each of his works. A typical body paint application can take him up to eight hours to complete, and only lasts about 12 to 15 hours on the model. When faced with a fresh canvas, Quirk starts by identifying visible landmarks—such as bones that protrude somewhat from the skin—and then works from there to "connect the dots."
"Danny's work has attained great popular appeal, expanding medical illustration to contemporary art," says Tonya Hines, president of the Association of Medical Illustrators. "His body paintings are a dramatic blend of classical écorché"—an art form depicting the body's muscles without skin—"with a pop culture tattoo-like quality," she writes in an e-mail to The Scientist.
Quirk has enjoyed the popular acclaim his work has garnered recently, but the educational aspects of his art remain his focus. "With cadavers, I can see where they make people unsettled," he says. By taking the "gross" out of anatomy, Quirk hopes to "get people excited and curious about themselves, and actually enjoy what they are seeing as opposed to feel revolted [by it]," he adds.
Because "the discipline of medical illustration is all about education," Hines says, "I think it's fabulous that the public is drawn to his work."
Interested in reading more?
The Scientist ARCHIVES
Become a Member of
Receive full access to more than 35 years of archives, as well as TS Digest, digital editions of The Scientist, feature stories, and much more!