Silicone caulk, commercial sealants, are mainly composed of organosilicon compounds.WIKIMEDIA, ACHIM HERINGSilicon is one of the most abundant elements on Earth, and silicon-carbon compounds are crucial for pharmaceutical development and computer technology. Yet "no living organism is known to put silicon-carbon bonds together," said Jennifer Kan, a postdoc at Caltech, in a press release. Now, a November 24 Science study coauthored by Kan has shown that living Rhodothermus marinus cells can be coaxed into manufacturing these coveted bonds.
Kan and colleagues made use of directed evolution, artificially selecting for only the most powerful R. marinus enzymes. In this case, the researchers started with cytochrome c, a protein that shuttles electrons between proteins and produces occasional carbon-silicon bonds, mutating its DNA until they produced an enzyme that can catalyze silicon-carbon bond formation 15 times more efficiently—and with fewer waste products—than chemical catalysts on the market.
"This iron-based,...
Interested in reading more?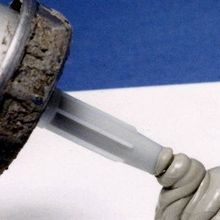 The Scientist ARCHIVES
Become a Member of
Receive full access to more than 35 years of archives, as well as TS Digest, digital editions of The Scientist, feature stories, and much more!