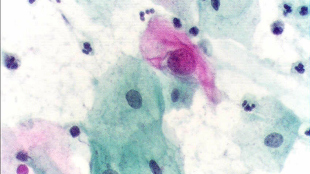 WIKIMEDIA, ALEX_BROLLO
The Pap smear is widely considered the gold standard within the public health community as an effective means of detecting abnormal cellular changes caused by human papillomavirus (HPV), which can cause cervical cancer. But it now has a competitor. The US Food and Drug Administration (FDA) this week (April 24) approved a DNA-based test for the virus, developed by Roche.
"The potential benefit of [the HPV test] is that everybody that has a precancerous change or cervical cancer will have a positive test," Kevin Ault, a physician and HPV researcher at the University of Kansas Medical Center in Kansas City, told CNN. "You're not going to miss anybody."
The test, called cobas, was first approved in 2011 to use as a follow on to a Pap, which screens for abnormal cells. The latest approval expands its use to replace the Pap by screening for HPV DNA....
Several medical and public health groups have raised concerns about the new test, expressing doubts as to whether it could actually replace the Pap smear in practice. "It replaces a safe and effective well-established screening tool and regimen that has prevented cervical cancer successfully in the U.S. with a new tool and regimen not proven to work in a large U.S. population, and is not supported by any evidence-based U.S. guidelines," the Patient, Consumer and Public Health Coalition wrote to FDA Commissioner Margaret Hamburg earlier in the month.
Although largely supportive of the test's approval, the Society of Gynecologic Oncology issued a statement, noting that "primary HPV testing does not replace the Pap test, and it is extremely unlikely that doctors will stop using the Pap any time soon."
Interested in reading more?
The Scientist ARCHIVES
Become a Member of
Receive full access to more than 35 years of archives, as well as TS Digest, digital editions of The Scientist, feature stories, and much more!