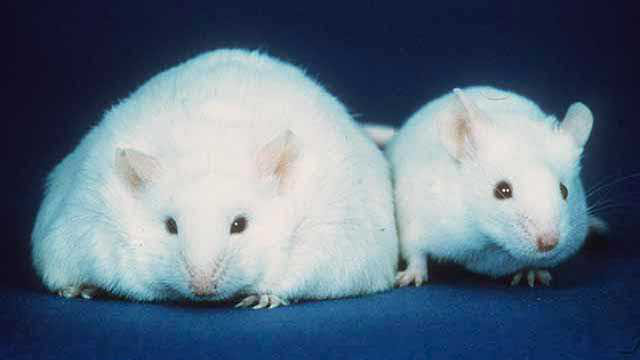 WIKIMEDIA, SCHUMINWEBHigh-fat diets are ubiquitous in rodent research. Scientists feed mice high-fat diets to study the impact of nutrition on diabetes, cancer, and heart disease, and to better understand obesity itself. Companies including Purina, BioServ, Research Diets, Envigo (formerly Harlan Teklad), and CLEA Japan sell standardized high-fat and control diets, making it simple to include high-fat diets in study designs.
But less often do researchers stop to ask what's actually in the high-fat and control diets they are using, and how rodent nutritional research corresponds to human nutritional research. In recent years, for instance, studies have indicated that fat is far from the lone culprit in human weight gain, and that carbohydrates play a hefty role. "Mice are a good model for human obesity . . . but it seems to me that, for diet, the mouse literature has gone off track," said Craig Warden, who studies the...
What's in a high-fat diet?
When high-fat mouse diets originated, feeding animals fat seemed like an obvious way to make them gain weight. "What likely happened is that we assumed back in the day that high-fat, high-calorie foods were the problem for human obesity," said Matthew Ricci, science director of Research Diets.
Upping fat intake worked. When certain mouse strains are fed diets high in fat, they gain weight rapidly. But high-fat diets still contain other components, and Warden explained that this could also influence the health of animals subsisting on them. "The typical diet most commonly used by investigators in the U.S. is a diet that is both high fat and high sugar," he said.
To Ricci's mind, worries about the contents of rodent diets can be assuaged by performing properly controlled studies. "Is a high-fat defined diet we're feeding the mouse really comparable to what a human is eating?" he asked. "Of course not. It's completely different. However, it's very controlled. This is why we do animal studies. We control the heck out of them."
Companies selling high-fat mouse diets often provide "purified" control diets that differ from high-fat diets only in their fat and carbohydrate content. These diets allow researchers to feed control and experimental mice foods with identical caloric content, replacing lost fat with increased sugar in control diets.
Despite the availability of these purified control diets, researchers often simply compare mice fed a high-fat diet to control mice fed ordinary chow. "When you're going from a purified diet to chow, you've just changed absolutely everything," said Ricci. "In that chow, there's corn and wheat and soy and oats and animal fat from sometimes sources you don't know; there are phytoestrogens, heavy metals; there could be pesticides."
Chow diets may be more or less healthy than high-fat diets in myriad ways. They contain relatively high fiber and carbohydrates and relatively low fat. Carbohydrates are more likely to come from beans and grains and less likely to come from pure sucrose.
Ricci recalled one of his customers trying to determine how a high-fat diet affects colon health. The researchers fed some of their mice a high-fat diet and some chow. The chow-fed animals had large colons, while the colons of the animals on the high-fat diet shrunk. But when the researchers went back and tested the effects of feeding the animals a defined control diet that only differed in relative fat-to-carbohydrate ratio, the colons of all of the animals shrunk. Eventually, they showed that it was not fat, but lack of soluble fiber, that appeared to be responsible for the shrinking colons. Both the high-fat diet and the purified control diet were low in soluble fiber.
Control is key
Warden pointed out that proper controls are lacking in an alarming number of studies. In 2007, he and his colleague Janis Fisler, also of UC Davis, surveyed of the literature and found that, of 35 papers that involved feeding mice a high-fat diet, only five used control diets that were identical save for their fat-versus-carbohydrate ratio.
Warden is currently working on a new survey. He said that more researchers are using proper control diets, but that he still finds many papers comparing high-fat diets to chow.
But Justin Grobe, who studies metabolism at the University of Iowa Carver College of Medicine, pointed out that even purified control diets can generate confusing results. "I'm loading up the control with sugar," he said. "When I get my results back, am I actually studying a control for a high-fat diet or am I actually studying or what's happening on a high-sugar diet?"
At the very least, researchers must clearly state what they have fed their animals. "I routinely read the methods sections of papers labeled as 'high-fat diet,'" Warden wrote in an email. "More often than not, the authors do not provide information about diet composition in the paper and, even worse, do not provide enough information [for me] to determine diet composition by myself."
Even if researchers performed perfectly controlled studies on rodents, they would still need to ask whether rodents respond to food and dietary changes the same way that humans do.
There is, in fact, some evidence that rodents differ from humans in their responses to carbohydrates and fat. In one study, Richard Feinman, a cell biologist at SUNY Downstate Medical Center in Brooklyn, New York, and his colleagues fed Black 6 mice a no-carbohydrate diet. Protein contributed a fairly standard 20 percent of calories to the diet, while fat contributed a whopping 80 percent of calories. Even though the two groups of mice consumed similar numbers of calories, the mice on this no-carb, high-fat diet gained more weight than mice fed on standard chow, which contained 58 percent carbohydrates, 13.5 percent fat, and 28.5 percent protein.
In humans, meanwhile, many low-carb diets seem to lead to weight loss. Mice generally subsist on a very low-fat diet, and high-fat diets may affect the animals differently than humans. "A laboratory mouse lives on carbohydrates," says Feinman. "Their 'normal' diet is not like a normal diet for humans."
Clarification (November 24): The ninth paragraph of this article has been updated to reflect that both the high-fat diet and the purified control diet examined in the study were low in soluble fiber. It was previously written that both diets were low in fiber.
Interested in reading more?
The Scientist ARCHIVES
Become a Member of
Receive full access to more than 35 years of archives, as well as TS Digest, digital editions of The Scientist, feature stories, and much more!